Dad Rents Billboard Outside Children's Hospital to Thank Staff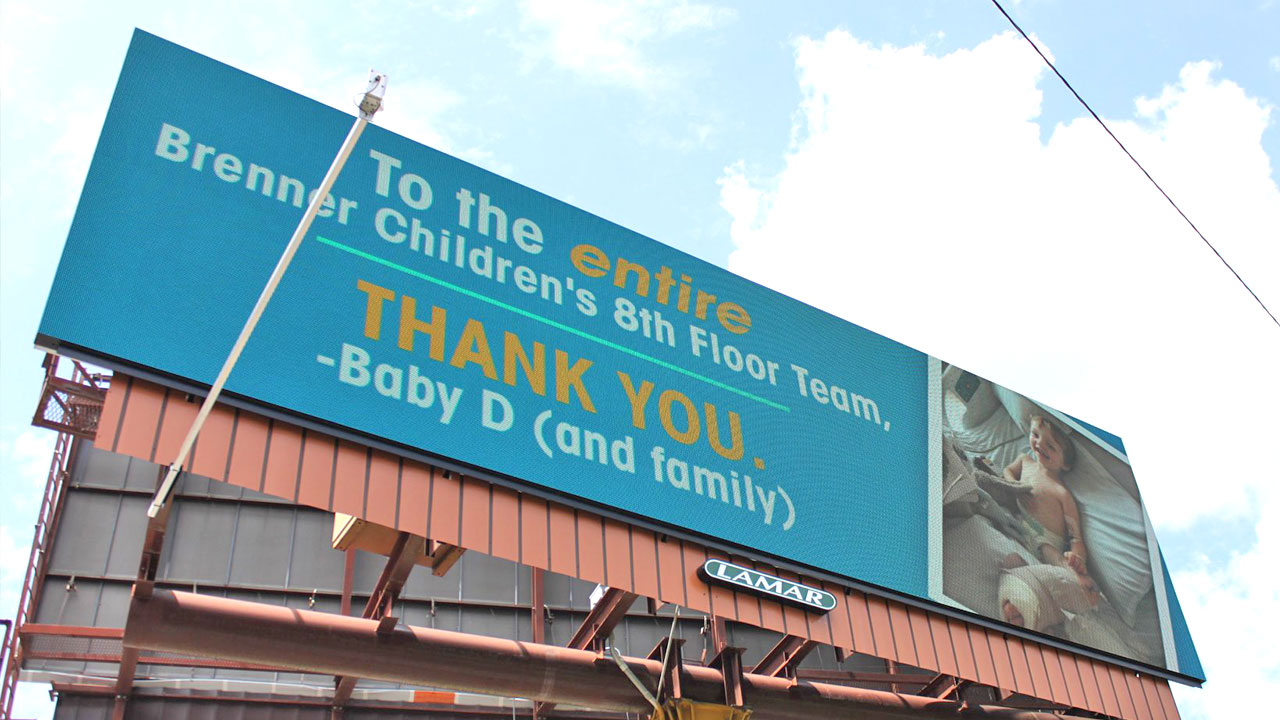 3-year-old Daniel Driscoll was recently admitted to Brenner Children's Hospital with a bone infection. After spending a full seven days undergoing treatment, Daniel and his family were grateful to be heading home, but even more thankful to the staff of doctors and nurses who cared for Daniel during his stay.
Initially unsure of how to fully express their gratitude, Daniel's dad eventually saw a sign… literally.
While reflecting on their time spent in the hospital room, he remembered a large billboard that sat adjacent to where he and his son spent much of their stay. "Daniel and I would tell time sitting in the window, especially when a helicopter would land and one of the things we could see was that billboard," recalled Dan Driscoll, Daniel's father. He wanted a way to thank everyone involved in his son's care, saying they "had been absolutely amazing and incredible in every single way."
Once back home, Daniel placed a call to the company who leases space on the rotating digital billboard and booked the biggest thank you card the staff at Brenner's has ever received. The sign, which is visible from many wings of the hospital, may be large in scale, but still pales in comparison to the amount of gratitude felt by the Driscoll's for the care and attention they received over their weeklong occupancy.
Wendy Brown, one of the nurses charged with Daniel's care, told local affiliate FOX8 that everyone at Brenner appreciated the massive gesture. "It's just spectacular, I mean it's just so unique. It's just a cool way to say thank you and all of us really appreciated it. Sometimes this can be a thankless job and that was one heck of a way to say thank you."
Now, just over a month after being released, the thankful dad says Daniel is recovering and "doing great." It's yet another testament to the quality of care he received and to the power of people coming together to care for our most precious little patients.
And that's why a pair of brothers recently raised over $11k for a children's hospital in Ohio by selling a 230 Lb hog.