Watch the Pixar Short Written by a Dad for His Son and Kids "Deemed Different"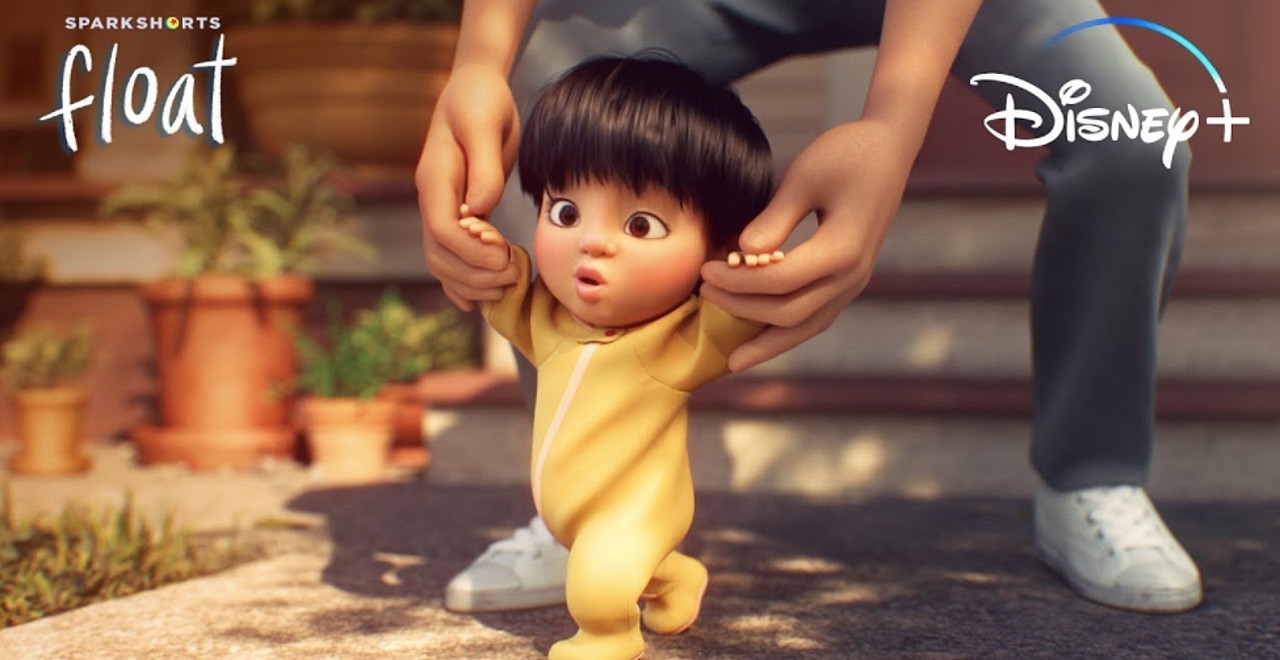 Oftentimes, what makes a story truly beautiful is the truth behind it. Stories that are based on real-life events come packed with human emotion, and even if we can't personally relate to the story itself, we can empathize with those who do. Pixar is the grand champion of evocative storytelling, leaving us feeling things we never thought possible after just a few short minutes. Pixar's short "Float" is one such story, following the challenges of parenting a child who is 'different,' and learning to embrace the things that set them apart.
Like many of Pixar's films, Float is first and foremost an entertaining cartoon. The weight is pulled from life's heaviest issues, and we're left to process pain and fear in the comfort of an alternate reality. The short opens with a dad and his young son, but we're soon let in on a secret that changes everything. The young baby is not like his waddling peers – sure he can crawl, but more importantly, he can float.
While we all may dream of being lifted high above the ground, for the young boy's dad, it becomes a source of constant fear after seeing how society reacted. What will neighbors think? How will other kids react? How will this sweet, perfect little boy fare in life with a gift that both figuratively and literally separates him from the rest of the world?
Before leaving home, the boy's dad places a rock in his backpack to keep him from soaring into the sky – the weight of a world that doesn't accept him keeping him grounded. The short hits an emotional high during a scene at a local playground, the boy stripping off his backpack and floating happily around the concerned park-goers.
The boy's dad hits his breaking point, pulling his son kicking and screaming from the playground as parents and kids alike stop what they're doing to stare. The culmination of years of stress emerge with the film's only spoken words: "Why can't you just be normal?"
The animated short ends on a positive note, but to avoid spoilers, I urge you to spend six minutes and watch it yourself. As the story comes to a close and the dad learns to embrace his son, differences and all, we see a very special dedication from Float's writer, director, and producer. It reads, "For Alex. Thank you for making me a better dad. Dedicated with love and understanding to all families with children deemed different."
Bobby Rubio, who has worked as a storyboard artist on films like Inside Out and The Incredibles 2, created the touching short to tell his own story about his son Alex, who has autism. "When my son was first diagnosed, I didn't handle it well," Rubio said in a documentary about the film. "My wife said, you're a storyteller, maybe you should tell a story through a comic."
"In the beginning, the father loves his son wholeheartedly without restriction," Rubio said. "And then, when he looks at society, that seeps in and kind of taints it. The father has to decide: Does he agree with them? Or does he say, 'I don't care what you guys say.'"
Watch the full video below, and prepare to feel a whole lot of things in a very short amount of time.