Paralyzed Dad-of-Three Walks 125 Miles in Robotic Suit in February for Charity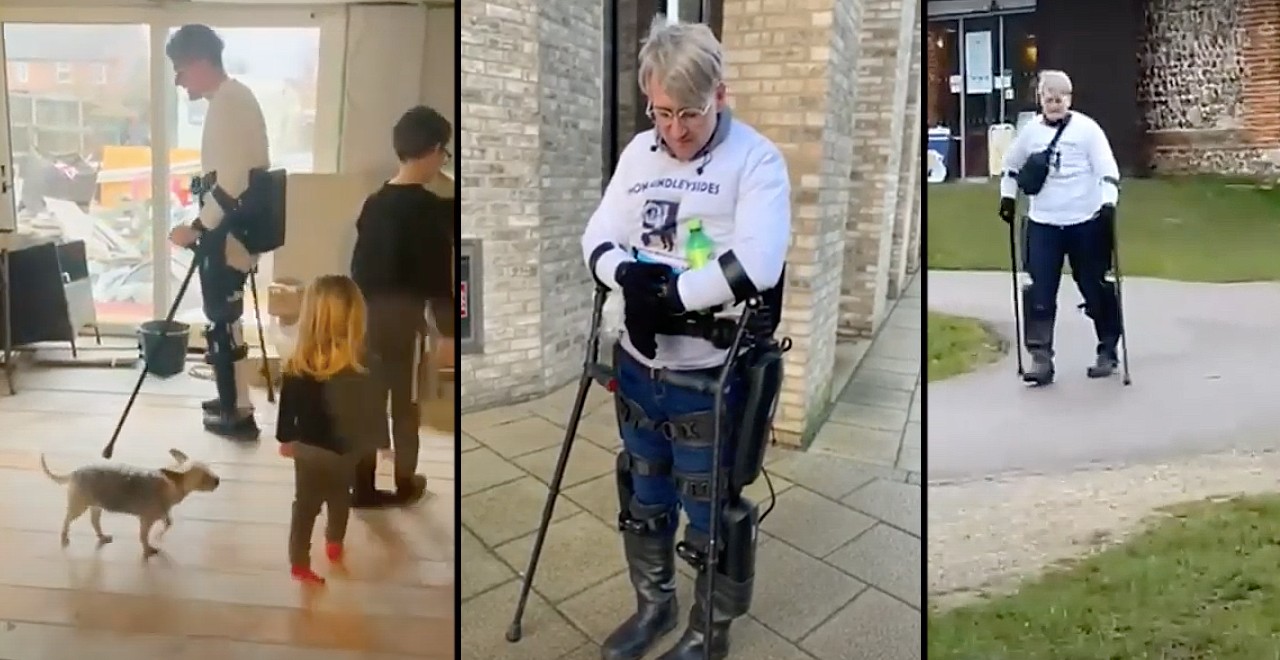 Dads have been known to accomplish near-superhuman feats when they're motivated by their kids. They display incredible bravery in life-or-death situations, and do things they never thought possible to be the hero their kids need. Simon Kindleysides from Norfolk, England is no exception. This father of three refused to slow down after becoming paralyzed from the waist down. He was so determined, in fact, that he learned to walk again.
In 2013, Simon was diagnosed with a brain tumor as well as a functional neurological disorder. He credits the Norfolk and Norwich University Hospital for saving his life many times over, but the lower half of his body was left paralyzed. To give back to the hospital that saved his life, Simon set a lofty goal to raise money for ICU equipment and a new operating complex – the determined dad set his sights on walking 112 miles in the month of February.
Now 36 years old, Simon is miraculously able to walk using a battery-powered ReWalk exoskeleton. To make the suit move with him, Simon has to tilt his arms to tell the suit to utilize his hips with every step. Walking is a full-body effort for Simon and his robotic suit, but with encouragement coming both from his family and from strangers around the world, he was determined to reach his goal of raising £2,000 ($2,797.81 USD).
"The most exciting part of the task was walking in snow," Simon recalled in an interview with the Eastern Daily Press. "I hadn't walked in snow for 10 years. When I went out into the snow I was leaving footprints and not wheelchair tyre tracks. It was amazing."
Simon used a step counter, tracking his distance wherever he decided to walk that day. Some days Simon completed his trek outside, but when the weather was less than ideal, he walked in circles around his living room. Occasionally, he was trailed adorably by his endlessly supportive kids and one very excited dog.
Simon blew past his initial goal, walking a staggering 125 miles throughout the month of February and raising over £14,000 – he even set a world record in the process. Simon's GoFundMe page is still active, as he hopes to reach his amended goal of £15,000.
"The support I got from people was amazing," Simon marveled. "People were coming out and clapping me and giving me money from their cars. It was magical. The generosity from strangers to support me and the NHS was overwhelming."