Dad Breaks 150th World Record By Drinking 1 Liter Lime Juice in 17 Seconds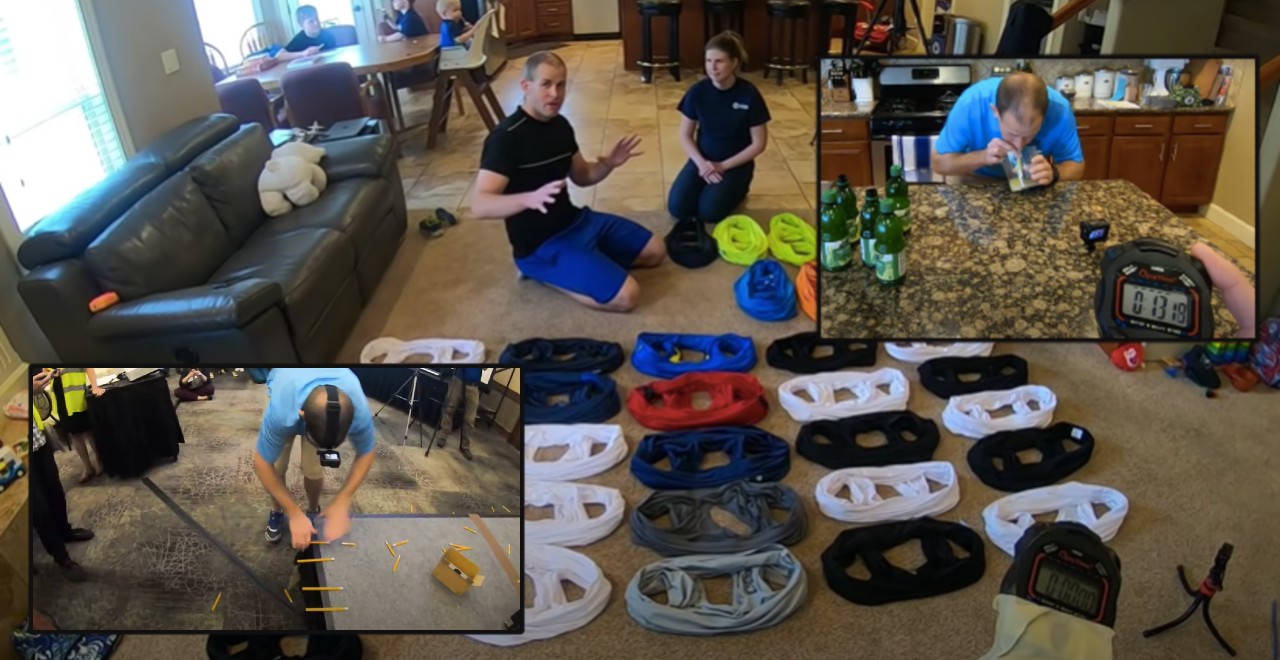 Most people can only dream of breaking a world record in their lifetime. While you may think your 3-year-old holds the record for number of times asking "why?" in a single hour, in reality, there's a lot that goes into the record-breaking process. There's the application, an insane amount of practice, assembling witnesses and recording equipment for the attempt itself – it's a lot. Unless you have a unique angle like this 90-year-old gamer or the skills to build a real-life Iron Man suit, breaking a world record may not be in the cards for you. It is possible, though, that the reason you aren't going to break any world records is because this multi-talented dad is hogging all of them.
David Rush started training for his first world record at just 29 years old. He wanted to improve his juggling skills, so aiming towards a world record seemed like good motivation. As with most of Rush's records, he didn't stick with the ordinary. His very first record was, wait for it- fastest 800-meter run. While juggling. This wasn't the only juggling-related record Rush set. He also set the record for fastest juggling on a balance board, fastest blindfolded juggling, and fastest juggling of three basketballs.
These days, Rush's motivation to break record, after ridiculous record, has a more meaningful driving force. The MIT grad has an enormous passion for STEM education (science, technology, engineering, and mathematics), and uses his affinity for record-setting to promote it. He aims to teach kids not only the real-world applications of STEM, but to instill them with a growth mindset; the knowledge that your skill set can grow if you put in the effort. Rush recently broke his 150th world record by drinking A FULL LITER of lime juice in 17 seconds, for some reason. Ok, well, it was in part to promote his new book Breaking Records: 21 Lessons from 21 World Record Attempts, but for most people, some kind of press release would have sufficed.
To celebrate Rush's incredible accomplishments both in the world of Guinness and the world of STEM, here are some of our favorite Rush Records.
Here he is, taking 43 wet sponges to the face in 30 seconds
And of course, throwing a tortilla 54 feet and 5 inches, which is how all social-distancing take-out orders should be delivered.
His extremely tolerant wife let Rush wrap her in cling wrap as quickly as possible to set another record.
In an attempt to get his 2-year-old to eat peas, Rush set a record for eating 295 of them in just three minutes… with a toothpick.
And the most pencils snapped in one minute, because screw pencils, right?
Rush even joined forces with his wife, Jennifer, to break a team world record for putting on the most t-shirts in one minute.
Hopefully a future record will include "number of people taught to break world records", so we can all get in on the action.