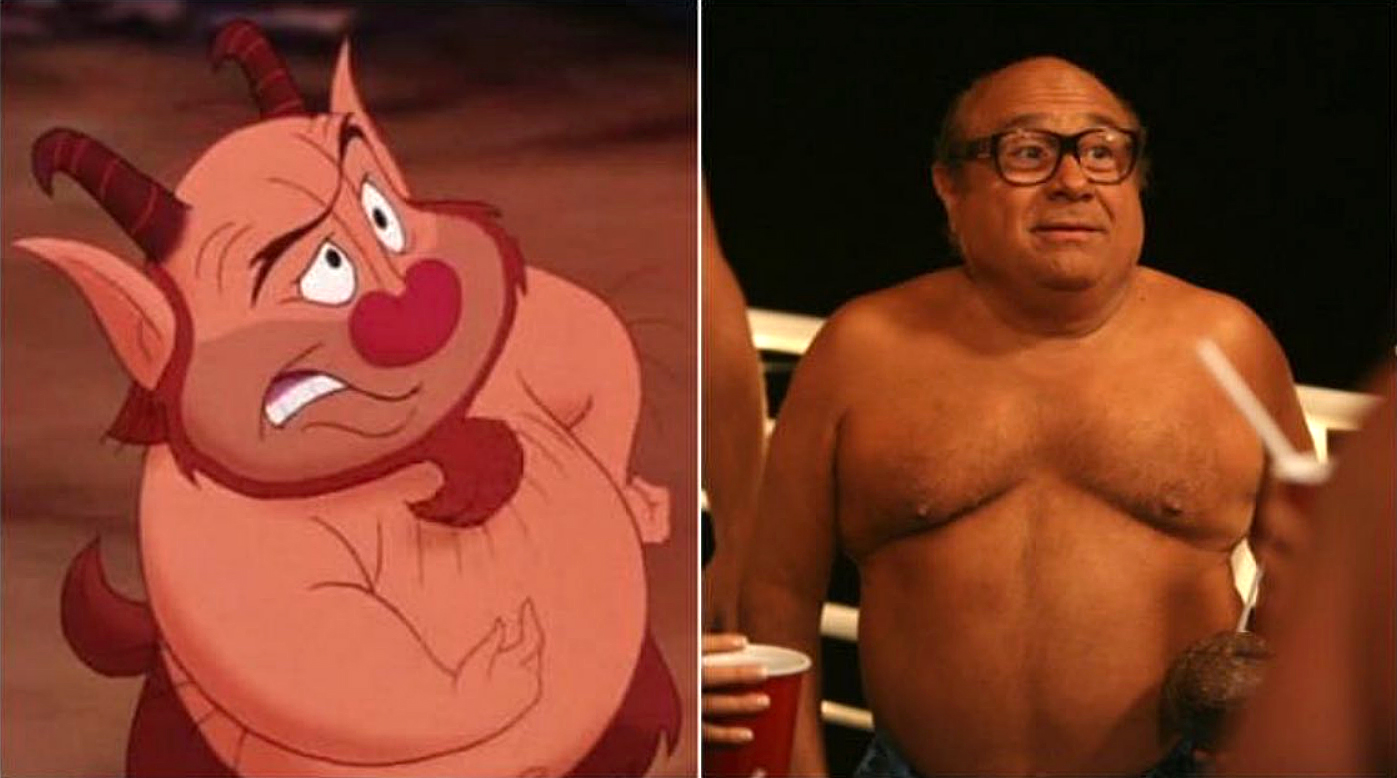 Credit: Twitter/LaylaHoldway Disney/20th Television
People really love Danny DeVito.
The admiration and respect for, not to mention the enjoyment of, the actor spreads across generations. The other day I wrote a piece about a new animated show he's on and I detailed his long-running career, which started with prestige films and is still going strong with the somewhat disreputable Always Sunny sitcom. Even little kids love the little Italian guy who knows no limits, thanks to memorable roles in Matilda, and the Disney movie Hercules.
DeVito played Philoctetes in the 90s animated flick which featured Tate Donovan as the titular demigod and James Woods as Hades. Phil was a satyr – half-goat, half-man – who serves as Hercules's sidekick and trainer. And now that the movie is apparently the next in line to get the live-action treatment – from the directors of Avengers: Endgame, no less – and fans are clamoring for DeVito to reprise his role.
DISNEY IS REMAKING HERCULES!! WE WILL GET TO SEE DANNY DEVITO AS PHIL!! 😭😭 pic.twitter.com/dEn2v6UykM

— Lil Uzi Hurt 🌵 (@_Nacho_Libro) May 1, 2020
People all over twitter fan-casting the live-action remake, and while there is some debate over the different parts, they're adamant that DeVito is the only person to play Phil.
My Hercules live action cast:

Megara:
Ariana Grande

Hercules:
Armie Hammer (can't think of anyone else😕)

The Muses:
Beyoncé, Amber Riley, Anika Noni Rose, Keke Palmer & Jennifer Hudson.

Satyr:
Danny DeVito

Young Hercules:
???

Hades:
Jeff Goldblum/Benedict Cumberbatch pic.twitter.com/9jUz2qNtMp

— CJ 💚⎊ fan account (@GivenchyBeystin) April 30, 2020
Hercules is being made into live action and I am 1000% against this if Danny DeVito isn't the Satyr. pic.twitter.com/lss9L6nEPC

— 𝖘𝖆𝖗𝖆𝖍 𝖒𝖆𝖘𝖔𝖓 – ✎ (@SarahMasonArt) April 30, 2020
Dream Disney live action Hercules cast:
Hercules – Tom Holland
Meg – Ariana Grande
Hades – Hugh Jackman
Zeus – The Rock
Phil – Danny DeVito
Muses – Lizzo, Jennifer Hudson, Normani, Megan Thee Stallion, SZA
Pain & Panic: Billy Eichner and Tituss Burgess pic.twitter.com/mK0ROuSi27

— Sam Stryker (@sbstryker) April 30, 2020
No word yet on who is playing whom, or even when we'll see the new movie, but here's hoping Disney realizes how popular Danny DeVito is and does the right thing!