Disney Helps Dying Man See New Star Wars Film With Young Son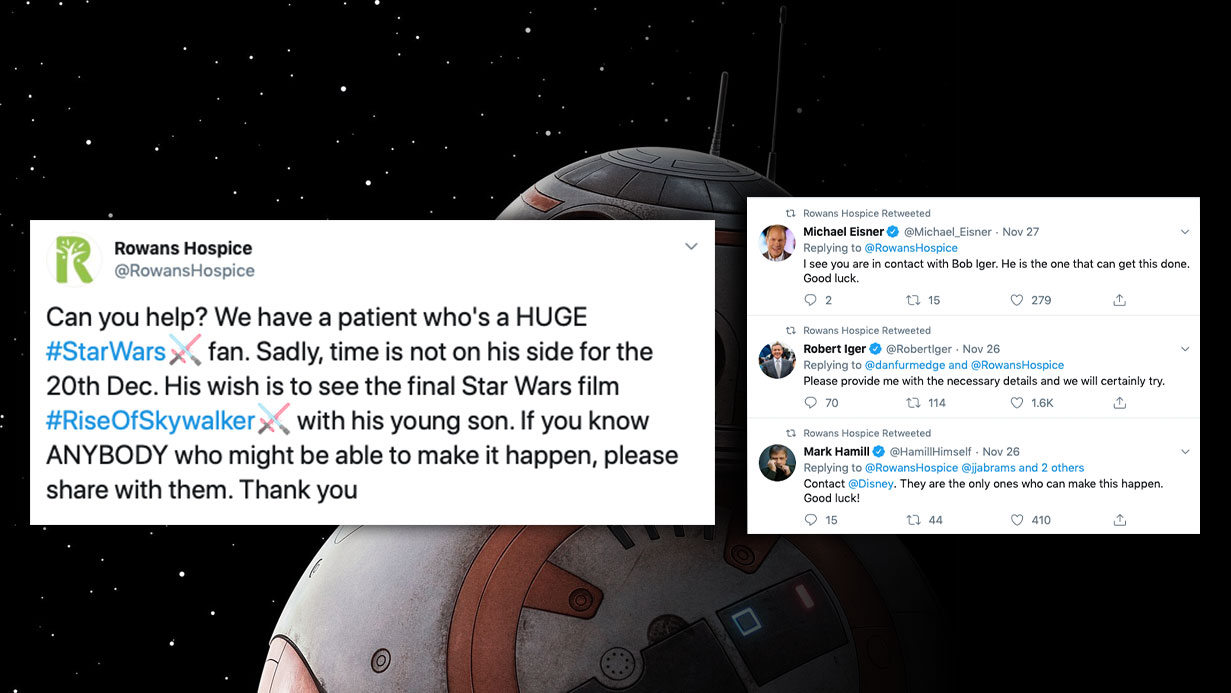 The official end of the Star Wars saga comes this Christmas with the final installment: The Rise of Skywalker. Spanning the past few decades, Star Wars has infiltrated most every aspect of pop culture and has claimed a permanent spot in the hearts of fans around the world.
One of those lifelong fans is nearing the end of his own journey. Rowans Hospice in the UK recently shared a post on their social media channels sharing the story and seeking help. It seems that time is ticking away for one dad who wants nothing more than to see the final installment with his son before he passes.
Can you help? We have a patient who's a HUGE #StarWars fan. Sadly, time is not on his side for the 20th Dec. His wish is to see the final Star Wars film #RiseOfSkywalker with his young son. If you know ANYBODY who might be able to make it happen, please share with them. Thank you

— Rowans Hospice (@RowansHospice) November 26, 2019
While the initial response from the public was obviously supportive, the first message failed to reach the right people in order to make this man's dream come true.
So Dan Furmedge, a geriatrics consultant who works in end of life care, reached out directly to Disney studio head Robert Iger. That tweet got right to the top, garnering a response from the man in charge.
Please provide me with the necessary details and we will certainly try.

— Robert Iger (@RobertIger) November 27, 2019
There was much back and forth between the hospice and the studio, but finally, on Thanksgiving Day, a dying man's galactic wish was granted.
On this Thanksgiving, we at @Disney are grateful to be able to share #TheRiseOfSkywalker with a patient and his family @RowansHospice. May the force be with you and with us all!

— Robert Iger (@RobertIger) November 28, 2019
The outpouring of positive reactions fills the replies on Iger's tweet, with hundreds of comments thanking the studio for stepping up and doing what was right.
Hi Robert, thank you so much for for making this happen for my dear friend. He is in your debt. His family are such good people. Bless you. You've made a dying man go with style. If we ever meet, I'll give you the biggest hug. Top man 🙏❤️

— Smudger Smith (@ianarthursmith) November 28, 2019
That included the hospice, who posted this message of gratitude on Thanksgiving:
Mr Iger, I wish we had the words to sum up what it means to the patient, the family & us. Everyone we spoke to at @Disney were as eager to make this happen as we were. Thank you. Happy Thanksgiving to you, your family & your colleagues. May the force be with you #WeAreTheSpark💚

— Rowans Hospice (@RowansHospice) November 28, 2019
Rowans also issued a release, thanking everyone for their support. Lisa Davies, a Health care Support worker who originally brought the request from the patient to the attention for Rowans, says she and everyone involved were floored by the support. "The response from everyone, including the Star Wars community, has been absolutely phenomenal over the last few days. So a massive thank you to every single person that has shared our post and given their time to help make this possible."
While corporations don't always necessarily do the right thing, this is certainly one instance where the power of social media, and likely the holiday spirit, was a major force for good.
We're thankful a dad was granted his last wish, and for stories like these that remind us all that there's often small rays of hope and good, even in one's darkest hours.