Blind Dad-to-Be Receives Embroidered Ultrasound So He Can "See" His Son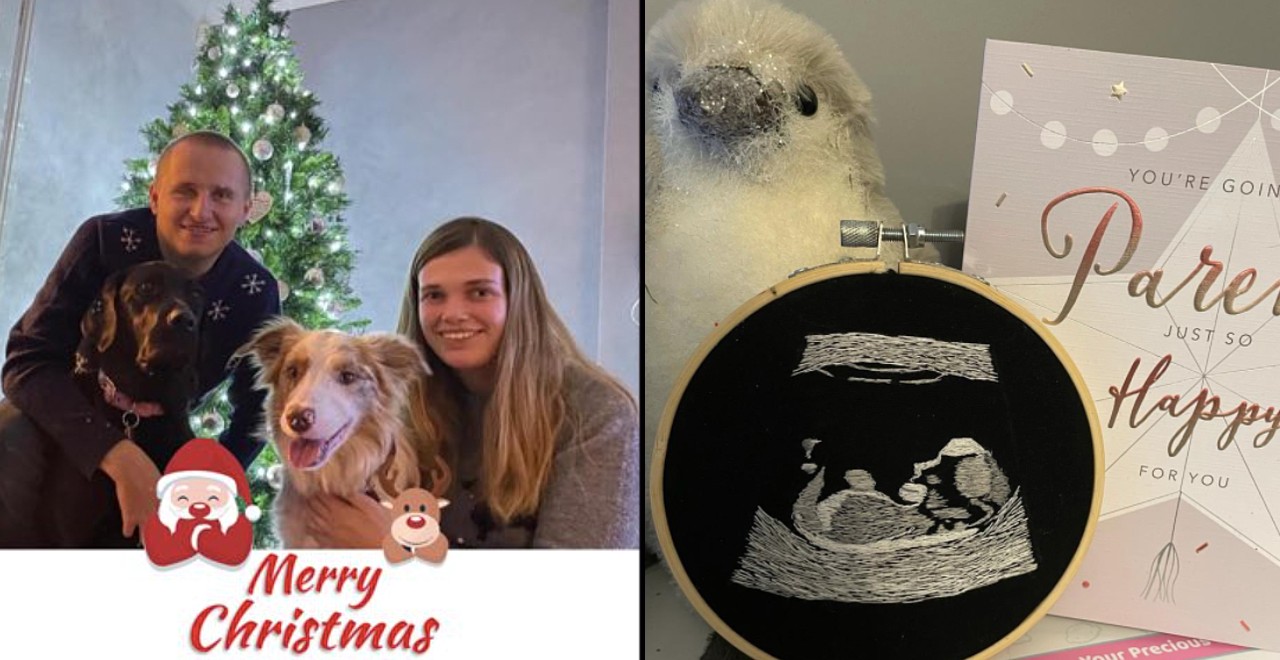 Preparing to have your first baby is thrilling, nerve-wracking, and a bit of a gong show. You aren't yet a parent, but you're also – well, not not a parent. You begin the process of buying clothes, setting up a room for your tiny new family member, and thinking about how drastically your life is about to change.
We spend hours gazing longingly at ultrasound photos, wondering how that tiny alien-looking thing will soon become one of the most important people in the world to us. But for dads like Nathan Edge, being blind means that he misses out on seeing those highly-anticipated ultrasound photos. That is, until his partner Emma Fotheringham came up with a plan.
26-Year-olds Nathan and Emma are about to become first-time parents, but after Emma's 12-week ultrasound, she was heartbroken that Nathan wouldn't be able to look at them with her. This being the couple's first child, Emma didn't want Nathan to miss a single thing. A local woman named Deb Fisher who knew the couple through volunteer work found out about their predicament, and despite having no embroidery experience, promised to create a stitched copy.
Fisher enlisted the help of a midwife, as she was struggling to make out the details in the scan. The midwife helped Fisher better understand the grainy image in order to embroider the ultrasound as accurately as possible.
40 hours and several long weeks later, Fisher had finished her challenging project. Emma had been keeping the project a secret, so the first time Nathan found out about the incredible gift was when he held it in his hands.
"I was quite emotional," Nathan said to People. "It took me a few minutes to work it out. But normal baby scans are quite difficult to work out when you can see them."
Nathan shared a photo of the beautifully embroidered ultrasound on Twitter, a photo that quickly went viral.
"How incredible is this?" Nathan tweeted. "Received this amazing surprise today… it's an embroidered tactile version of our 12 week baby scan, so for the first time as a blind dad to be, I'm able to build a picture of our baby scan through touch. Can't describe how amazing this is."
How incredible is this 😍

Received this amazing surprise today… it's an embroided tactile version of our 12 week baby scan, so for the first time as a blind dad to be, I'm able to build a picture of our baby scan through touch ❤️

Can't describe how amazing this is 😍 pic.twitter.com/3Qm01MlzhS

— Nathan Edge (@NathanEdge94) December 10, 2020
The ultrasound meant so much to Nathan, he's hoping to help other blind parents experience that same joy. "I don't want it to stop here at me," he said on Twitter, "I'm now looking into the prospect of making tactile scans more easily available for fellow blind and visually impaired parents at an affordable price."