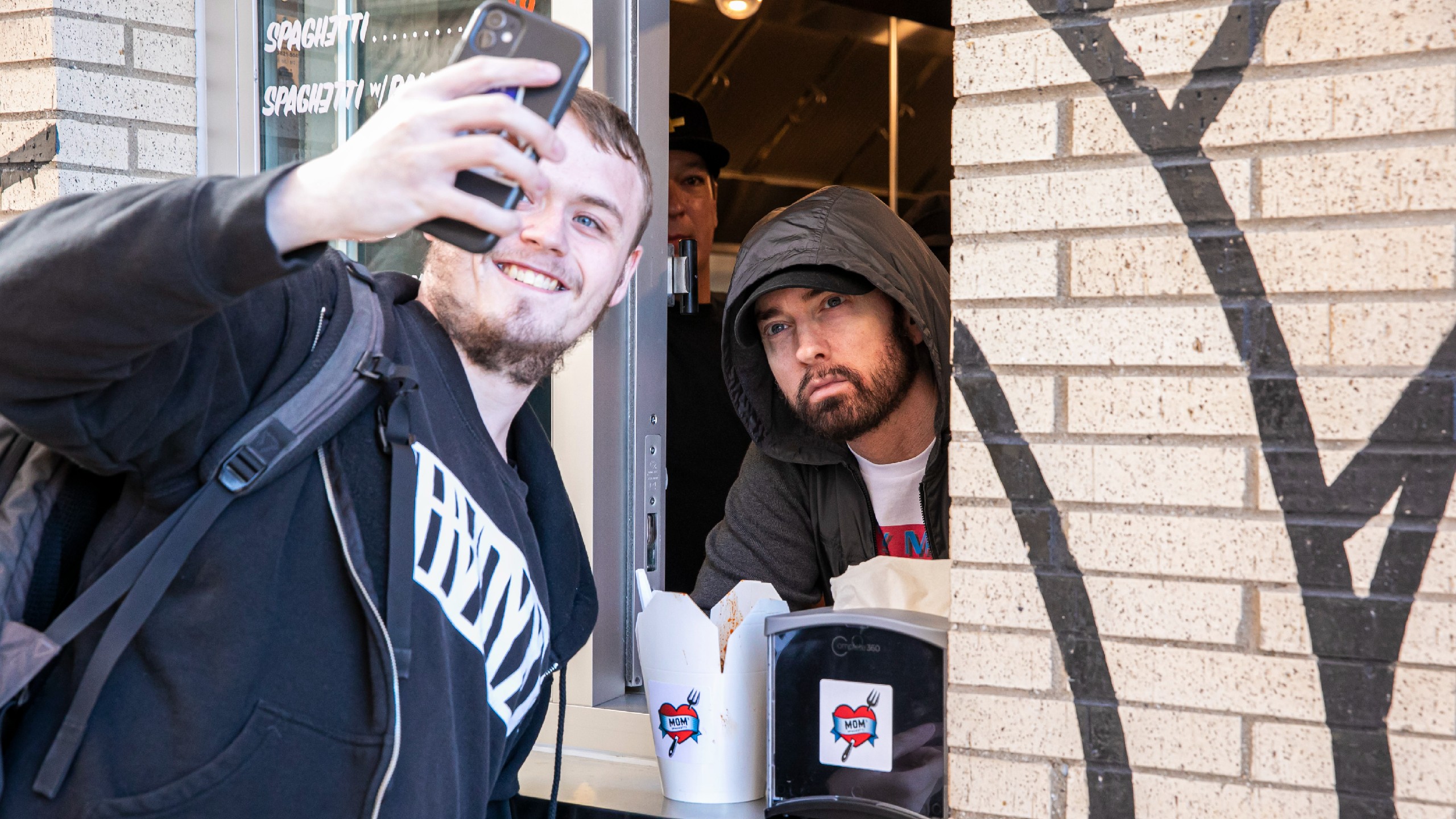 Credit: Getty/Scott Legato
His palms are sweaty, knees weak, arms are heavy. He's spent his afternoon dishin' out some mom's spaghetti. Fortunately, there doesn't appear to be any vomit on his sweater, which would almost definitely be some sort of health code violation. If you didn't spend the early 2000s listening to the genius that is Eminem, you're probably a little confused right now. Stay with me – we'll do a quick "explain like I'm 5" as to why it's so freaking cool that a multi-award winning rapper opened a spaghetti restaurant.
In 2002, Eminem made his film debut starring in 8 Mile. The movie was emotional, detailing several challenges that the rapper endured throughout his life. The film took an honest look at poverty, Eminem's difficult home life, and his pursuit of success despite everything seemingly working against him. The film was a massive success, as was the film's soundtrack which went quadruple platinum. Eminem's song, "Lose Yourself," even took home an Academy Award for Best Original Song.
"Lose Yourself" details the struggles of Eminem's character in 8 Mile, a character based on himself. The song features the famous line, "There's vomit on his sweater already, mom's spaghetti." Though it seems slightly unusual to base a restaurant on a line that also contains the word "vomit," unusual is part of Eminem's brand.
View this post on Instagram
On September 29, Eminem surprised fans by showing up at the grand opening of his new restaurant, Mom's Spaghetti. The restaurant is located in downtown Detroit, near where the rapper's family moved when he was 11 years old. Both the name of the restaurant and its location is an apparent homage to 8 Mile, as the movie was filmed entirely in downtown Detroit.
Eminem served up Mom's Spaghetti to enthusiastic fans, posing for pictures that quickly spread across social media. This isn't the first time the rapper has experimented with dishing out the famous spaghetti – he served frontline workers at several hospitals during COVID and even experimented with a pop-up restaurant in 2017. This time, however, Mom's Spaghetti's Woodward Avenue location is here to stay. Let's just hope it stays far away from any and all sweaters.