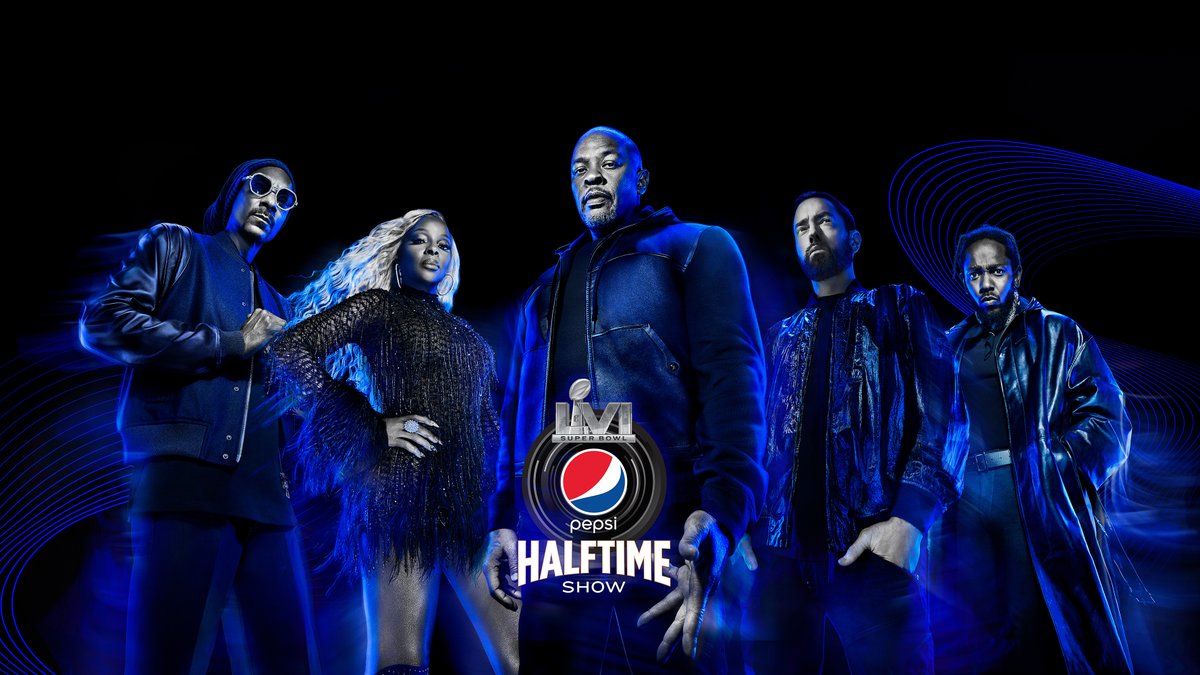 Credit: Twitter/Pepsi
The Super Bowl halftime show is always one of the most talked-about performances of the entertainment year (for better or worse). And this year's act will be tough to top. The NFL announced this week the Super Bowl halftime show in Los Angeles this winter will feature Eminem, Dr. Dre, Snoop Dogg, Mary J. Blige, and Kendrick Lamar. This would've been an insane lineup for 2002 but it's still a fun grouping even for 2021.
43 Grammys, 19 No. 1 Billboard albums, 5 epic hitmakers and 1 stage for the #SBLVI #PepsiHalftime show. 🎤🤘@nfl @rocnation @nbcsports @drdre @eminem @snoopdogg @maryjblige @kendricklamar pic.twitter.com/C3bh8TdX3a

— Pepsi (@pepsi) September 30, 2021
Super Bowl LVI will be the first in LA in a while so you gotta roll out some of the biggest names over the last few decades in rap and R&B. Nostalgia is big business these days, just look at how every show and movie from the 80s and 90s has been rebooted. The NFL, Pepsi, and Roc Nation are leaning into that hard and you know what, we are here for it.
Dre day in February 🌴🏈? I'm there! #PepsiHalftime Show @NBCSports @Pepsi @nfl @rocnation #SBLVI pic.twitter.com/0OqJnJHSQ2

— Marshall Mathers (@Eminem) September 30, 2021
Super Bowl LVI is February 13 on NBC (and Peacock, for those of us who have cut the cord and are streaming-only families). Dr. Dre said in a press release that it will be an unforgettable cultural moment and that he's grateful to Pepsi, NFL and Jay-Z for the chance.
"The opportunity to perform at the Super Bowl Halftime show, and to do it in my own backyard, will be one of the biggest thrills of my career," he said.
The game will be cool. But can we call this the greatest Super Bowl halftime show ever? Or do we need it to happen first? https://t.co/i5lN4AmP2u

— Ian Rapoport (@RapSheet) September 30, 2021
This group will thrill and delight dads of a certain age. And there's no questioning the legacies of the stars involved, as they've picked up more than 40 Grammy Awards and a couple dozen Billboard No. 1 albums.
Jay-Z called the show "history in the making." But the thing is, this group has *already* made history. This is more like "history takes a victory lap" and everyone who was alive in 2002 will enjoy it.