Employee Weaponizes Holiday Cheer by Gift-Wrapping Boss's Entire Office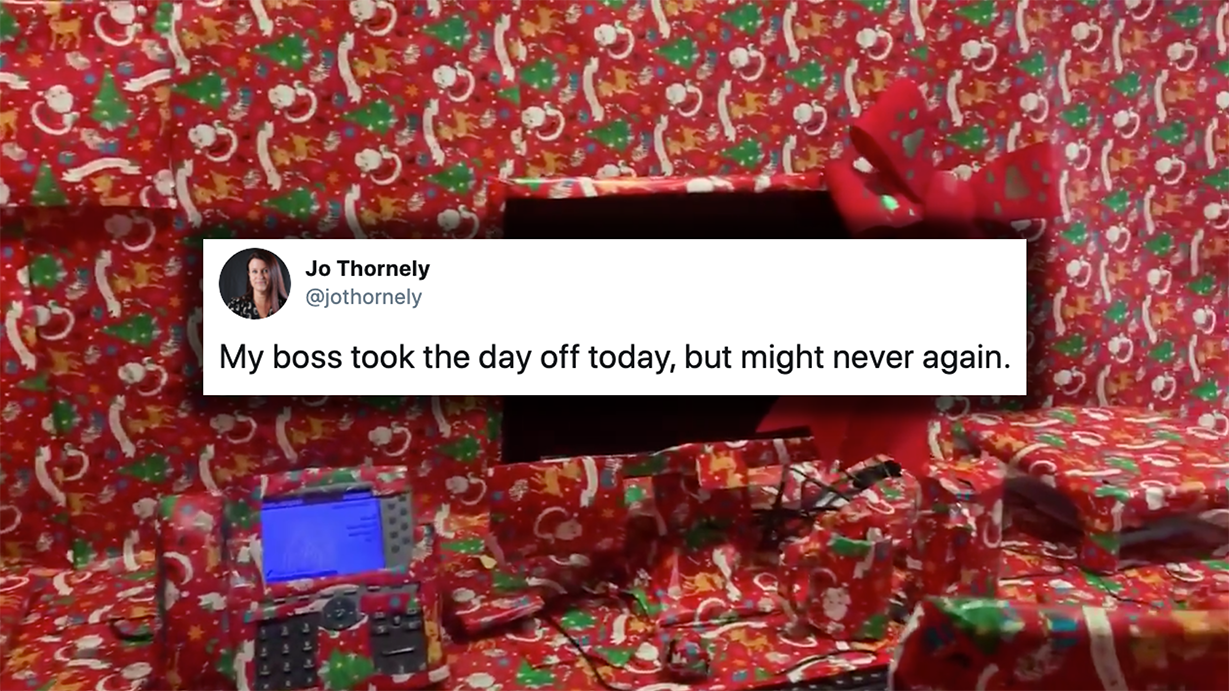 Look, I can hold my own when it comes to wrapping Christmas presents but I'm not one of those people who can make frickin' works of art with one measly piece of colored paper and some tape. You know the ones – they can wrap anything, no matter the size, shape, or consistency. Usually, such powers are used for good. Other times, though, they are utilized for some top-notch holiday shenanigans.
Jo Thornly—Sydney-based author, podcast host, and self-proclaimed spelling bee champion—decided to festively decorate her superior's office with wrapping paper.
And we're talking the entire office, folks.
My boss took the day off today, but might never again. pic.twitter.com/CR1PWS9Ud8

— Jo Thornely (@jothornely) December 2, 2019
Thornly's boss had taken the day off, something the malevolent gift-wrapper says they "might never do again."
Just about every surface is tastefully covered in festive, Santa-covered paper—chairs, books, the phone, even the computer. It's so intricate and thorough, it rivals the original source material (without the additional prank, as far as we know).
People on Twitter were quick to support Thornly's truly "gifted" pranking skills as well as desperately hoping to see her boss's response:
Well it looks like SOMEONE had a bit too much time on their hands!! (Not to mention, an abundance of gift wrap!) pic.twitter.com/U6ArL8pwIS

— Maria S Hind (@MariaSHind1) December 2, 2019
You wrapped the office better than I can wrap anything 🙈

— Gregor Suttie – azureadventcalendar.com (@gregor_suttie) December 2, 2019
Whoever did this needs to start a profession gift wrap business!! Flawless 💝🎄

— Jane Mills (@whatjanesays) December 2, 2019
holy bejebus. Please film their reaction.

— Frank the Dasher (@vwdasher) December 2, 2019
No word yet on the response from Thornly's boss, but if she gets fired, I got dibs on hiring her as my professional gift wrapper.