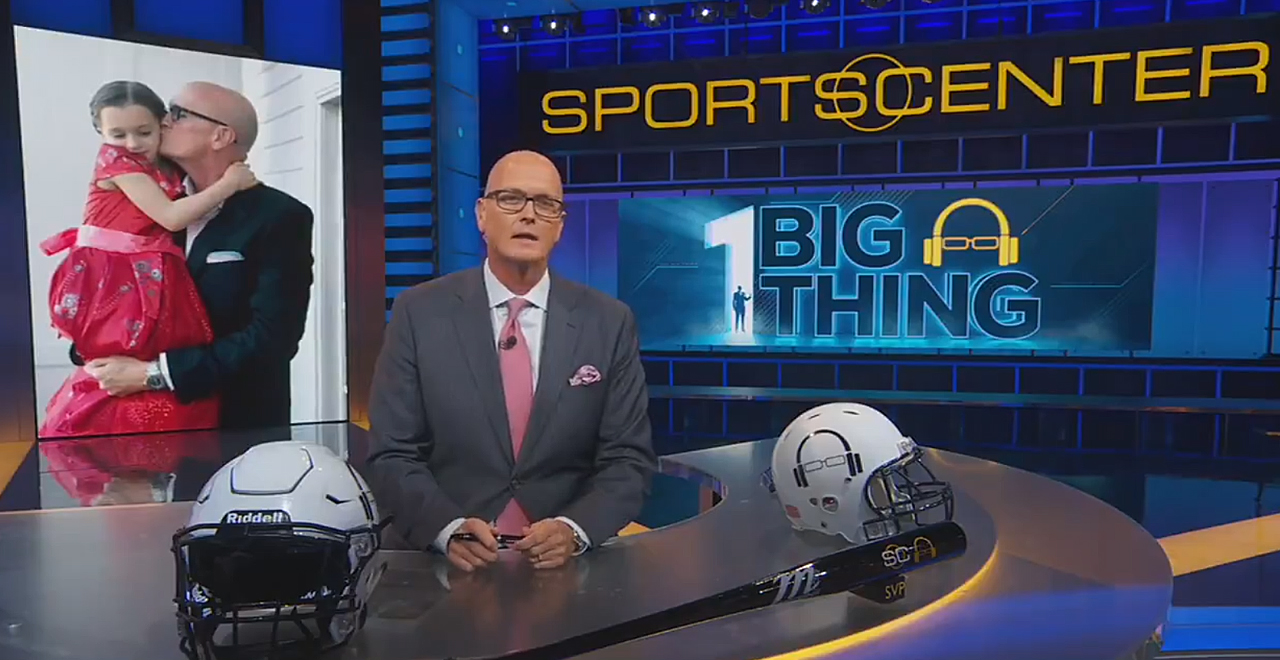 Credit: Twitter/StanfordSteve82
You'd probably expect a guy who works at ESPN to be a bit of a man's man. As such, you'd probably expect such a guy, when he became a father, to want to have a son. Someone to whom he could pass down his interest in and passion for sports.
Leaving aside the obvious fact that, hey, guess what, girls can love and play sports too! the stereotype is that guys want sons and that the prospect of having a girl makes them nervous. And in the case of well-known SportsCenter anchor Scott Van Pelt, you'd be right. Sort of.
Van Pelt, the solo host of ESPN's midnight edition of SportsCenter, closes his shows with a segment called "One Big Thing," and in the past, he's used it to discuss his dad's passing. In a recent edition, he celebrated his daughter's birth.
On May 9th, to mark his daughter's birthday, he discussed his initial hopes of having a son – he's since had two – and his reaction to the news that his first child would be a feminine child.
"'Do you see it?' the technician asked as I sat with my wife at the ultrasound. We'd been convinced our first child was a boy – how she was carrying the baby, wives' tales, what have you. So when I hear "do you see it?" well, I'm looking for it, right? All I see is a blob and she says "it's a girl!" I was like "it's a what?"
A girl, huh? I dropped my wife back at school where she was teaching at the time, went right to my office at home and Googled 'how to raise a girl'. I suppose had I convinced myself that had it been a boy, I would have taught him how to throw a four-seam fastball, handed him a beer and said: "that's about it son, you'll figure out the rest."
The anchor went on to describe how his daughter had changed his life, and how quickly it stopped mattering that she wasn't a boy. He discussed his love for his now 6-year-old, and before closing the segment, he had a message for other dads like him, who might be wishing for a boy.
"To any man out there who's about to become a dad for the first time. Maybe you grew up in sports, like me. Maybe you're thinking you want a boy. And I get it, I do. That was me. And my sons are a joy to me. But let me tell you a secret, fellas.
Root for them to tell you it's a girl. There's no greater love than you'll ever know and nothing that will change your world view more than holding a little girl and imagining the world through her eyes – wanting to be, for her, the very best version of yourself in the hopes that you might be worthy of the way she looks at you. Being worth being adored by her."
Watch the entire video:
One Big Thing
A dad's love for his daughter pic.twitter.com/W5CX1mTlQI

— Stanford Steve (@StanfordSteve82) May 10, 2019