Family Collects 30k Pounds of Food for the Hungry and Starts Mini Food Pantries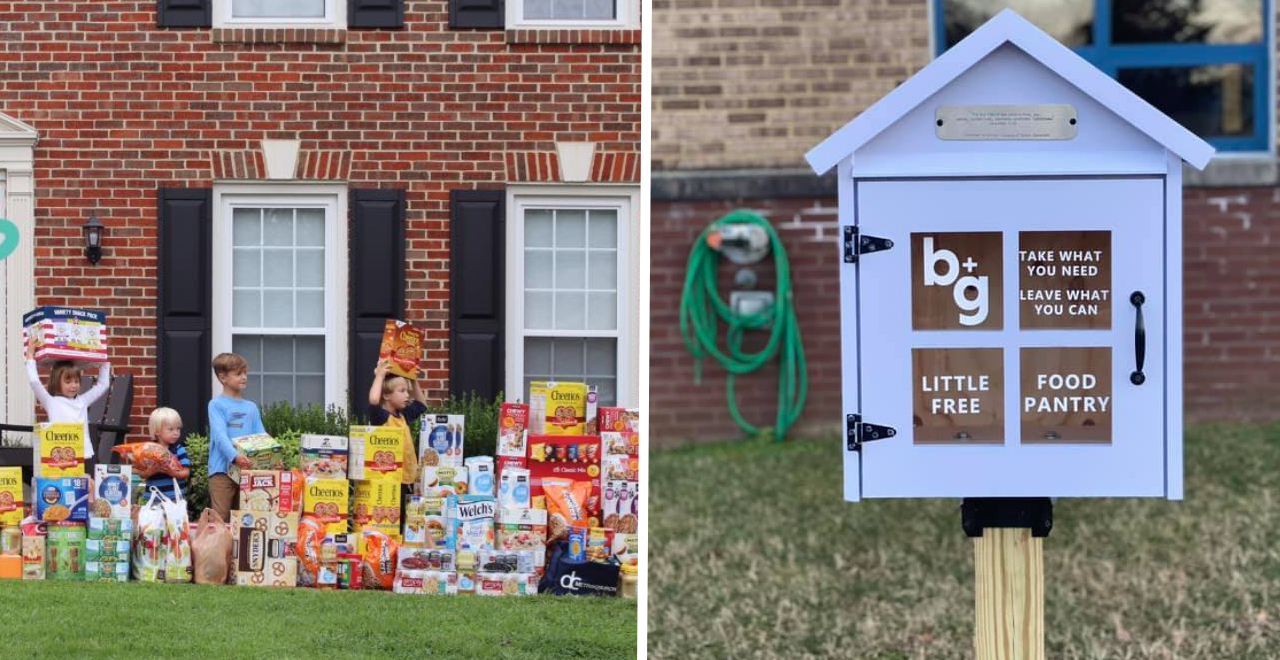 The response to a global pandemic has varied, but regardless of the lack of a wholesale government response, the way regular, everyday people have helped those less fortunate has been one of the most inspiring things from the last year. Whether it's a family starting a food kitchen under a bridge, or providing free plumbing to the elderly and disabled, it's clear to see those helpers Fred Rogers always talked about.
One family in Virginia fits that mold. When they heard about food insecurity rising sharply and how overwhelmed food pantries were getting, they put a box out on their driveway to collect non-perishable food from their neighbors. It quickly filled up, and Amber and Sterling Marchand and their four kids found a new mission.
"We realized that as much as a need was there, there was also a desire to help," they told Good Morning America. "We started to reach out to local nonprofits to donate the food and create relationships."
They began making sandwiches for another local charity that feeds food insecure people and also started becoming a collection point for others who wanted to contribute sandwiches or food. They now deliver 1,500 sandwiches a week. They also started collecting food, which they've used to donate to charities and to set up mini food pantries around the community.
View this post on Instagram
They quickly set up a non-profit, the Be The Good Project, to help focus their efforts. To date, they've collected nearly 30,000 pounds of food.
"Our laundry room is now mini fridge land, we store the nonperishables in our living room and we have two additional full-size fridges that we've added to our garage," they said. "It has definitely infiltrated [our house], but the neat part is our children, who are fairly young, really do understand what's happening. Our youngest, who is 3, will say, 'Is this food for us or food for neighbors?"
View this post on Instagram
They even do emergency grocery delivery for people stuck at home because of the pandemic and gave away more than $11,000 in grocery gift cards around the holidays. In less than a year, the family has organized efforts to donate more than 30,000 pounds of food and nearly 50,000 sandwiches.
Food insecurity is definitely a HUGE problem in the US, as some estimates place nearly 50 million in that category, especially when many schools are still operating remotely, as schools serve a huge food role for many food-insecure kids.
View this post on Instagram
The mini food pantries the family operates in local neighborhoods (some of them assembled by dad Sterling) are a great stop-gap for those who want to donate or take food and can't make it to a regular food pantry when it's open. And while the pandemic may have been the starting point for the family, they aren't going back.
View this post on Instagram
"We know this need for food is not going to go away even as we're able to return to what we seemingly see as normal," Amber said. "It's going to be here for a long time, this is hopefully going to be an outlet for people to continue to help one another."