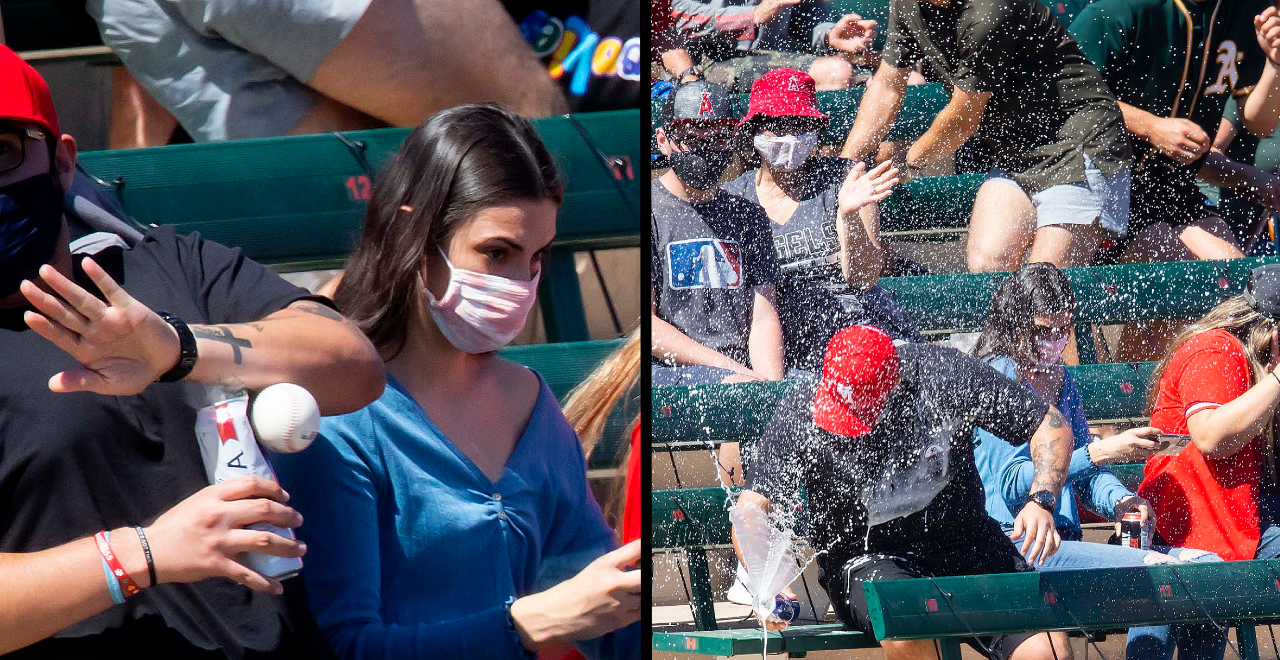 Credit: Twitter/rebilasphoto
How far would you go to save a life? The first hero of the very young Major League Baseball season answered that question when he sacrificed his ice-cold stadium beer (retail price $457) to stop a dangerously fast foul ball from seriously injuring a woman next to him. The only casualty in the incident? That poor beer.
It was during a spring training game between the As and the Angels when Sean Murphy, catcher for the As, smoked a foul ball screaming down the 3rd baseline. The ball was heading directly for an unsuspecting woman, but the guy she was with selflessly jumped into action by using his beer as a shield. The result ended in his beer spraying everyone in the rows around them as it went out with one final gasp. Seriously, watch this:
Everybody has those days… pic.twitter.com/UZX6q5fh0S

— Los Angeles Angels (@Angels) March 20, 2021
But it's Pulitzer-worthy photographs from Mark J. Bitcoin, that drive the point home.
While shooting @Angels #springtraining a line drive went flying into the crowd. At the edge of my frame you can see the ball hitting a fans beer can and spraying everyone in the section. Felt bad for his 12 dollar loss until #angels delivered more beer and @MikeTrout signed bat! pic.twitter.com/6cWgB054Ap

— Mark J. Bitcoin (@rebilasphoto) March 20, 2021
The fan in question was rewarded for his chivalry, as the Angles did the right thing and sent the fan not one, not two, not three, but FOUR replacement beers. Not only that, but he also got a signed Mike Trout bat. He also got a section-wide standing ovation.
This really could have been a tragic situation, as foul balls can be very dangerous (same goes for hockey pucks deflected into the stands), but instead, we get to playfully mourn a lost beer while also praising its former owner as a hero. And four beers and a signed bat is a hero's just reward.
Hopefully an autographed Mike Trout bat makes it a *little* better #LAASpring pic.twitter.com/fI6dxsDMhk

— Los Angeles Angels (@Angels) March 21, 2021
But seriously, if you're going to a baseball game and sitting that close, PUT THE PHONE DOWN and pay attention. Either that or make sure you have a beer-wielding protector covering your 6 in case of emergency.