Firefighters are some of the first heroes we learn about as kids, the people we're taught to call when we're in trouble. Every single day, firefighters make the world a better and safer place by protecting their communities and saving lives. But when the son of one of their own got sick, a team of Virginia firefighters did what they do best – they decided to help.
Having a sick child is something no parent can prepare for. Each day is filled with anxiety and unknowns, something Levin Turner learned to cope with after his son was diagnosed with a rare form of lymphoma in 2019. Levin Turner has been a Portsmouth firefighter for 14 years, and as such, his coworkers had been with him through the excitement of becoming a dad and the heartbreak of watching his son get sick.
Turner's 4-Year-old son Nolan has been stuck in the hospital during COVID, making this time especially difficult for both him and his family. But for Turner's colleagues at two fire departments, this difficult situation was also an opportunity to show up for their friend and his family. And as firefighters do, they showed up in a big, loud, unforgettable way.
With sirens and flashing lights, firefighters from Norfolk Fire and Rescue as well as Portsmouth Fire Rescue & Emergency Services Rescue showed up outside Nolan's hospital room. They parked their trucks, raised their ladders, and climbed five floors to surprise the 4-year-old. The firefighters held signs both outside his window and on the ground several stories below – they even brought Captain America along to give Nolan some extra support.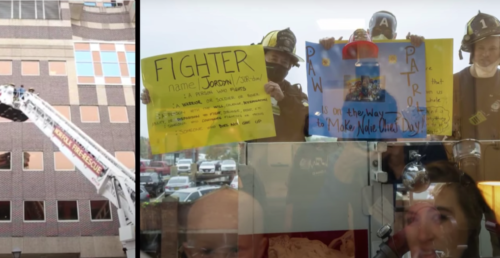 "I have five kids and he's the one who wants to be a firefighter, that's his thing. It was so meaningful in so many ways," Turner told WKYC. "There's not a whole lot in this process that has brought the joy back to Nolan, this is about it. This has been a very high point for us. So, it was really appreciated."
The child of the Chesapeake Fire Department's captain is coincidentally staying In the room next to Nolan, so 15-year-old Jordyn Lee also got an uplifting visit from some big-hearted firefighters on Friday. Though both kids are facing challenging situations made even more complicated by the pandemic, they each got an incredible distraction and heartwarming show of support.
"I've been in the department for 14 years and they've always talked about a brotherhood and a family," said Turner. "Since I've been through this, I've never felt more than a family unit. It's been truly amazing."