Fortnite Bootcamp – Impress Your Kid Or At Least Not Embarrass Yourself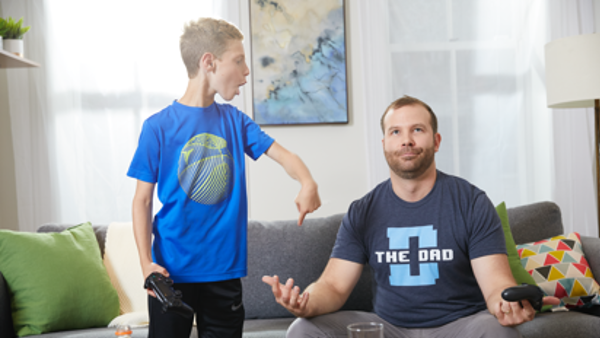 The Dad Gaming League's first event is Fortnite, on August 21. Sign up now to reserve your spot on the Battle Bus.
The first gaming event we held was a custom Fortnite match in a private lobby of about 10 dads playing. People were randomly squaded up, everyone was laughing, getting along, even making friends. It reminded me of the old days playing Goldeneye with my buddies, except these were members of our internet community who didn't know each other, and were 100s of miles apart. That spirit of comradery is what's behind the whole The Dad Gaming community – giving dads a fun excuse to take a break, get away, and play games with cool people.
Epic snack-makers Planters knows this better than anyone, and they love the community spirit; so we squaded up to launch a full-fledged The Dad Gaming League. This monthly competition will champion that essence of fun and "anyone can play" spirit. (So you don't have to be good to win a prize.)
However, if you're brand new to Fortnite and you don't want to embarrass yourself too hard -or if you're pretty decent and looking for a couple of areas to work on- we've got you covered. Any dad's path to leveling up starts here.
These tips start for the newbiest of newbs, and gradually get more advanced. Start at the beginning. Once your eyes start to glaze over, take a break, pop some Planters, and jump onto the Battle Bus. Because the best way to get better at any game is to lose A LOT.
QUICK OVERVIEW OF HOW FORTNITE WORKS
Fortnite is a quintessential Battle Royale game. This genre of game is that a large group of online players drop into the same world, called the map, and fight it out. When someone is eliminated, they're done. So the number of players in the game continues to drop throughout the match. To keep it interesting, there is a storm that will damage you closing in on the island, making the play area smaller and smaller as time goes on.
You drop onto the island empty-handed, so you want to immediately find some weapons, powerups and other items to help you thrive and survive. Unfortunately, there are no Planters Pop and Pours on the Battle Island.
LINGO
There is a lot of shorthand dads use when squadded up. These terms were completely lost on me when I started and it made things very confusing. So if you're starting fresh, here's your first real advantage:
Battle Bus – This is your entry to the island. At the top of each round, you choose when to jump off the bus and parachute to where you want to land.
Circle – The playing area. This is where the storm hasn't closed in yet, and it shrinks every few minutes or so.
Slurp – This is the neon blue health substance found in "pots" and scattered in lakes and rivers throughout the map. It heals you over time, not all at once.
Full Pot – This is a "Large Health" item. It's a big blue jar of "Slurp."
Mini -This is a "Small Health" item. It's a small vial of Slurp.
AR – Just like in real life, this is what we call those bigass fast shooting guns.
Engage – Confront another player or team in battle. It's a big map at first, so you don't always have to fight. Engagement is a choice…for a time.
Final Circle – This is the endgame, when the storm has zeroed in extremely tight, and all remaining players are thrown together in sweet chaos.
Bot – This is an AI enemy who appears to be another player in the game, but is basically just a dummy to fill out the map and make you feel like you actually got some kills.
Skin – This is the term for how your character looks. You can buy or earn various skins that include character designs and costumes.
Default – This is what we call the basic no-investment character mold. If you log on for the first time and hit play without swapping anything, you're playing as Default.
TACTICS
SURVIVE
Hide!  First things first, don't get shot right away. Hang out on the Battle Bus a little bit and then when you do jump out, land where other people don't usually tend to go right away. It'll take a few rounds to learn all the locations, but if it looks like a big structure or base, it probably has a lot of items to snag….but a lot of other people will be interested in trying for them.
The first time I played Fortnite was at my wife's friend's house. There was a 10-year-old there who was nonstop talking crap to me about how I was a "noob" and he was better than me at Fortnite. I challenged him to see who could last the longest. He landed, got some eliminations, but finished 40 or so?
On the other hand, I strategically rode the Battle Bus as long as I could, dropped far away, and proceeded to sneak around, hiding at every place I could, always searching for predators.
Eventually, someone found me, engaged, and I was quickly eliminated. But I got 6th. (Now who's the noob?) Usually, you'll need to be pretty decent at offense to finish in the top ten. But I've found for beginners, the easiest way to finish top 25 is hiding. DEFENSE WINS CHAMPIONSHIPS.
WATCH THE STORM
Hang out on the outer reaches of the circle. Move-in as the storm gets smaller.
When you're on the outside of the playing area, you don't have to watch your back as much, because you know people will be less likely to sneak up behind you.
Watch the clock, though, and be ready to move. The circle doesn't shrink automatically, but the Storm does move faster than you do.
STAY SNACKED UP
A single Battle Royale can last about 20 minutes. As any kid who has been asked to turn off their video game mid-game will tell you, you do not want to quit during a match. Keep snacks handy. Planters Pop and Pour is ideal here. It allows one-handed snack consumption and keeps the controller clean. I kind of think it was designed with dad gamers in mind.
DON'T BE SO QUICK TO ENGAGE
Learn the "Third Party" strategy. If you see multiple players or squads, let two groups fight it out and be the third party there to clean up at the end. This was called "pickin' cherries" back in my Halo days, but what was dishonorable for the Master Chief is a sound strategy in Fortnite.
READY TO ENGAGE? LEARN TO ATTACK BY PLAYING TEAM RUMBLE
It takes lots of battles to learn the proper way to engage and how to be more accurate. Try playing the Team Rumble game mode to get a feel for combat. Battle Royale means once your out, you're out. In Team Rumble, when you get eliminated you automatically respawn and you're back in the action, giving you lots more experience at eliminating (and being eliminated). It's not the most satisfying game mode, but it helps you learn.
LEARN THE WEAPONS, PERFECT YOUR LOADOUT
You'll want a variety of weapon types, as well as healing items, but there are only so many item slots available. There's also a color-coding system to how powerful each weapon is. In ascending order, they are: grey, green, blue, purple, orange.
JUMPING AS A DEFENSE MECHANISM
To avoid being sniped, some more advanced players jump all the time. They'll jump across an open field like Mary freakin' Poppins. I was always the type who'd rather not be so noticeable. But jumping is a great defense against attacks, especially close range. Start panicking? Start jumping. You may just make it out.
AMMO MANAGEMENT
I am a terrible shot. I can spray and spray and not land a single hit. So then when I have to reload and the opponent is engaging me, it can feel like a lifetime. One thing I started doing to help is I will take my favorite weapon choice, and put two of them right next to each other in my loadout. So if I empty one of them, instead of reloading, I just switch the other and keep firing. Essentially gives you double the ammo without reloading.
It is also possible to use this technique with Pop and Pour snack containers.
KEEP WATCHING AFTER YOU GET ELIMINATED
When you're out, you'll get to spectate the person who got ya. Keep watching and you might pick up on some strategies or tips. Sit back with your Pop and Pour, and watch it like a movie.
LEARN TO BUILD
You'll notice this tip isn't even in here until number 10. Dads notoriously don't like Fortnite as much as other first-person shooters because of the building. A common joke is you fire a single shot and your opponent instantly has a five-star hotel. It can be frustrating when you don't know how to do it. (Which is why we host a weekly no building event.) But you can use it to your advantage with very little effort. Simply learning to build a ramp will help you access much more loot, and it's a simple two-button press. The same goes for building a vertical wall. If you can get used to quickly pressing those two buttons, you can throw one up as an opponent engages you. That simple wall will save a lot of damage and buy you some time.
And most importantly:
HAVE FUN, BOND WITH YOUR KID
I had a Nintendo as a kid and I loved it. But my dad never played video games with me. No big deal. But now, as a parent, the only reason I have a video game system is so I can play with my kids. It's a bonding tool.
My son is super into Fortnite skins, while I proudly remain "a default." But since he is so into them, I'll gladly play with him to beat the season challenges and unlock new skins for him. We collaborate with each other as a team, we chat, we laugh, we have a blast.
Sure, he enjoys it now because he gets to unlock some new skins. I enjoy it because I'm spending quality time with my kid doing something he loves. I know it may sound far fetched to non-gamers, but I truly believe that when he is an adult, he'll look back with fondness at the times his dad helped him beat Fortnite challenges to unlock skins. And those parent/kid moments, the unforgettable memories… that's what it's all about.
This article and The Dad Gaming League are sponsored by Planters. Enjoy delicious snacks without gunking up your controller with Planters Pop and Pour.