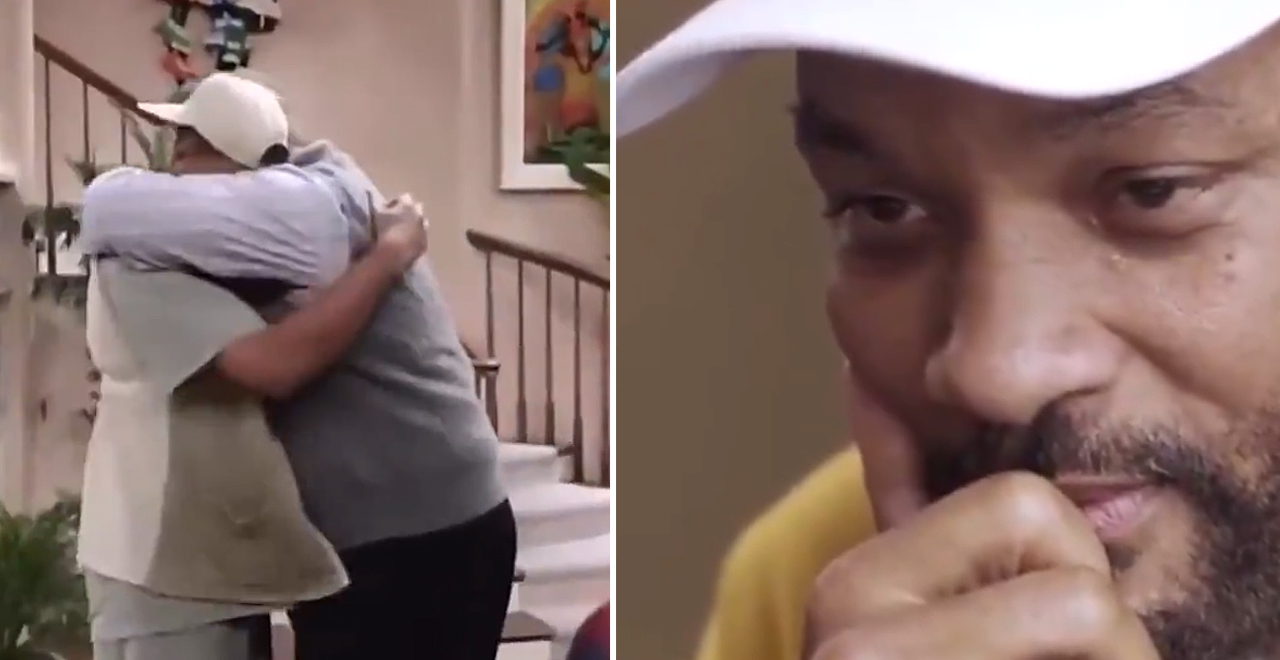 Credit: Twitter/KissMySnap
The other day, Will Smith posted a special two-part episode of his Snapchat show, Will At Home. He's been using the show to keep people, including himself, entertained during this interminable quarantine, and he had a special surprise for his fans: a cast reunion of the show that kickstarted his Hollywood career.
Smith recruited nearly the entire cast of his classic 90s sitcom, The Fresh Prince of Bel-Air, including the Fresh Prince himself, Alfonso Riberio (Carlton Banks), Tatyana Ali (Ashley Banks), and Karyn Parson (Hilary Banks). Joseph Marcell, who played Geoffrey the butler, Daphne Maxwell Reid (Vivian Banks), and Smith's musical partner in crime, DJ Jazzy Jeff.
There was one notable exception, however, and that was James Avery, who played Uncle Phil. You may remember him from the show's most iconic scene, in which Uncle Phil embraces Will to comfort him after his father leaves again, which had its own 25-year anniversary in 2018.
Avery died of complications following heart surgery in 2013, at the age of 68, and the cast clearly remembers him fondly. On the Will At Home reunion, the actors took a moment to reminisce about their beloved costar. A montage of memorable moments featuring Avery as Uncle Phil played as the cast watched on their computers, and there wasn't a dry eye in the house.
You can tell how much the cast loves and misses the late actor, and how meaningful this moment was. Especially the end of the clip, which features Avery hugging each one of them.
Check out the clip, and the cast members' reactions to it:
🥺🥺🥺🥺 Fresh prince cast watching clips of Uncle Phil. pic.twitter.com/1afL36XUTi

— chanel. (@KissMySnap) April 30, 2020