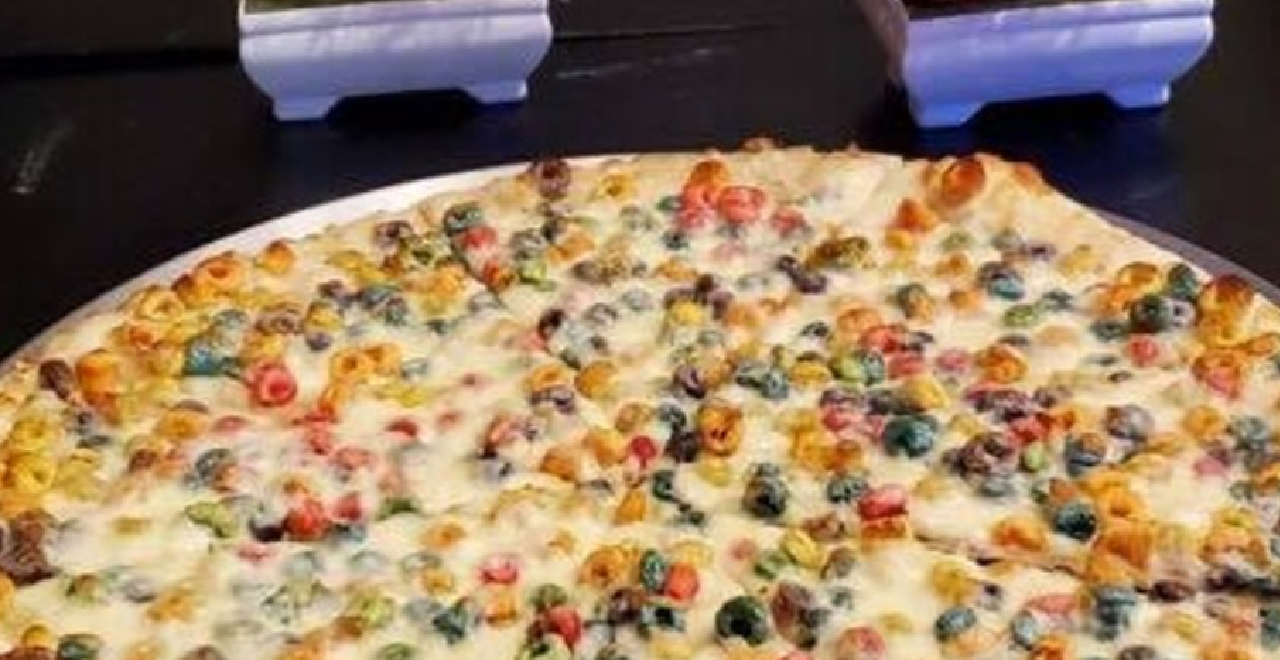 Credit: Instagram/fongspizza_forestave
Nothing brings people together like pizza. It's the greatest of all communal foods, and even when pizza gets provincial, it's still delicious. You can love New York pizza while also appreciating the casserole that is Chicago style pizza. Even chain pizza can be appreciated on some level, and every kid has nothing but incredible memories of the Pizza Hut buffet. But pizza can also tear people apart. Pineapple on pizza has been deemed criminal by some. Kiwi pizza has the internet divided. But one Iowa pizzeria might have officially taken things too far. They've created a new breakfast pizza topped with…Froot Loops.
Fong's Pizza started offering their "Loopy Fruits Pizza" which is a sweet cream cheese base with mozzarella, Froot Loops, Greek Yogurt, and condensed milk. It sounds like a complete abomination.
View this post on Instagram
I try to keep an open mind when it comes to pizza. Even with fruit, sure, throw pineapple on it, let's give it a whirl. But this is really stretching it. You know it's shaking up the pizza game when even DiGiorno's is throwing shade.
Please do not disrespect the word pizza like this. https://t.co/adain4tBbw

— DiGiorno (@DiGiorno) February 27, 2021
If anyone should be uniting against BIG PIZZA, it's grocery-store pizza.
Still, if you listen to the owner of Fong's Pizza talk about this concoction, she does make some compelling points. Gwen Page told TODAY the pizzeria wanted something that would be fun for children and that they love doing things that are off the wall.
"What can we do to give people that truly unique experience?" she said. "That's what we strive for."
And, well, you can't deny it's unique. And these days, with the level of specialization in every industry, not every new thing has to appeal to everybody. Presumably, this appeals to someone. I can't pinpoint who that may be, but if there can be a new streaming service every week, I don't see why we can't throw cereal on pizza and see what happens.
"It's just a reminder to folks to be silly, live life, and have fun, because that's really what this pizza is all about: having fun," she explained.
Having fun IS what pizza is about. But it's also about, you know, satisfying the primal urge of hunger and keeping you alive for a few more hours, so I may be sticking to my boring, delicious, ancient brand of pizza.