16 Activities to Keep a 2-Year-Old Busy for Minutes and Minutes of Fun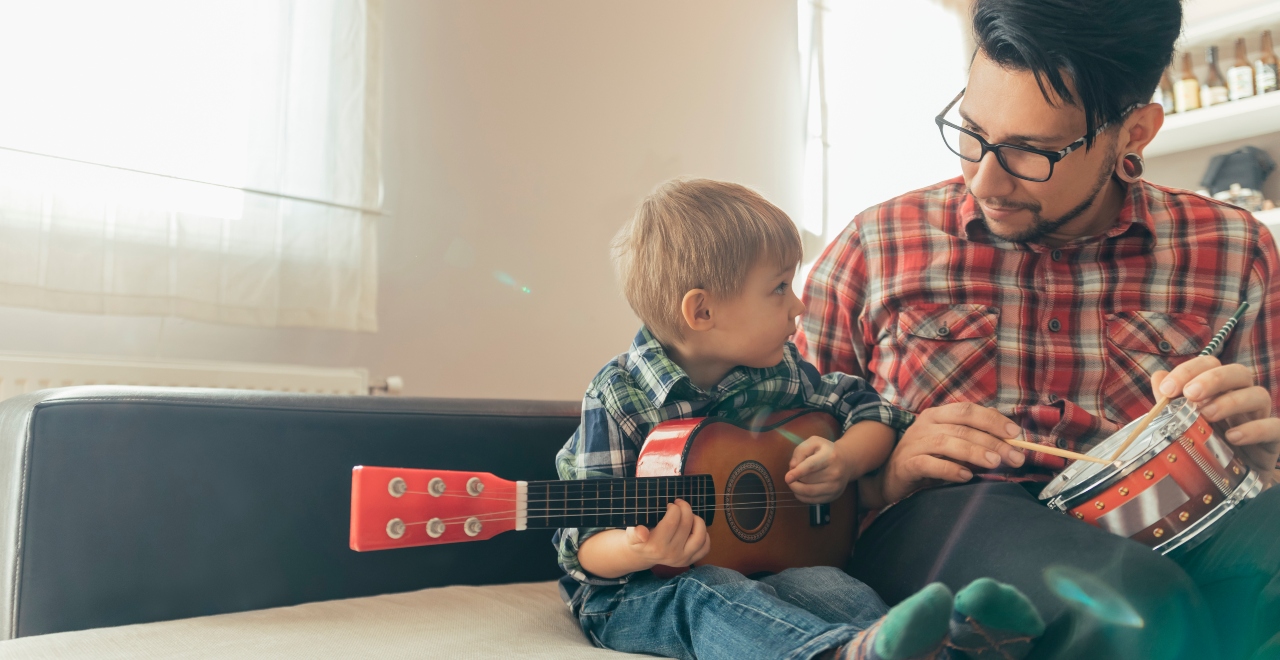 Here's a fun fact all parents of 2-year-olds learn early on: keeping a toddler entertained for longer than a minute is a feat and a pain. While playing games that are fun for fun's sake are great, you also want to sprinkle some educational elements in their day. So with that in mind — and to save you the headache of trying to think of one on the fly — we've gone ahead and rounded up some classic games and learning activities for 2-year-olds that you'll enjoy just as much. Bonus for parents: they all contain some sort of developmental and educational component, so you can have hours and hours minutes and minutes of fun.
Simon Says
An oldie but a goodie. Simon Says is the perfect game to play with a toddler on minimal sleep: you can lay on the couch shouting commands and your kiddo will have a ball following along. Added tip: You can sell this as a developmental game that teaches listening skills.
Hot and Cold
Why reinvent the wheel? Sticking to the classics was good enough for your parents so it's good enough for you. Hide your toddler's favorite toys around their room and teach them how to play Hot or Cold by helping them find it. "Warmer" and "hot" means they're on the right track and "cooler" and "cold" means they're moving further and further away.
One For You, One For Me
Remember that old Twix commercial with the "two for me, none for you" slogan? Yeah, this game is the opposite of that. Teach kids how to count and share by divvying up similar items like snacks, markers, toy cars, or Cheerios. Or Twix.
Hide and Seek
If you're looking for the OG in toddler and kids games, hide and seek is it. Just make sure you keep a watchful eye on where exactly your toddler decides to hide, just so they don't hurt themselves.
Freeze Dance
A favorite at every kid's party put on your kid's favorite music and dance around with them. Then randomly stop the music and make them freeze in their last dance position. See what fun and ridiculous poses you can come up with.
Animal Dance Party
This game is if your toddler had a dance party at the zoo. Play some upbeat music and shout out an animal name as the kids are dancing. Encourage your little to dance as the animal and see what wacky way they can groove to the beat.
Circle Groove
This is a favorite at kid's birthday parties and your toddler will love it too. Get the family to stand in a circle and choose one person to start with a dance move, then the next person will mimic the first move and add one of their own before passing it on to the next person. This goes on and on until the dance just gets too silly and complicated. It sounds like a lot but it's actually super fun.
Name That Tune Disney Edition
If your toddler is a Disney+ fanatic and has viewed a healthy catalog of Disney cartoons then this will be a favorite game to play. Create a personal playlist of Disney songs or put on a Disney radio station on Pandora or Spotify and ask your toddler to name that song. They obviously won't know the name of the song so they'll probably just shout "Elsa," "Gaston," "Ariel" or "Frozen," "Tangled," "Aladdin" at you. You can also just hum or sing the songs yourself if you don't have access to the soundtracks.
Catch
Enjoy this classic pastime while teaching your toddler hand-eye coordination. Start with a light, soft ball, and see how they do before you try some underhand tosses.
Kick The Ball
Just like catch, this is a fantastic activity for teaching coordination to a toddler. Gently kick a soft soccer ball back and forth or give your little one a goal to shoot for, like between two chairs.
Monkey in the Middle
Let your kid be the monkey as you and another adult or an older kid throw a soft ball or item into the air over the toddler. Encourage your tot to jump up high to try and catch the ball. This is truly endless fun so you might be playing it for a while. Bonus tip: like Simon says, you can play this seated if you throw the ball high enough in the air.
Catch the Bubbles
Not sure if you've noticed at a birthday party yet but toddlers lose their shit over bubbles. Use a soap bubble toy to blow some bubbles and watch your toddler scramble to catch one in their hand.
Finger Painting
Encourage your budding Picasso to express themselves with some finger painting. This can get messy so buy some large construction paper to cover the table first. Then let your toddler loose on watercolors and see what they come up with. Prompt your toddler to draw some shapes and help out when they need the extra nudge. Make sure they help you clean up.
Twister
Another classic game we grew up playing that also teaches colors and coordination. And it's also a great way to teach the difference between left and ride sides of the body.
Name That Color
This is not so much a game as a way to teach colors while also keeping your toddler from eating the raw eggplant at the supermarket or grocery store. Teach toddlers how to identify and group fruits and veggies by color while sitting cool in the shopping cart as you dash to and fro before she inevitably wants to walk just like daddy. Bonus, it's also a great way to teach names of fresh produce.
Counting With Play Doh
Kids love them some Play Doh! So use their seemingly endless attention span for all things colorful Doh to learn the shape of numbers. Sculpt numbers 1 through 10 using colorful Play Doh with your child and have your toddler identify them all over and over again.
Finish That Song
It's as simple as it sounds: start by singing a song your 2 year old knows fairly well and stop just short of the last line or lyric. Then prompt your toddler to finish.
Where's Your…
Clearly there's a theme here with memory games, but it's not our fault toddlers eat them right up. This one is also a great game to teach them about body parts and test their memory. Start simple with "Where's your nose, where's your mouth" before moving on to more complicated words like shins, elbows, forearms, and forehead.