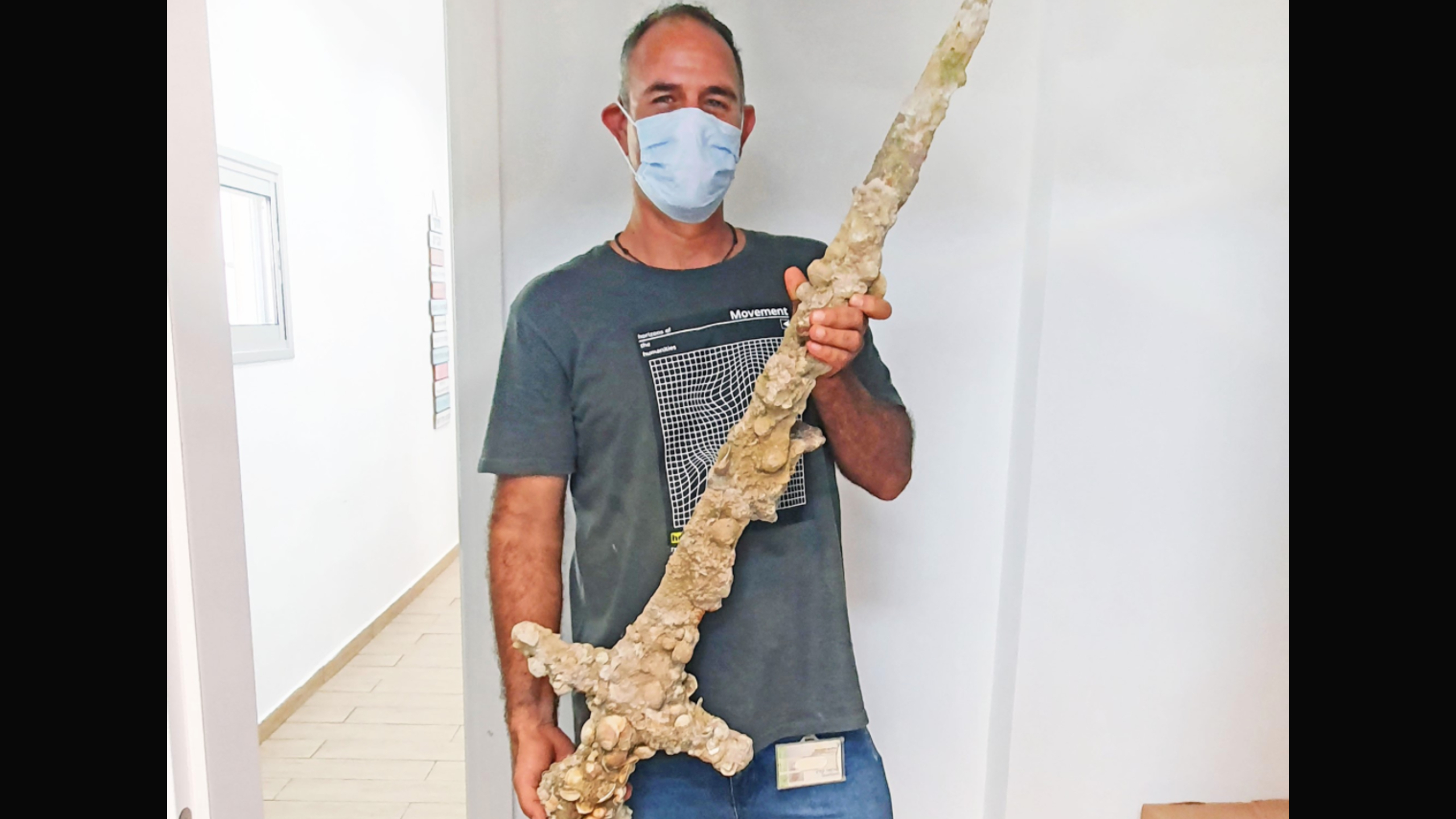 Credit: Israeli Antiquities Authority
Literally the stuff of legends – A scuba diver exploring the coast of Israel recently came across an incredible discovery: an almost perfectly preserved ancient sword from the Crusades. Sure, he found some other old relics, like boring ass stone anchors and such. But the big discovery was a giant, 900-year-old sword, and it looks cool as hell.
The Israeli Antiquities Authority confirmed that the sword discovered by Shlomi Katzin was authentic. Honestly, the entire thing sounds like it could be the start of some fantasy epic on HBO Max.
"A scuba diver finds a giant ancient sword, which he pulls from the sea…" You're telling me you wouldn't spend 90 minutes watching that, especially if it starred someone like Jason Momoa or The Rock?
The sword is enormous at more than three feet long. Katzin reportedly found it after waves and undercurrents had shifted the sand in the area nearly 200 meters off the coast. He immediately handed the sword over to the authorities, because I guess that's what you are supposed to do with ancient swords, even though I'd probably carry it on my belt forever (or maybe across my back like I'm in Braveheart).
An inspector for the IAA said in a statement the sword is made of iron. The size and shape of the sword helped date it back to the Crusades. It was also found very close to a Crusader fortress, so that checks out, according to the historians. So, the sword could date back to 1096, give or take a hundred years.
"It evidently belonged to a Crusader knight. It is exciting to encounter such a personal object, taking you 900 years back in time to a different era, with knights, armor, and swords," he said.
The IAA labs now have the sword and are working to clean off all the encrusted marine organisms. Archaeologists are also paying extra close attention to the area, which was also a popular hideout for Bronze-era ships, hoping to come across other major finds. Once the sword is all cleaned up and polished, it will be displayed to the public. Hopefully, Katzin let himself enjoy a few swings of it for fun before handing it over.