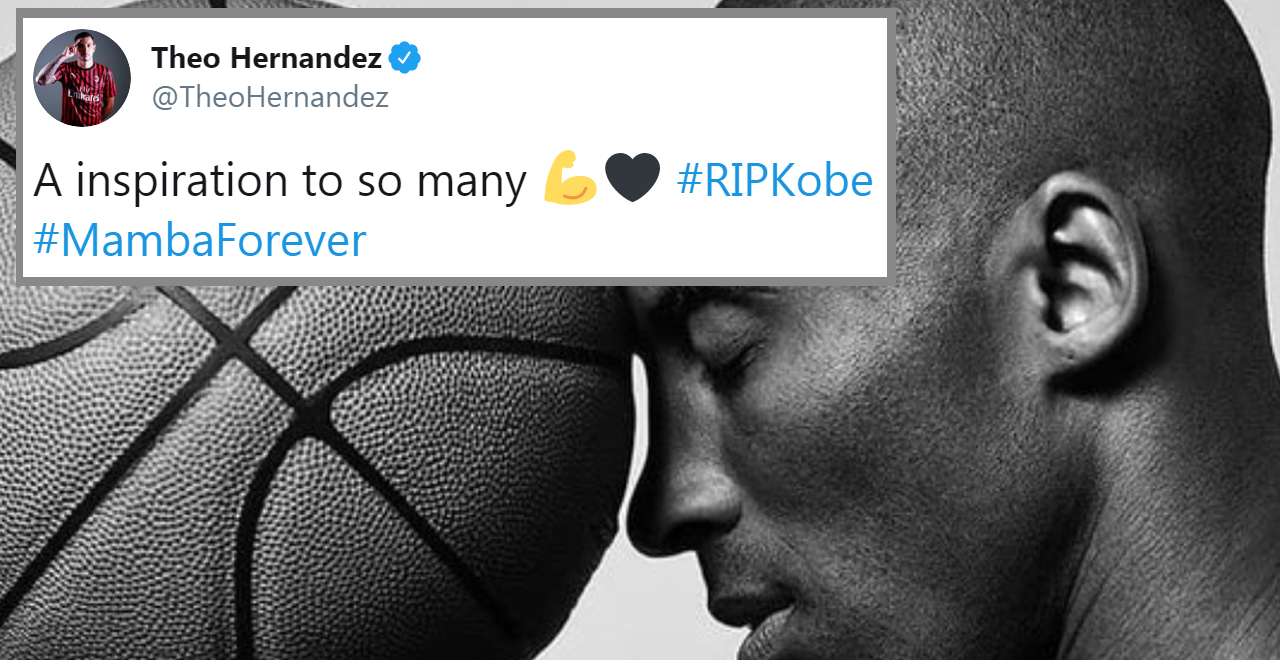 Credit: Twitter/TheoHernandez
When an influential figure dies, a politician or a musician or an actor or an athlete whose career and persona spread far and wide and impacted many people's lives, the world seems to stop to take a collective breath and honor that person.
This phenomenon was in full effect on Sunday and Monday, once news spread that NBA legend and Lakers great Kobe Bryant was killed in a helicopter crash, alongside his 13-year-old daughter and 7 others. Kobe had a larger-than-life persona and was admired, feared, and respected by countless people inside and outside of the NBA and the sporting world in general. His impact on the culture was made apparent by the outpouring of tributes, including during Sunday night's Grammy awards.
But nowhere is this better represented than on social media, the most effective tool most of us have for sharing our thoughts and reaching thousands upon thousands of people across the globe with our remembrances of the person who has passed on. All over Twitter, people shared their stories about Kobe, what he meant to them, and how he changed their lives.
We've gathered a few.
The high school he attended before leaping straight into the NBA:
A poignant yet beautiful scene at Lower Merion High School.

A lot of people leaving basketballs with messages written on them.#RIPKobe #RIPGigi 🙏🏼❤️ pic.twitter.com/8aHFCNOAsn

— Kim Adams (@Kim_Adams1) January 27, 2020
Former teammates and rivals:
I'll never forget your words brother…
💔#RIPKobe #RIPGiGi pic.twitter.com/OVaEw5q5sD

— Caron Butler (@realtuffjuice) January 27, 2020
— Dirk Nowitzki (@swish41) January 27, 2020
I'm still numb from the loss of one of our NBA family in Kobe Bryant. He was everything we loved as an athlete with impeccable work ethic, fiery competitiveness, a flair for the dramatic, and an amazing balance of family and business. Please pray for all the families.#RIPKobe

— David Robinson (@DavidtheAdmiral) January 27, 2020
He transcended his sport to impact football players:
Can't be true.
Just can't be.
Truly truly horrific.

Rest In Peace Kobe.

— JJ Watt (@JJWatt) January 26, 2020
Soccer:
A inspiration to so many 💪🖤 #RIPKobe #MambaForever pic.twitter.com/pPXKMLu1e3

— Theo Hernandez (@TheoHernandez) January 27, 2020
Tennis:
👏👏👏👏 https://t.co/KlhVh5VupK pic.twitter.com/7sMhdDaJyh

— Campbell brown (@Browndogg_30x) January 27, 2020
Hockey:
Thinking a lot about Kobe over the last day. About the impact he left on basketball and sport in general. About his competitiveness, attitude, willingness to work. Mostly about how he was as a father and that life can be over in an instant. Hugging my kids tighter today. #RIPKobe

— Sam Gagner (@89SGagner) January 27, 2020
Musical artists:
(1/2) Thank you Kobe Bryant for being the beacon of what we all strive to be. Every Monday should be Mamba Monday from now on! Thank you for the inspiration, the love, the support, and being the husband, father, and friend we will all remember you the most for. pic.twitter.com/LMphcYzw1e

— Young Money (@YoungMoneySite) January 27, 2020
Entrepreneurs:
Kobe and I started a fund and I suggested we name it "Lowercase Mamba."

He replied, "Nah, Lowercase 13."

"Why 13?"

"Can you believe they drafted 12 muthafuckas before me?"

He had rings & MVPs, but he still obsessed over those early doubters. So, Lowercase 13 it is. #RIPMamba

— Chris Sacca (@sacca) January 27, 2020
Billboards:
Just saw this sign in Green Bay
😞🥺#RIPKobe #RIPGianna #MambaOut pic.twitter.com/Vf2I8EITtr

— Arrick Upton (@ArrickUptonGB) January 27, 2020
Subway signs:
Good Morning,
NYers changed the "Bryant Park" subway sign to the "Kobe Bryant Park". #MambaOut #RIPKobe #RIPKobeBryant pic.twitter.com/FQwkC4Ohm3

— doom 🇩🇿 (@yosoyhalalfood) January 27, 2020
Newspapers:
Newspapers from across the country all telling the same devastatingly sad story today. #RIPKobe pic.twitter.com/fZF61OoJ4b

— Ryan Field (@RyanFieldABC) January 27, 2020
ESPN obviously has a lot to say, but sometimes fans say it best:
This fan spoke from the heart on the impact Kobe has had on him and others.

(via KABC) pic.twitter.com/JBnCQcPxhy

— SportsCenter (@SportsCenter) January 27, 2020
RIP Kobe.