Landmine Sniffing "Hero Rat" Wins Gold Medal for Bravery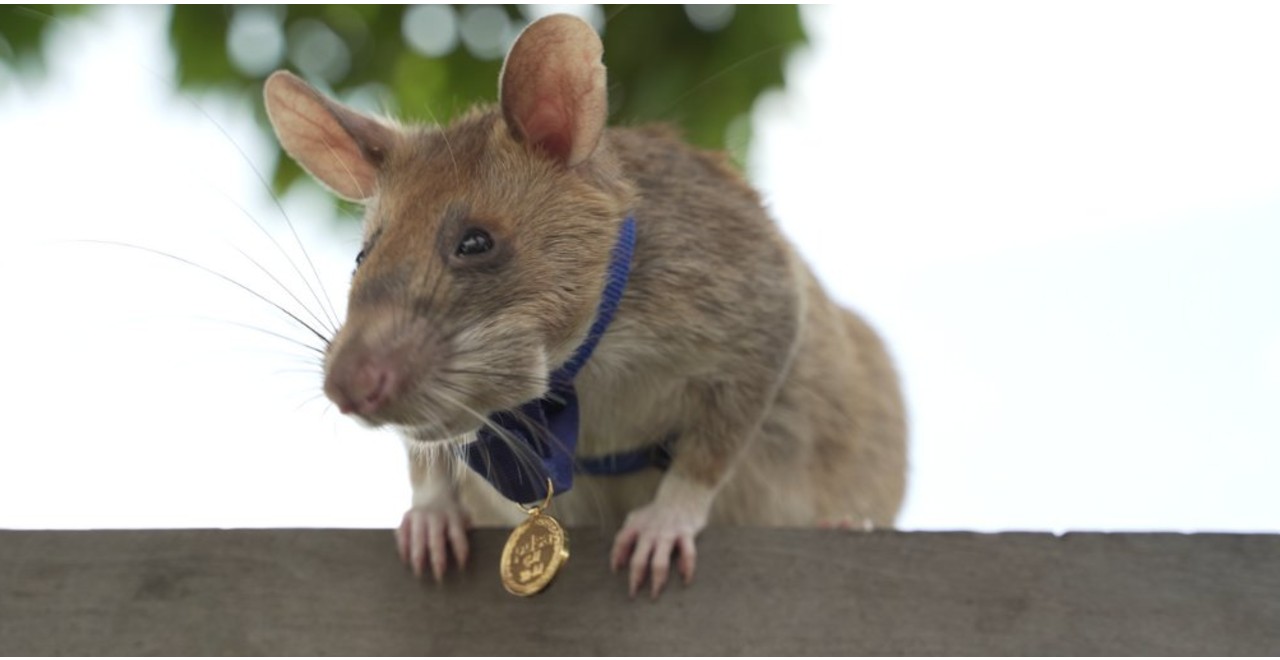 One of Britain's highest honors has been awarded to a rat. That's kind of where we're at in 2020, a rat gets awarded a medal for bravery, but the vermin definitely deserved it. Magawa is a mine-sniffing rat who has been trained to sniff out explosives, and he's been saving lives in Cambodia.
Magawa, our hero rat, has helped clear more than 1.5 million square feet of land from mines, sniffing out dozens of explosives in the process. The British nonprofit PDSA awarded Magawa the gold medal for his bravery, making it the first time a rat has won the most prestigious honor for animals in Britain.
The relationship with animals usually goes one way, with people going out of their way to care for them in times of need or hang with them as a drinking buddy. Yeah, you see stories about dogs doing something cool, but there aren't too many medal-winning badass rats out there. Magawa may be a tribe of just one when it comes to that.
Drumroll please! 🥁 Say hello to Magawa 👋 the first rat to be awarded the #PDSAGoldMedal & one of APOPO's @HeroRATs trained to detect landmines 🐀 He's discovered 39 landmines making him their most successful HeroRAT🦸‍♂‍ Watch his full story here 👀: https://t.co/so5CNCWlUw pic.twitter.com/YrVy2NWotW

— PDSA (@PDSA_HQ) September 25, 2020
In the virtual award ceremony (thanks COVID), the charity director called him a "hero rat", which are two words that don't go together much. "Pizza rat", sure, or even "Pixar Cooking Rat" when you can't come up with the title of Ratatouille, those make sense. "Hero rat" is a phrase that hasn't been uttered since Splinter trained mutant turtles in martial arts.
"Magawa's dedication, skill and bravery are an extraordinary example of this and deserve the highest possible recognition," the charity said in a press release.
Learn more on how #PDSAGoldMedal recipient @HeroRATs Magawa's work saves lives daily with every landmine he finds helping to eradicate the risk of death or serious injury in locations already suffering hardship ❤️🎖️🐀 See his incredible bravery here 👉 https://t.co/so5CNCWlUw pic.twitter.com/35wbsghI4o

— PDSA (@PDSA_HQ) September 27, 2020

The charity said they use rats to help detect landmines because they are so fast. A rat can screen an area of 200 meters in a half-hour, which would take manual deminers four days.
In this case, it makes sense to give their high honor to Magawa, whose bravery is much bigger than the adorably small gold medal rightfully adorning his neck.