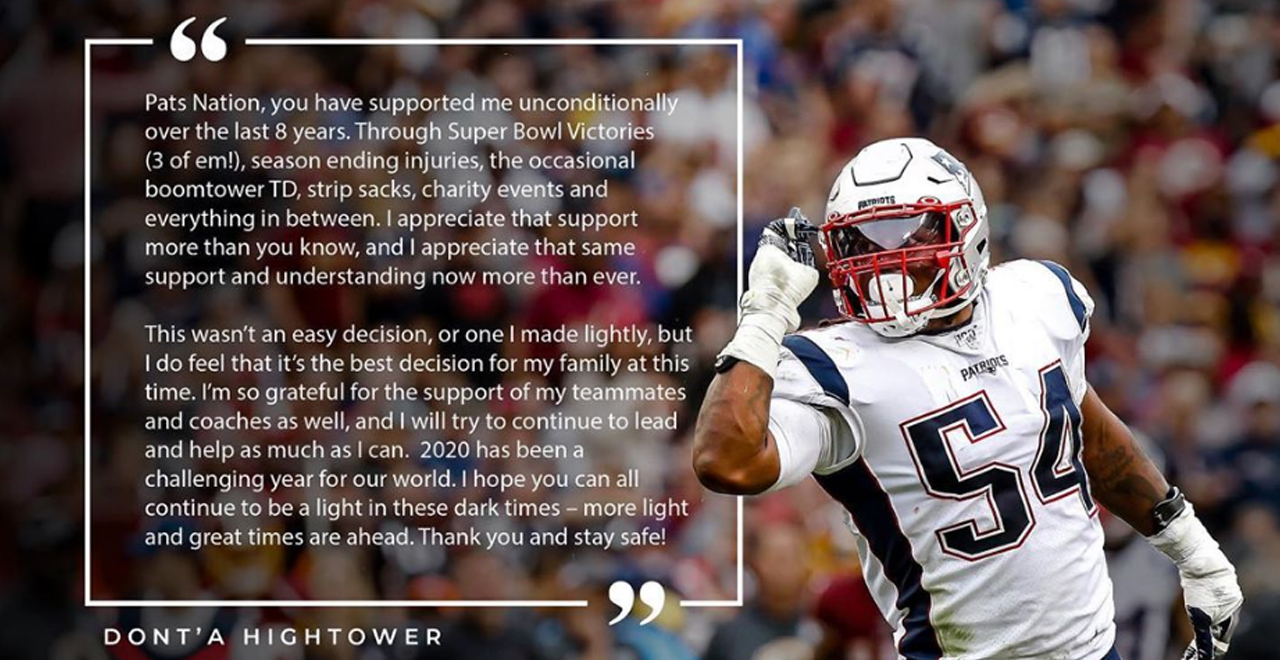 Credit: Instagram/_boomtower
Major League Baseball is back, the NBA is about to, and the NFL is skipping preseason games and entering training camp. But as COVID numbers continue to surge across the country, it is yet to be seen whether these games will go on long enough to finish their seasons.
MLB is already encountering major problems, even after shortening their season to a mere 60 games. Several members of the Marlins have gotten sick, causing panic in league offices and giving commissioner Rob Manfred another black mark. Meanwhile, NBA Commissioner Adam Silver is sitting pretty as his 300+ bubbled-up players in Orlando continue to show no cases despite continual testing.
The NFL is next up, and they've mostly been quiet as training camp looms. But some players are opting out, with the New England Patriots, recent Cam Newton signers, facing some of the most high profile defections.
The latest is Dont'a Hightower, as reported by ESPN's Adam Schefter. The linebacker is a team captain and three-time Super Bowl winner, but he's also a dad who had a baby a mere two weeks ago, and he's opting out of the season out of concern for his family's health.
Patriots' three-time Super-Bowl champion and Pro-Bowl ILB Dont'a Hightower is opting out of the 2020 season, league sources tell ESPN.

Hightower is scheduled to make $8 million in base salary. He had a baby July 16.

— Adam Schefter (@AdamSchefter) July 28, 2020
Hightower joins Patriots tackle Marcus Cannon, safety Patrick Chung, RBs Brandon Bolden, and Danny Vitale, and offensive linemen Najee Toran in sitting out the season. Not only does Hightower have a new baby, but his mother is also at higher risk due to her diabetes, as he shared on his Instagram a couple of years ago.
According to CNN, Hightower and other players who choose to skip this season will receive a $150,000 salary advance, with players who are "high-risk" getting an additional bonus, as per an agreement between the league and the player's union. There is no deadline yet set for when players have to decide if they're opting out, but as September approaches, things are getting more urgent.
The Patriots already lost Tom Brady to the Buccaneers, and with multiple players choosing safety over football, their path to the playoffs, and another AFC East title, is going to be rougher than ever. If the season actually happens.
View this post on Instagram