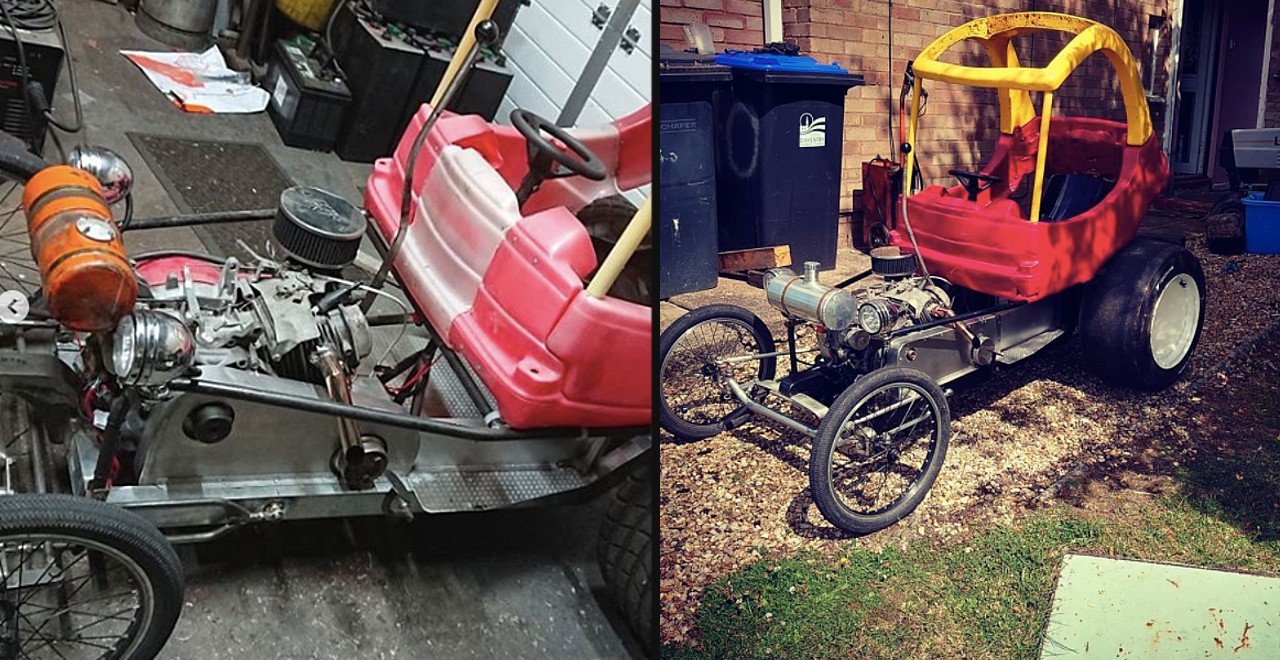 Credit: Instagram/redshawpaul
Since the invention of cars, they have been more far more than modes of transportation. Cars are often status symbols, full of features and aesthetic enhancements that have no impact on how efficient they are at doing their jobs. Cars like Mercedes, Porsches, and BMWs are aspirational to many because they're often seen as a physical manifestation of success. One UK man named Paul Renshaw took his ride to the next level by building himself a leveled-up version of his favorite childhood car. That's right – Paul built himself an adult-sized motorized Little Tikes Cozy Coupe.
View this post on Instagram
It took two months and a little under $200, but Paul's project is complete. His new set of wheels can fit most full-sized adults (as long as you're relatively flexible and not claustrophobic), and can hit speeds of 25mph. The car (we're using the term loosely) has an engine, headlights, an accelerator, and most importantly, functional brakes. Marine engineer and father of two told LAD bible how this unique vehicle came to be. He explained, "A few years ago my daughter sent me a photo of a tot rod based on a Tikes car and asked me if I could build one. I immediately said yes, but I was thinking that I wanted to be able to drive it, not just push it along."
Paul began collecting parts to build his (not so) Little Tikes knockoff including scrap metal, an engine from a floor sweeper, and other pieces given to him by friends. The body was challenging because he was too large to fit in the actual Cozy Coupe. Using fiberglass, rivets, and two Cozy Coupes mushed together, Paul got the job done.
View this post on Instagram
The project was undoubtedly time-consuming, and likely took a lot of trial and error to get the final product. To Paul and anyone who encounters his ridiculous ride, the effort was well worth it. The reactions to the Big Tikes (patent pending) Cozy Coupe have been predictably positive. "It brings a smile to everyone and the kids love it," Paul said. "A lot of kids have Cozy Coupes at the back of their garden so when they see a bigger one with an engine they all want to drive it – same goes with all the adults, it reminds them of their childhood."