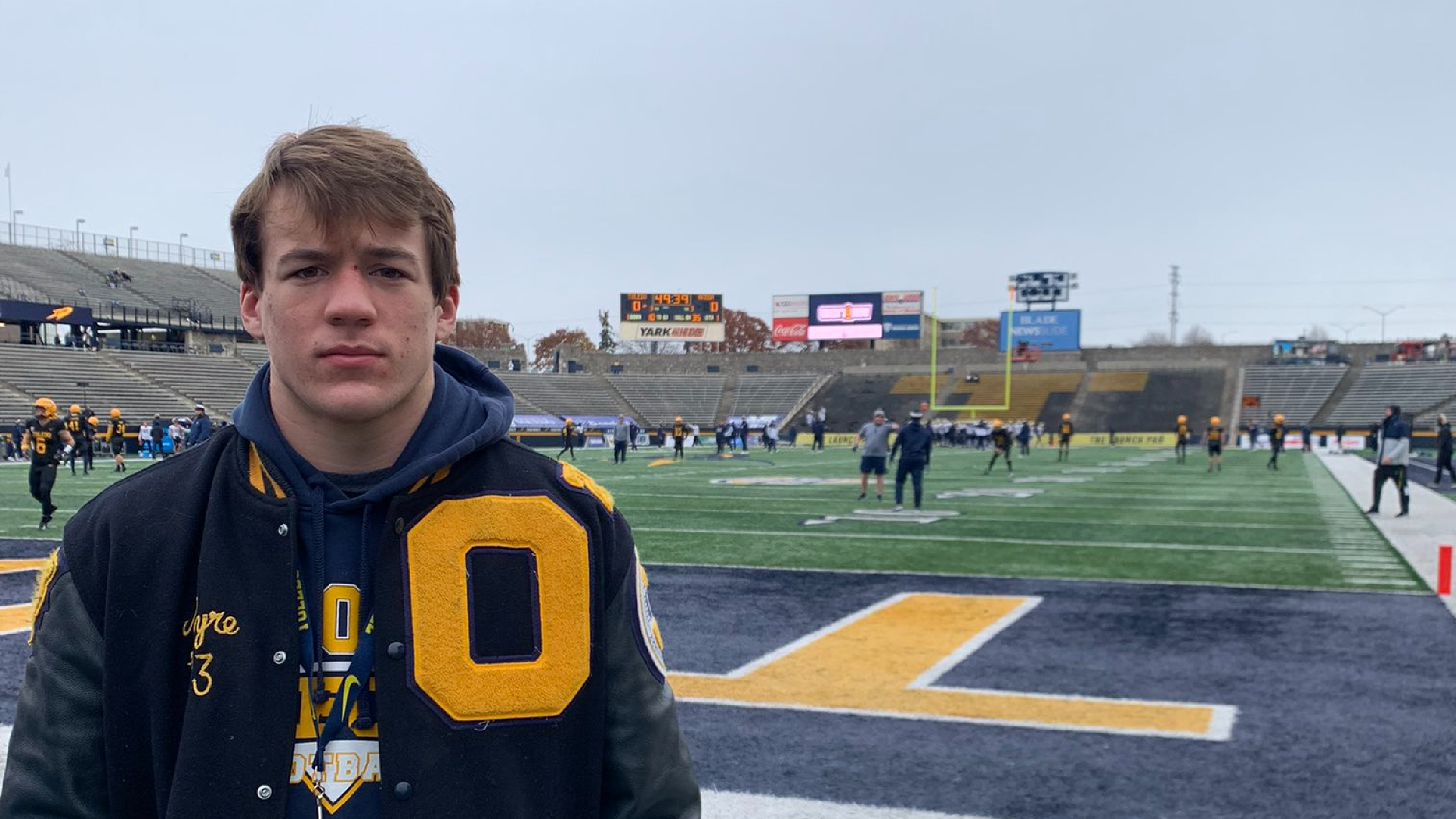 Credit: Twitter/OxfordFootbalI
Parents have been rocked by the news of the latest school shooting, which happened earlier this week at a high school in Michigan. Each new story like this just completely breaks a parent's heart, especially when you see the social media videos of scared students in the middle of the terrifying episode.
And now we're learning more about those who were killed, and one student in particular who gave his life trying to save his classmates. Tate Myre, a 16-year-old student at Oxford High School, was one of four to lose his life in the attack. And the high school football player died trying to disarm the shooter and save his classmates, according to multiple witnesses.
It is with great grief that one of the victims of the tragic event at OHS today was one of our own, Tate Myre. Tate was on varsity since his freshman year and was an honor student. Tate was a great young man with a bright future and beloved by all. You will be missed, Tate 💙💛 pic.twitter.com/AKJCH1UWBG

— Oxford Football (@OxfordFootbalI) December 1, 2021
And now, more than 100,000 people have signed a petition to rename the school's football stadium after him. According to the description, "Tate is not just a hero to his fellow students at Oxford high school but a legend, his act of bravery should be remembered forever and passed down through generations, he put his life in danger to try and help the thousands of other students at Oxford High School."
A High School Football Player Rushed A School Shooter And Sacrificed His Own Life To Save His Classmates https://t.co/bKVyWOaHLP pic.twitter.com/PJvYtYwgHE

— Barstool Sports (@barstoolsports) December 1, 2021
As one of the most popular comments on the petition, which was nearing 150,000 just days after the tragedy, was one all parents can relate to: "Nobody should go to school and never come back home. This is the least we could do for him, my heart aches for his family."
The discourse around school shootings is always divisive, which is bizarre. Everything gets politicized in this era, but everyone can agree what an overwhelmingly sad tragedy this is. And most acknowledge that more needs to be done to prevent things like this from happening in the future, whether that's more mental health resources or other safety measures.
But what shouldn't be lost in the endless social media debates are the real human costs to these tragedies. That students like Tate, who were already making a significant impact on friends and others, aren't coming home.
Had a great time at the Toledo game yesterday. Thank you @RickyCicconeUT @ToledoFB for the invite!@ReggieWynns @TheD_Zone pic.twitter.com/VIDhtHWGPG

— Tate Myre (@TateMyre2023) November 28, 2021
His actions are the definition of bravery, and his selflessness is something that the entire community will remember. Especially if the petition works, and the football stadium is renamed after the football player who gave his life for his classmates.