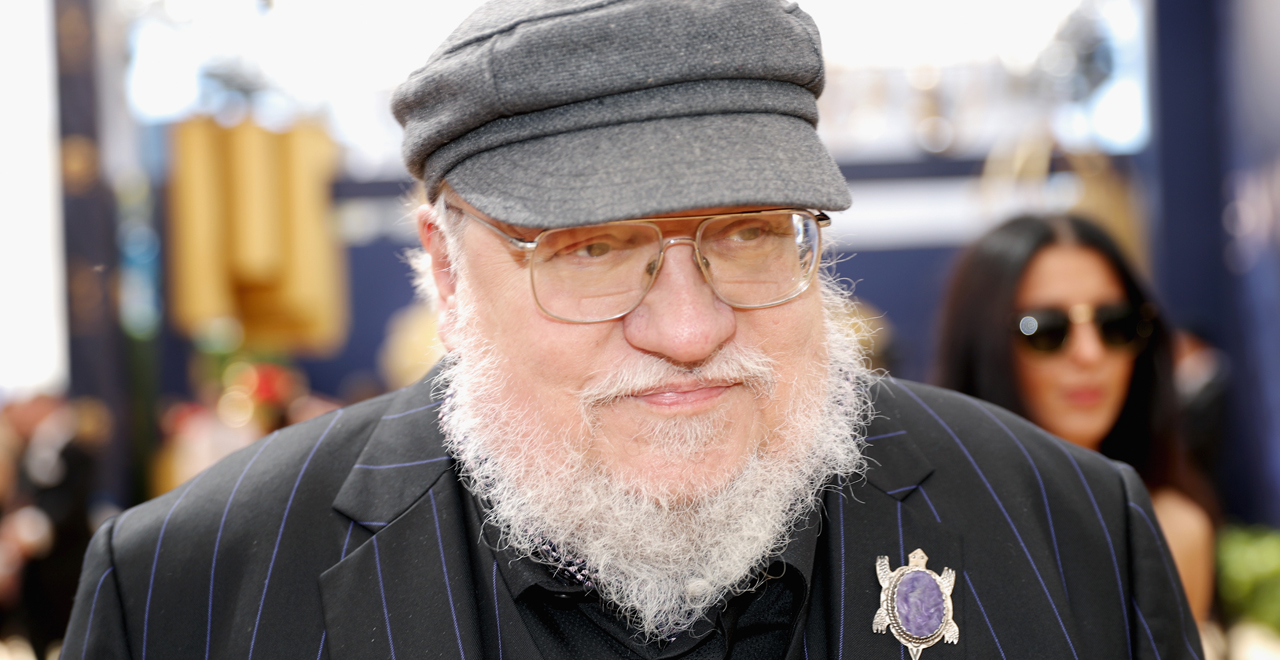 Credit: Getty/Rich Polk/Stringer
Game of Thrones has been off the air for over a year. Since the much-maligned final season, HBO has scrapped one potential prequel series and is making steady progress on another. Meanwhile, a pandemic hit, forcing everyone to stay inside, including the Song of Ice and Fire saga's author, George R.R. Martin. You'd think being quarantined would force the man to finally finish his long-delayed sixth book, The Winds of Winter.
But you'd be wrong. Not even the threat of jail – a threat he put upon himself – has been motivation enough!
Last March, Martin wrote on his blog that if The Winds of Winter wasn't out by July 29th, 2019 – TODAY – then fans had permission to imprison him. Welp, I hope you guys have your handcuffs ready because my man didn't make his own deadline.
From his blog entry in May of last year:
But I tell you this — if I don't have THE WINDS OF WINTER in hand when I arrive in New Zealand for worldcon, you have here my formal written permission to imprison me in a small cabin on White Island, overlooking that lake of sulfuric acid, until I'm done.
Before you go get him, he backtracked on that just last month on the aforementioned blog. Martin gave an update on his progress and some insight into what quarantine has been like. He was forced to cancel a trip to New Zealand, but even that hasn't sped things along. Not when the book is this huge.
If nothing else, the enforced isolation has helped me write. I am spending long hours every day on THE WINDS OF WINTER, and making steady progress. I finished a new chapter yesterday, another one three days ago, another one the previous week. But no, this does not mean that the book will be finished tomorrow or published next week. It's going to be a huge book, and I still have a long way to go. Please do not give any credence to any of the click-bait websites that like to parse every word of my posts as if they were papal encyclicals to divine hidden meanings."
Maybe he forgot about his own deadline, or maybe he didn't think anyone would take it seriously. Maybe no one did. But the internet doesn't forget.
George R.R. Martin previously said that if 'THE WINDS OF WINTER' isn't out by July 29, 2020, fans can imprison him…

Today is July 29, the time has come!

(Source: https://t.co/ZakeRkPXZc) pic.twitter.com/I6tPHkHVgk

— DiscussingFilm (@DiscussingFilm) July 29, 2020
My birthday gift is throwing George R.R. Martin in prison for his crimes against us all https://t.co/3dOfwlad0o

— Arielle✨✊🏽✊🏾✊🏿✨ACAB✨SMTV 2021 (@khiethy) July 29, 2020
It's frustrating for fans everywhere, but I can't really blame the guy. I haven't exactly spent the quarantine lighting the world on fire. I barely turn the lights on at all! These GoT books are huge, sprawling works with tons of characters, and my man became a celebrity in the midst of writing them. Cut the guy some slack.
Besides, the more space there is between his books and the TV show, the better the books are likely to be received. The man may know what he's doing!