A hot tub sounds great in theory but it's pretty easy to talk yourself out of one. You're a dad, you're practical. For starters, hot tubs are expensive and all dads know money doesn't grow on trees. Plus, they'll require maintenance that you'll be responsible for, and you already have a backlog of home projects. Plus, hot tubs take up a ton of real estate.
But what if I told you there's a low maintenance one you can get for a steal – that you can just deflate when not in use? Your wallet and your dad bod will both approve.
At 77" x 77" x 28" this Coleman SaluSpa inflatable hot tub is large enough for up to 6 people. It's equipped with jets (this is not a freakin' kiddie pool!), massage and heating systems, and water filtration. The water can even reach 104 degrees. It features solid construction and extremely durable material that ensures there are no safety issues. It even comes with a pre-tested pump and a ground fault circuit interrupter that trips at 6mA.
Oh, and the set-up is a snap and it's easy to drain.
Just look at how much these people are enjoying it.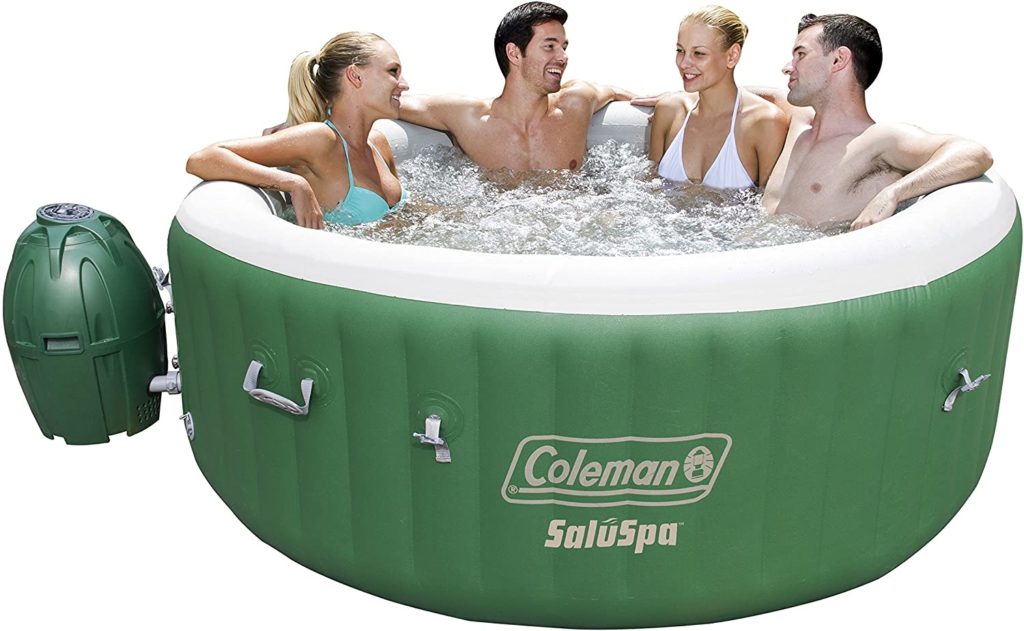 "Love this tub. I've had it two months now. Electric bill barely budged $10 a month even the first month when I filled it with 39 degree water and it heated for 4 days straight !! I set it up pretty quick, maybe an hour but I was in no rush. Filled up within 20-25 min tops," one reviewer wrote.
"Honestly, I have never been in a hot tub or spa in my life but I was looking for something to cool off in on hot summer nights instead of a pool. We had an in-ground pool for many years and all I ever did was sit on the stairs in the evening and have a few drinks. I figured this might be the "equivalent", and it was! I absolutely love it. It's not a big "Hot Tub" with all the bells and whistles but that's not what I wanted. This is perfect for relaxing soak and the bubbles are much better and more powerful than I expected. LOVE IT!," one reviewer wrote.
BTW, you can use this hot tub in the winter. It just takes longer to heat up. 
"For the price, nothing comes close! After playing in the mountains, a hot soak in minerals is amazing. The bubbles are relaxing, not a therapy jet. Have been using it in Denver in winter (with a thick cover to retain heat). 2f/hr heating times, drops about ~10f overnight (is 20f at night here). Super, super happy with this tub. Easy setup and maintenance. Cleaning filters has been easy, and we're using bromine tablets and soaking salts. I -may- have overclocked it too, a searing 110f soak is possible ;)" another wrote.
Just a heads up, if you buy stuff using the provided links, The Dad may collect a small commission.