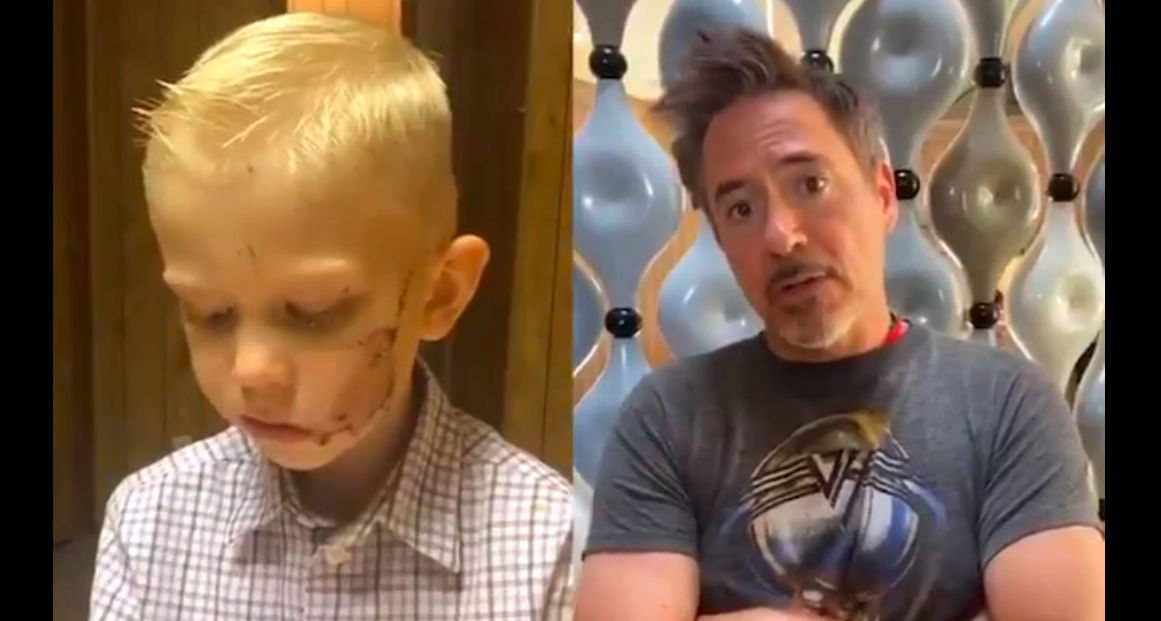 Credit: Instagram/nicolenoelwalker
Iron Man became the latest "Avenger" to reach out to 6-year-old Bridger Walker, the hero who saved his sister from a vicious dog attack. Bridger required 90 stitches for his injuries but was able to take his sister to safety. And once his aunt shared his story on Instagram, his favorite "superheroes" have been sending their praise, welcoming him as one of their own.
Robert Downey Jr. became the latest to send a video to Bridger, coming on the heels of messages from the Hulk (Mark Ruffalo), Thor (Chris Hemsworth), Captain America (Chris Evans), and Spider-Man (Tom Holland).
Holland invited Bridger to come to the set of Spider-Man 3, and Evans came through in a big way too by pledging to send Bridger an authentic Captain America shield. Downey, for his part, has pledged to one-up his Avengers teammates.
"Bridger, you're a rock star," Downey Jr. said. "I play 'Tony', that makes me an old friend of Cap's. I heard he sent a shield your way. I'm going to do one better. You call me on your next birthday, I got something special for you. By the way, that's a promise, a promise beats a shield."
Not only is it cool for Downey to reach out, but it's fun to throw a little Iron Man v. Captain America smack into the mix as well.
Bridger's dad posted on Instagram that the family was grateful and overwhelmed for all the well wishes and support they have received. He also wrote that he asked Bridger if he felt special because of everything that was going on:
"With his impish smile he said, "No." In follow-up, I asked, "Well why are you special?" His response: "I am me." It is my humble prayer today that all of us come to this same realization. Within each of us is something special . . . Something so unique that nobody else can accomplish what you can in your own amazing way! ……You ARE you, and the Walkers love you for it."
Now, the Avengers' main cast has assembled, all to praise a little hero who stepped up in a big way.