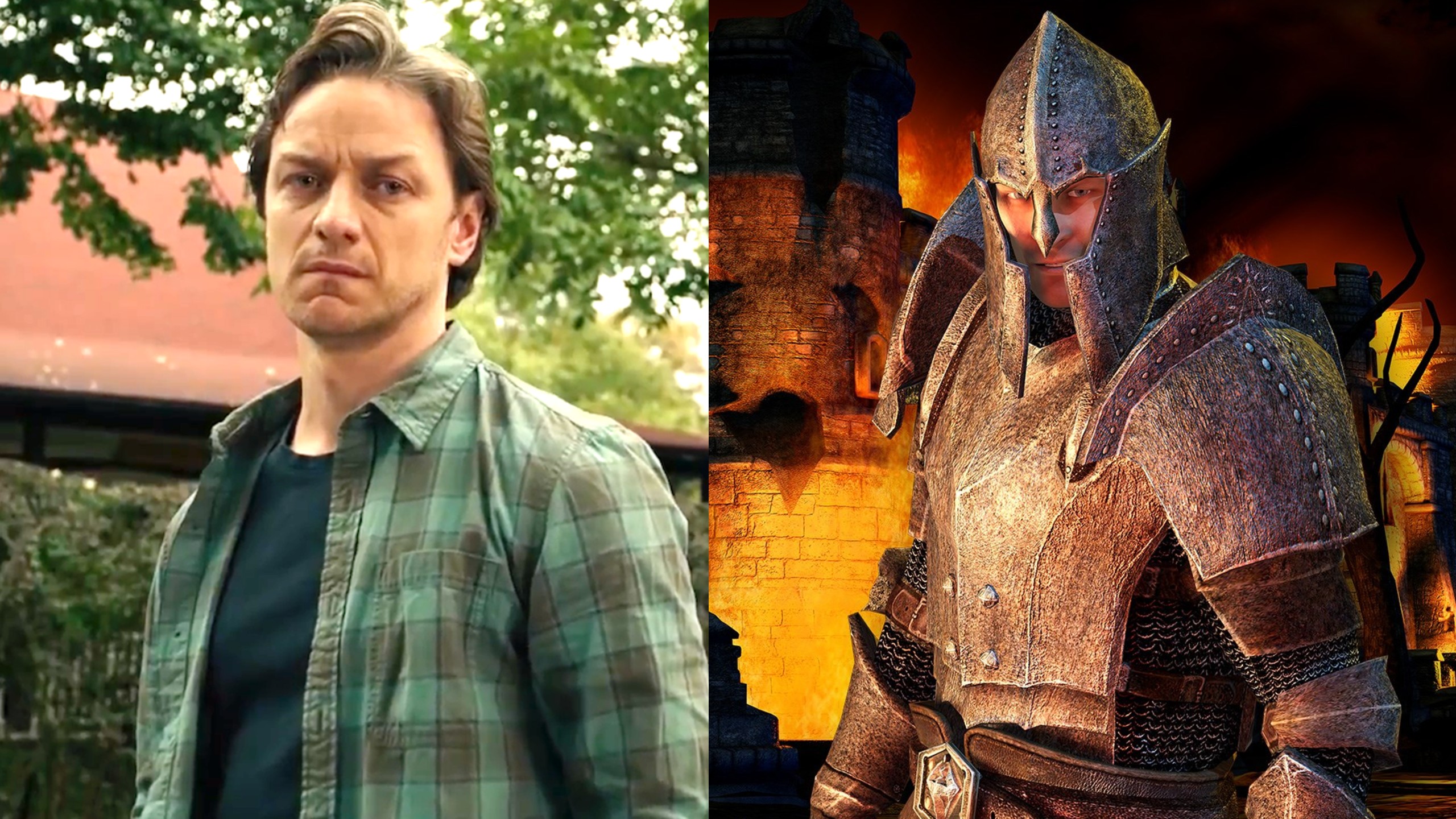 Credit: Warner Bros. Pictures/Bethesda Softworks
There are some video games out there that just have the power to grab hold of you and literally take up every moment of your free time. Whether it's telling yourself "one more match" or you just need to find out what happens next in the story, we've all been there. For X-Men: First Class and It: Chapter Two star James McAvoy, that game was Bethesda's classic The Elder Scrolls IV: Oblivion. His obsession would get so bad in fact, that he ended up melting the disc on his stove. Imagine if he got hold of Skyrim?
How we found out about this whole dramatic video game exorcism is McAvoy recently sat down with Forbes to talk about his latest role. McAvoy is starring in the brand new video game 'Twelve Minutes' alongside Willem Dafoe and Daisy Ridley. During the interview, he ended up talking a bit about his own gaming past and revealed that at one point in 2006, he was so enthralled with Oblivion that it started to cause serious problems for him during the filming of Becoming Jane.
"My partner at the time bought me an Xbox 360 and The Elder Scrolls IV: Oblivion," he says. "That was a kind of game I'd always been into as a kid: role-playing games, Zelda, Secret of Mana, all that kind of stuff. Like, I love fantasy role-playing games."
"I'm, like, having to go to bed at 10pm, because I'm getting up at 6am every morning, and I've got tons of lines, and all that kind of stuff. And I'm just staying up until four in the morning just playing Oblivion. And I was thinking, 'This game is sending me to Oblivion.'"
Eventually, McAvoy's long gaming sessions during filming got so bad that he started playing the game at 8 p.m. and he says that he didn't stop until 5:35 a.m. Only 10 minutes later a car came by to pick him up to start the next day of shooting. It was at this point that McAvoy realized he had to do something about this growing addiction. So he did what any other calm and rational person would do and he took the disc out of his Xbox 360, turned on his stove, and destroyed his copy of Oblivion.
"I just put the disc on it," described McAvoy, "And just watched it sort of, like, singe and melt a little bit. And I was like, 'Right, we're done, we're over, never again!'"
McAvoy wouldn't play games for at least a decade before deciding to give them another chance. It was his young son, combined with his undying love for soccer, that soon twisted his arm to return to console gaming and he developed a big love for FIFA. The pandemic also got him into playing Warzone with his buddies too.
"During the pandemic, me and my boys, we're all 40-something dudes with gray hair, bald spots, and all sorts of shit," McAvoy says. "We now talk every two or three nights, playing Warzone and we talk about life, love, everything while getting absolutely annihilated by 12-year-old children from other countries."
Finding time for video games just gets progressively harder over the years. Responsibilities like work and children mean free time is a thing of the past. The only free time I can usually secure is around 8 or 9 pm once the kids are in bed. If my wife doesn't want to watch a show or just wants to do her own thing, I'll sit down to play a game. Sometimes if I feel like being a total wild man, I push the boundaries and go until like 2 am just to savor that new game I picked up. I suffer terribly the next day, but you know, I'll sleep when I'm dead.