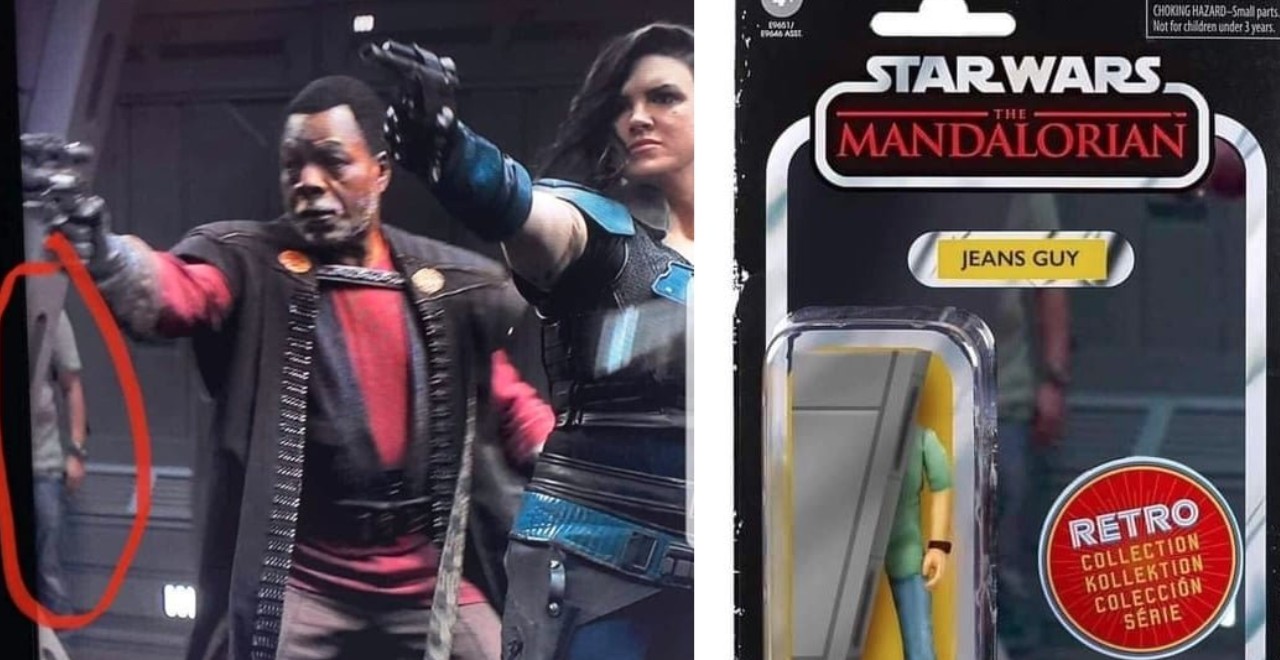 Credit: Twitter/SubCity_Comics
Baby Yoda was the breakout star of season 1 of "The Mandalorian" on Disney+. He took over pop culture, becoming a cocktail and even a cereal, in addition to being a crazily in-demand toy. And now, season 2 of "The Mandalorian" has given us another breakout star: Jeans Guy.
Who is Jeans Guy? Where did he come from? These are stories we don't have yet, that hopefully the rest of season 2 will fill in. The mysterious new character made his debut in episode 4 of season 2 and was spotted in the background of a shot of our heroes (the titular Mandalorian and his bounty hunting pals) shooting up an old Empire base. The crew member (or mysterious new character???) was spotted in the background of a shot and is clearly something that was missed in editing.
But the internet is having fun with it, as we should. Sub-city comics already turned the character into an action figure, which would probably be the hit of the Christmas season:
Coming soon (*Not really*)
Star Wars: The Mandalorian 'Jeans Guy' Action Figure. pic.twitter.com/squJoECmR0

— Sub-City Comics (@SubCity_Comics) November 23, 2020
It quickly had fans reminiscing about perhaps the most famous editing snafu, the Starbucks cup that made it into an episode of Game of Thrones.
#Mandalorian jeans guy > #GamesOfThrones coffee cup pic.twitter.com/GOmligRVwm

— M William Panek (@mwilliampanek) November 23, 2020
If you're not an action figure collector, perhaps the Jeans Guy Lego set is more up your alley.
"Mandalorian "Jeans Guy" as a LEGO set" -Ochre_Jelly #Lego pic.twitter.com/dhYmGucQhk

— Soko Toys (@SokoToys) November 24, 2020
Jeans Guy quickly went viral, and as season 1, The Mandalorian would be served best by embracing it. They are currently working on the production of season 3, so hopefully, they are carving out a much larger role for mysterious Jeans Guy from the weird Empire base lab.
BREAKING: Action figure availability for "Jeans Guy" was weeks BEFORE his featured episode of The Mandalorian.
Critics are now questioning his future appearances in upcoming episodes and demanding answers. pic.twitter.com/xPcAyU4ow9

— Project Verisim (@Project_Verisim) November 22, 2020
Also, having denim as official Star Wars canon opens up a ton of costume possibilities in future seasons.
My favorite thing about "Jeans Guy" in the new Mandalorian ep is that it finally establishes denim as canon in the Star Wars universe pic.twitter.com/awm8HAb3ec

— Maxwell Hegley (@MaxwellHegley) November 25, 2020
And since we can't see the face of Jeans Guy, it's a possibility that it's actually a character we've seen before in the Star Wars Universe.
I bet you don't know the real face of the "Jeans Guy" in the Mandalorian. pic.twitter.com/JvNEakjsf2

— Edgar Delgado (@delgaduck) November 22, 2020
With half of season 2 still ahead, we hoped to learn much more about Jeans Guy and how he fits into the Star Wars Universe. Sadly, it was recently announced that he was edited out of the episode.
RIP Jeans Guy, yet another casualty of 2020.