Jim and Pam Got Into It Over the Boston/St. Louis Stanley Cup Finals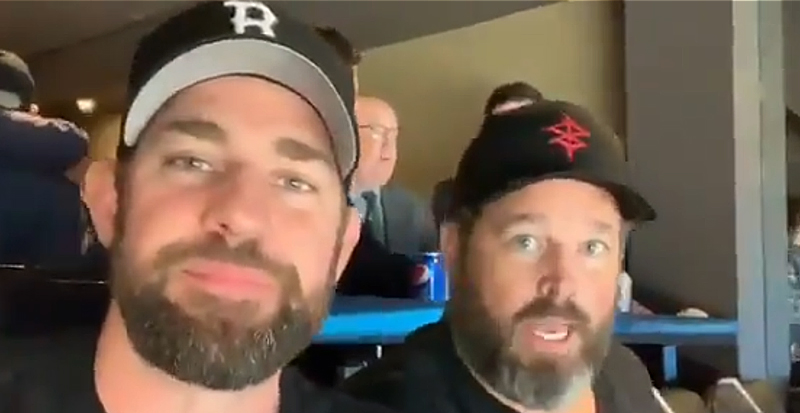 Despite the many rumors of an eventual reboot, "The Office" has been off the air for a while now, and the cast has largely moved on. Some joined the "Space Force," some are starring in State Farm commercials, and some are taking time off from directing blockbuster horror movies and family sitcoms to antagonize each other about the Stanley Cup finals.
John Krasinski and Jenna Fisher may have played one of television's most beloved couples, but in real life, such a match could never work. At least not during hockey season. Certainly not this season!
Krasinski, who hails from Massachusetts, and Fisher, a St. Louis native, found themselves at odds when the Bruins and the Blues clashed in the Stanley Cup finals this June. It all started when a "blues fan" on Twitter noticed the sitcom spouses dueling allegiances.
STANLEY CUP FINAL @johnkrasinski @jennafischer pic.twitter.com/GdxayujnOB

— blues fan (@VeIeno) May 22, 2019
Krasinski responded to the viral tweet with a loaded "uh oh," but Fisher didn't seem to be too worried. She taunted her former castmate.
Uh oh.@johnkrasinski Looks like Pam might be going home with Stanley. Who would have guessed! #StanleyCup #LetsGoBlues

— Jenna Fischer (@jennafischer) June 7, 2019
Fisher then appeared on NBC's coverage of the playoffs to detail the St. Louis/Boston feud that had been going on since the Sox/Cardinals World Series years before.
The Boston/St. Louis rivalry between @jennafischer and @johnkrasinski dates back their days shooting @theofficenbc.

Jenna has a message for John: "It is MY turn!" #StanleyCup pic.twitter.com/AS7r2vBKNH

— NHL on NBC (@NHLonNBCSports) June 10, 2019
Jim battled back with a video of his own, in which he invited a mutual friend to watch Game 7 with him in Boston. Viewers of the show should have no trouble recognizing Pam's ex…
Game 7! Let's do this!!! #NHL #StanleyCup @jennafischer pic.twitter.com/BxMokfdLLr

— John Krasinski (@johnkrasinski) June 13, 2019
Fisher had no choice but to tip her cap to her co-star for that one.
Ha. Ha. Ha. Well played. Just be careful he doesn't leave you at the game. #GoBlues @NHL @David_Denman https://t.co/JtlCnqloxU

— Jenna Fischer (@jennafischer) June 13, 2019
Of course, Pam got the last laugh, as the Blues escaped Boston with a shutout and their first Stanley Cup championship! Here's hoping those two love birds can set their rivalry aside now, for the sake of their kids.