K9 Officer Wounded During Car Chase Gets Hero's Welcome When Leaving Hospital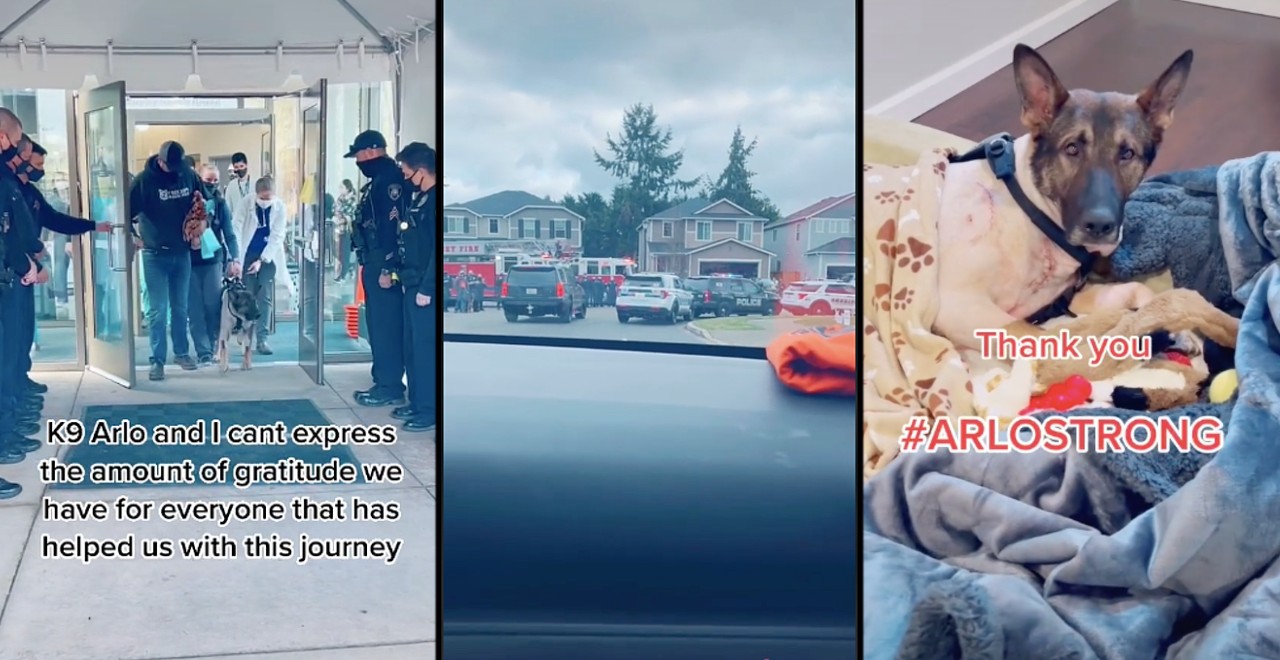 Nobody asks dogs what they want to be when they grow up, but the ones who end up with important jobs work harder than most humans who actually chose their careers. Whether they're service dogs or search-and-rescue dogs, they give themselves fully to the job at hand. Often, these dogs enter dangerous situations repeatedly with little regard for their own safety. They trust their humans to keep them safe, and though we try our best to do exactly that, sometimes things don't go as planned.
Nearly 3-year-old Arlo got his first job last year, working as a K-9 officer for Washington's Thurston County Sheriff's Office. Arlo has over 2.2 million followers on TikTok, starring in videos shared by his handler, Deputy Tyler Turpin. The adorable K-9 is the perfect balance of hardworking and goofy, winning hearts around the world for both his undeniable intelligence and his hilarious antics.
With such a demanding job comes significant risk, and in January, disaster struck. Following a car chase, the armed driver turned his weapon on the police and opened fire. Tragically, Arlo was struck with two bullets. Officers rushed the injured pup to Oregon State University's Carlson College of Veterinary Medicine, where he underwent a taxing eight-hour surgery.
The team worked tirelessly to attend to Arlo's injuries, ones that left him with extensive damage to his neck and shoulders. Arlo made it through surgery with six screws, surgical cement, a ton of stitches, and some permanently-embedded bullet fragments to show for it. Arlo has seen better days, but he survived.
When Arlo was finally released from the hospital, his fellow human officers gave him the welcome of a lifetime. As the hospital's doors opened and our hero limped into the fresh air, officers lined the path to honor their team member.
"K9 Arlo and I can't express the amount of gratitude we have for everyone that has helped us with this journey," Deputy Turpin said in his video. "I'm not embarrassed to say that I've cried so much." Arlo was loaded gently into his car, and the exhausted pair headed home.
"When Deputy Turpin and K-9 Arlo arrived home, they were greeted by neighbors, friends, firefighters, fellow K-9 handlers from multiple organizations from local and surrounding counties, and a multitude of law enforcement officers from all local agencies and surrounding county and police agencies," the sheriff's department said in a statement. "It was quite humbling! Arlo is currently at home resting with his family."