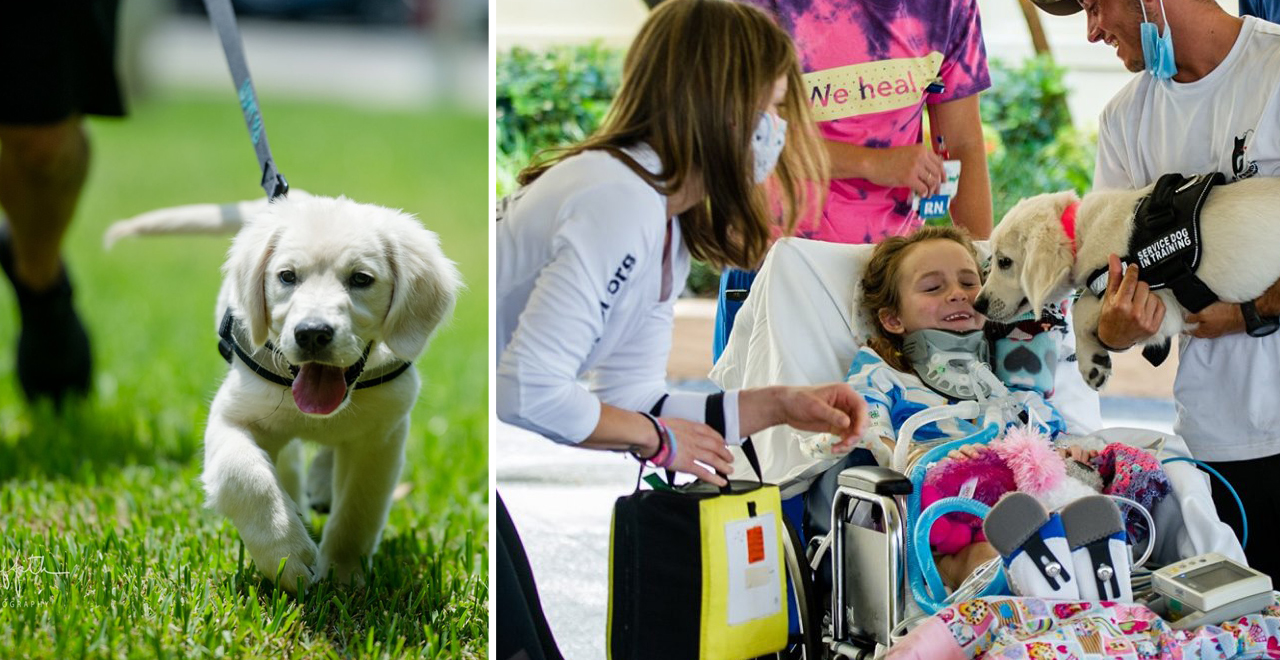 Credit: Facebook/Chasin A Dream Photography
For years, we've been told time and time again that dogs are man's best friend. But nobody seems to be talking about the fact that dogs are EVERYONE'S best friend (aside from those with severe allergies, but much like when you're trying to figure out how much pizza to order, the ones who are allergic don't count). Dogs will do just about anything for us, even when we have little more to give than food and head scratches. In return for our meager offering, dogs will love and protect us for as long as they possibly can. Heck, dogs are even happy to help strangers, reminding us that we could all stand to learn something from our furry friends. Recently, a 6-year-old named Memphis Rose experienced firsthand just how transformative the love of a pup can be.
On July 7, everything changed for Memphis Rose. While in the car with her grandmother and great uncle, the family was in a horrific head-on collision in western Palm Beach County, Florida. Her great uncle tragically passed away, and her grandmother's knee was shattered. Memphis, who was seated directly behind the driver, suffered multiple injuries including a punctured lung, a fractured spine, and a displaced and fractured neck.
Gayrene Meade, Memphis Rose's mother, was faced with every parent's worst nightmare. Upon impact, her little girl went into cardiac arrest. By some miracle, a doctor was on scene and able to administer CPR until the 6-year-old was transported to St. Mary's Medical Center. It was there that Meade was able to speak with a neurosurgeon, who explained that her happy little girl – the same girl who just yesterday was running, jumping, and playing without a care in the world – may be paralyzed.
Memphis Rose remained in the hospital for weeks after the accident, pushing through a difficult spinal surgery and slowly being weaned off her medications. Though she is still on a ventilator, Memphis Rose's fierce determination to one day walk again is helping her remain strong.
Memphis, who wants to become a veterinarian one day, recently received some much-needed good news thanks to Chasin a Dream Foundation founder Lori Griffith. Griffith has made it her mission to help local kids with life-threatening diseases, and Memphis Rose was next on her list. Upon learning how badly the 6-year-old had wanted a dog, Griffith contacted a nearby rescue and set her heartwarming plan into motion.
On July 27, a very special visitor named Juliet came to see Memphis at the hospital. Juliet, a golden retriever puppy, was just as excited to see Memphis as the little girl was to see her.
"Juliet took one look at Memphis Rose in her wheelchair and jumped onto her lap licking her and cuddling," Memphis's mom told People.
As if the welcome distraction of a playful pup wasn't enough good news for the day, Memphis found out that this sweet ball of fluff – this tiny golden puppy who looked past her wheelchair and her neck brace, seeing only a human to love – was hers. Not only as a companion but as a service dog.
Juliet works rigorously with dog trainer Summit Earhart every single day, learning the ins and outs of being a service animal before going to live with Memphis permanently in roughly a year. Memphis and Juliet have had several picture-perfect visits since their initial meeting, with Juliet even accompanying the 6-year-old on a flight to another hospital for spinal rehabilitation.
Brave and determined Memphis Rose has a long road ahead of her. She'll work through different therapies, take a variety of medications, and learn to live in a completely different way than she had before her accident. While Memphis is working though, so is Juliet. And soon enough, the two will be together. Although life will undoubtedly look different than anyone could have anticipated, with the help of Juliet, it's going to be nothing short of pawsome.