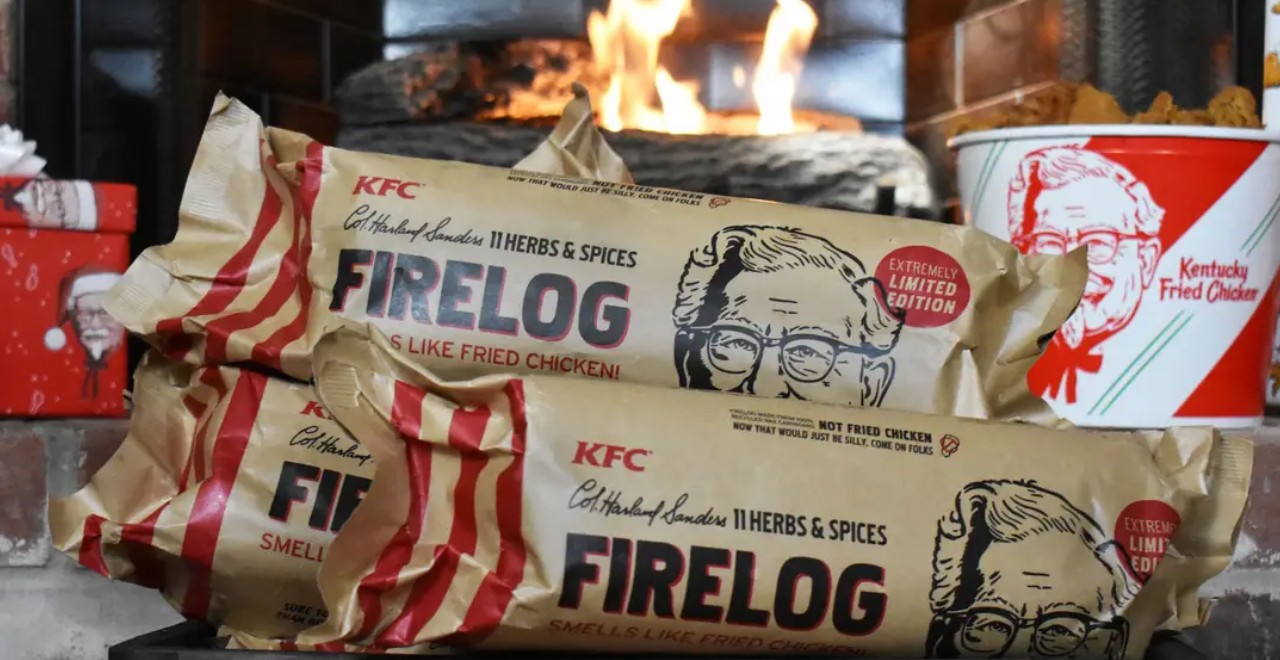 Credit: KFC
It is fire season. Fire pits, fireplaces, all of it. And with most of us staying home more, or trying to be outside more, having a log to throw on the fire has never been more important. And if you can make your house smell like delicious fried chicken at the same time, why not go for it? That is the sentiment behind KFC's 11 Herbs and Spices Firelog, a seasonal delight that is back on sale to help bring a dose of normalcy to your holiday season.
KFC knows the power of their chicken, and more importantly, even the smell of their chicken. Which is why the iconic fast-food brand developed chicken-scented crocs. KFC isn't afraid to branch out to new products, or even new partnerships, which we saw when they teamed up with Cheetos. And now they are back to giving us the hits again, with everyone's favorite firelog.
Back by popular demand. 11 Herbs & Spices Firelog from @envirologfire is here for the Holidays! Because it's never too early to start shopping for your chicken-scented gifting needs. Sold exclusively at select @Walmart locations & https://t.co/FeSAzTIgBV https://t.co/pxxj8NGx7e pic.twitter.com/rptNz0OPCv

— KFC (@kfc) October 26, 2020

It's sold exclusively at Wal-Mart (in select stores and of course online at Walmart.com). The log is a big hit, and was quick to sell-out last year.
KFC's 11 Herbs & Spices Firelog from @envirologfire is BACK to make your yuletide smell like chicken! These sold out fast last year, so get yours now at https://t.co/2JhDqZI6du.

— KFC (@kfc) December 5, 2019

The log is made by Enviro-Log and there is no limit to how you can incorporate it into your life. OK, there are actually a bunch of limits. It is just a fire log, after all. But whether it's in the fireplace or in your fire pit, it's a nice way to up the cozy factor while you're stuck at home more than usual.
And, if you do get enough of your chicken smell fill, we can help chase it with a familiar smell of our own.