KFC and Cheetos Have Created a Dangerously Cheesy Menu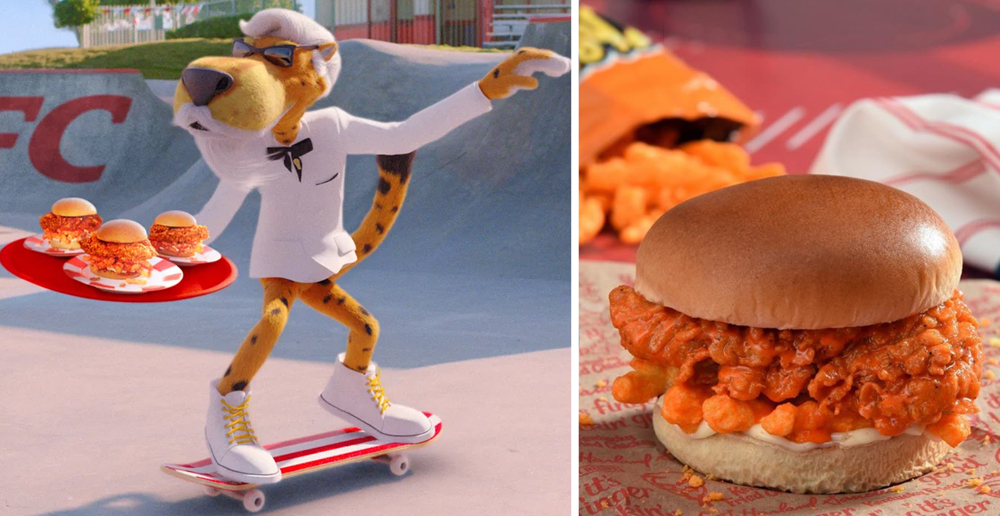 You gotta wonder what the Colonel would think about KFC's recent food stunts. Would he appreciate the innovative vision it took to create the gravy-filled pizza? Would the novelty of deep-fried chicken skins be lost on him?
Well, get ready to add yet another bizarre menu item to that list because KFC is rolling out a brand new collaboration with none other than Cheetos.
Those in New York got a taste of the new collaboration today.
For everyone else, starting July 1, the chicken chain is rolling out four Cheeto-laden menu items nationwide, including the Cheetos Sandwich, Cheetos hot wings, Cheetos-loaded fries, and Cheetos mac and cheese. Each item features not only Cheetos bits themselves but a special Cheetos sauce that was deliciously created to coat fried chicken.
Yes, we know. They are the orangest things we have ever seen, too.
KFC is known for launching some kind of promotional gimmick every month or so, not all of which are food products. For instance, they recently featured RoboCop as the new protector for the brand's 11 original herbs and spices.
No scheme, however, has reached the same level of fame (or infamy) quite like the KFC Double Down did nine years ago—people still talk about that bunless wonder from time to time.
But with the power of Cheetos on their side, this cheesy chicken partnership might just have a fighting chance.