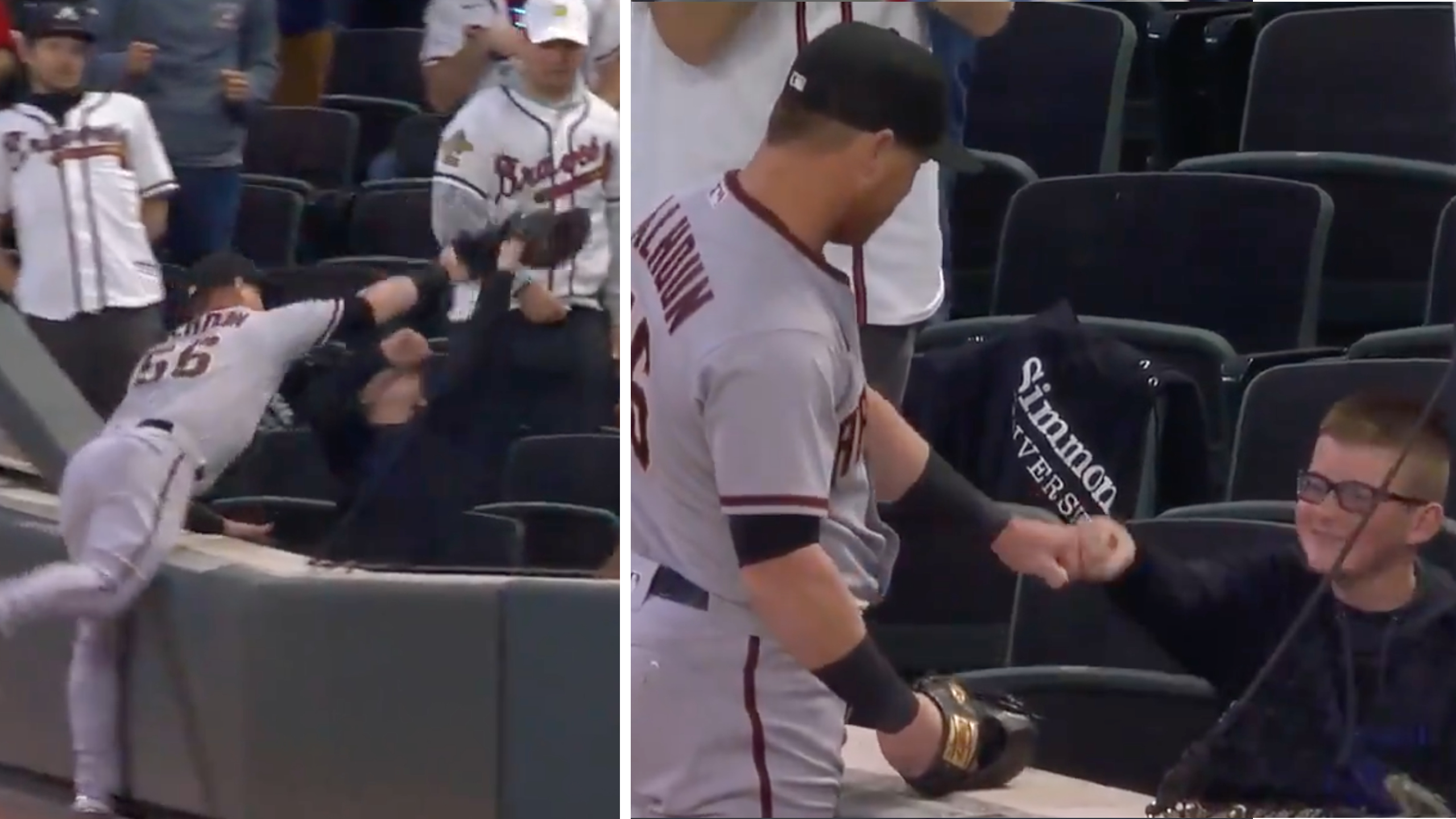 Credit: Twitter/BallySportsSO
Catching a foul ball is the pinnacle sports fan moment. Grabbing a puck at a hockey game is up there, but the foul ball catch is a quintessential fan highlight. Sometimes, they can be dramatic, like the fan who sacrificed his beer to protect his female companion. And sometimes, they can be straight cool, like the young fan attending his first-ever baseball game recently who managed to compete with an MLBer for a foul ball…and won.
Arizona Diamondbacks outfielder Kole Calhoun was tracking a foul ball to the stands, where he was poised to bring it in for an out. Instead, a young fan was there instead, making an incredible catch. Once Calhoun realized what happened, and that he wouldn't get the out, he couldn't even be mad because the catch was that incredible. Instead, he smiled and fist-bumped the fan.
This young fan stole an out with a great catch, and @KoleCalhoun can only show his respect.

What a cool moment. pic.twitter.com/XRbnDsGUXE

— Bally Sports South (@BallySportsSO) April 24, 2021
Calhoun still remembers when he caught a foul ball as a kid and said it was cool that the fan made such a great grab and that he'll remember it forever.
"That's why we play the game," he said. "That kid is never going to forget that. What a moment for him."
Calhoun said it was a heck of a play for the kid to make. He even went back to the kid later in the game to tell him he was probably going to be on the Sportscenter Top 10 for his catch.
"He looked at me right in the face and said "I'm already blowing up on Tik Tok.'"
The kid, Cord McLerran, was attending his first game ever with his mom. He was blown away by the attention he got for the grab. Even the Braves were appreciative since he saved them from a clear out. The team offered him and his mom free tickets to an upcoming game.
As awesome as the catch was, Calhoun's response really is what it's all about. It would be easy for a professional baseball player to get mad at something like that since it interfered with his play. But he remembered, rightly, that sports are supposed to be fun, and are supposed to be for kids. He gets it, and not only did McLerran get an incredible baseball memory, but Calhoun also got a new fan.