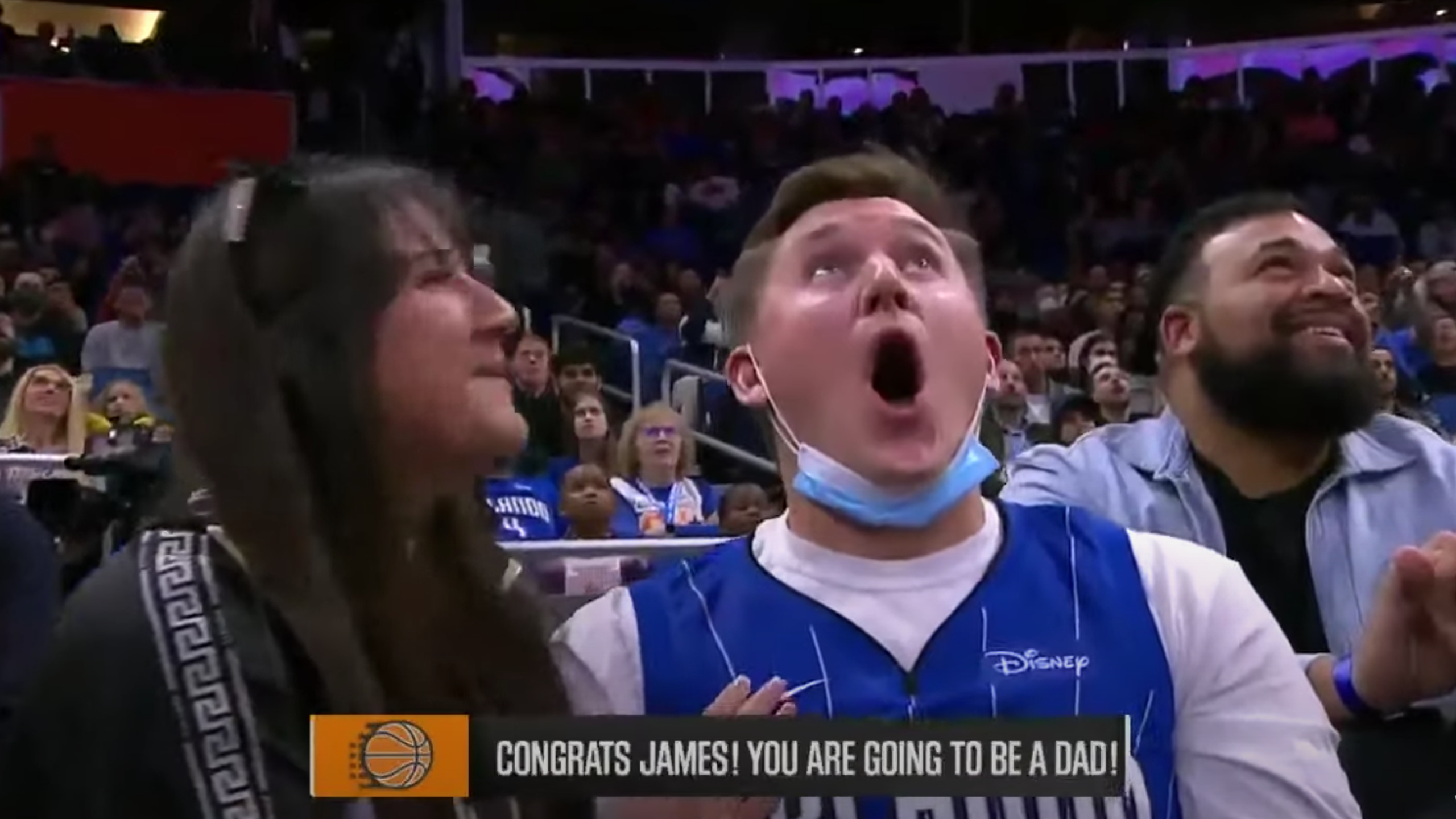 Credit: YouTube/Fox 35/Orlando Magic
The stadium jumbotron proposal was a very 1990s thing, and it's worn out and tired by this point. What happened at a recent NBA game, though, is something far cooler and hopefully the start of a new trend. One NBA fan attending a game with his wife ended up getting a big-screen shock.
James and Taylor Baily were enjoying an Orlando Magic game when the duo ended up on the KISS cam. It was a surprise for James, but a much bigger one was right around the corner, as the entire thing was planned by Taylor. After they kissed, James looked up at the jumbotron and saw the message that scrolled under their picture. It read, "Congrats James! You are going to be a dad!"
You can see his jaw literally drop in excitement as he looks over to the missus for confirmation as he put it all together. She had planned the whole thing in secret, telling a local TV station later she wanted to do "something big" to surprise him. It doesn't get much bigger than that.
The moment went viral, even getting some big play on SportsCenter. It was the pregnancy announcement heard round the interwebs, as the touching moment spread far and wide and was viewed millions of times.
"When I looked up and saw the writing at the bottom, that's just when my jaw dropped and it was just such a whirlwind of emotions at that point," James said.
Orlando Magic fan learns he's going to be a dad during viral kiss cam surprise https://t.co/WExNMP3Msy

— WESH 2 News (@WESH) November 25, 2021
That kid will probably be a Magic fan for life, no matter how bad the team becomes. And the same goes for the new dad. All in all, it's one of the coolest ways to get welcomed to the club, and a fresh take on an old arena classic.