Koala Breaks Into Australian House and Makes Herself at Home in Christmas Tree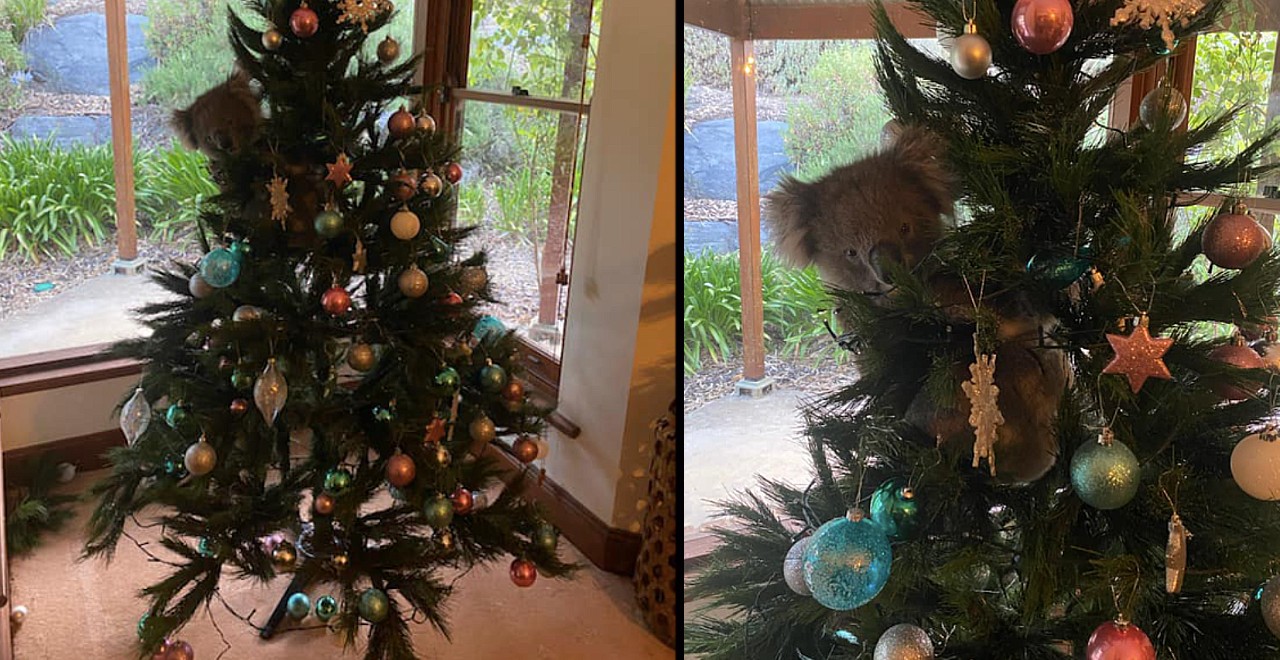 This year, out of necessity, most of us will end up having a quiet holiday at home. Though it's tough not being able to see friends and family in person, it does undeniably remove one huge holiday stressor – playing host to a house full of guests. Last week, however, Amanda McCormick from southern Australia found herself dealing with an unexpected guest of the furry variety – a young koala, who decided to break into Amanda's house and make herself at home in her Christmas tree.
Though koalas are undeniably cute as heck, when threatened, they can become extremely aggressive. Fortunately for Australians, rescue organizations like 1300Koalaz exist to protect the adorable critters. Though the 1300Koalaz exists solely to help the wide-eyed marsupials, Amanda's call was baffling.
The organization shared on Facebook, "This evening our hotline operator took a call. At first, she thought she was the victim of a prank call. But no, a koala desperate to get in the Christmas spirit had wandered into Amanda McCormick's house and decided it wanted to be the fairy on the Christmas tree."
And well, at least for a little while, the holiday koala did indeed get to embody the spirit of Christmas. The adorable photo shows Amanda's beautifully-decorated tree in a bright corner of her house, the koala just chillin' among the ornaments and decorative snowflakes.
Due to the destruction of their natural habitat, the koala population has been in decline. Their population is especially vulnerable due to bushfires, which quickly destroy the eucalyptus trees koalas call home. Just this year, nearly 5,000 koalas were killed in an Australian bushfire which is said to be over 10% of their population in New South Wales. Since many koalas are now forced to live alongside humans, home break-ins are not entirely unheard of. Thankfully, Amanda's furry guest chose the right home – the young koala got to spend some time soaking up the holiday cheer.
Sadly, the party had to end for the holiday koala eventually – once the kind folks from 1300Koalaz arrived, the koala was gently escorted from Amanda's home. The young koala took the L and returned to a far less festive tree, but we like to think she at least grabbed an ornament on her way out as a reminder of the Christmas spirit.