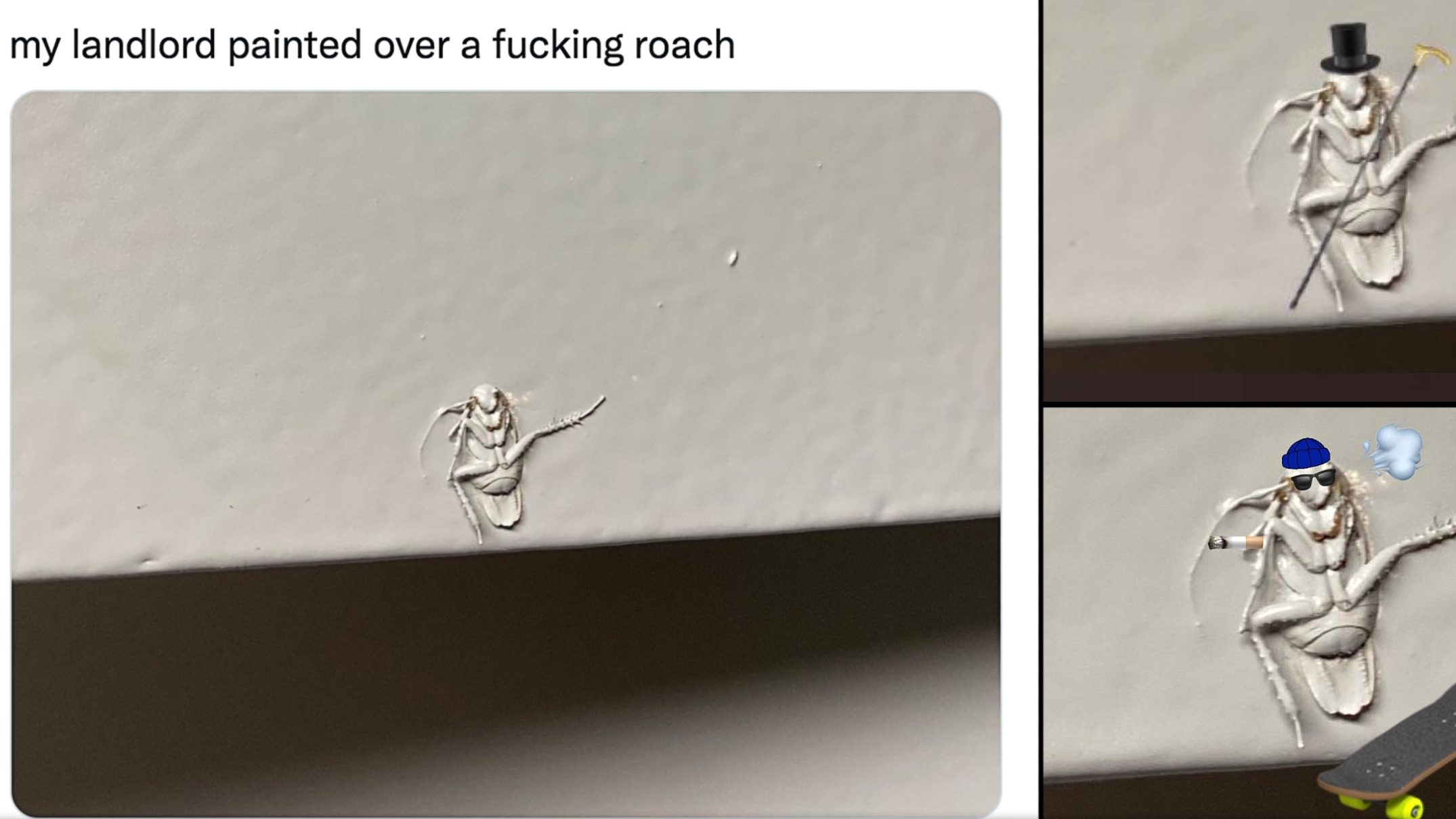 Credit: Twitter/chellzyeah, _micahs_mullet_, Beanshit72
There are certain things in life that make our brains, for lack of a better term, glitch so badly we have to do a hard restart (bang our heads against a table for a while). Some things make so little sense that we genuinely can't believe they're real. In those instances, we often turn to social media as a way of asking, "am I losing it, or do you guys see this too?"
When a Twitter user named Chelsea (@chellzyeah) shared a photo in early September, it fell squarely in the category of, "you seeing this shit?" Over 360,000 likes later, two things were abundantly clear. One, Twitter was absolutely seeing that shit. And two, it was just as ridiculous to strangers around the world as it was to Chelsea.
The picture in question shows a small section of Chelsea's wall, a slightly-dented edge the color of day-old oatmeal. But wait, there's more.
"My landlord painted over a fucking roach," Chelsea captioned her photo.
my landlord painted over a fucking roach pic.twitter.com/b3vTHOrdgi

— chelsea, a human woman? (@chellzyeah) September 5, 2021
In the middle of the wall, a cockroach attempting to make its escape was frozen in place like Han Solo in carbonite. The detail visible on the ill-fated insect is astonishing, almost as astonishing as the level of not-giving-a-fuck necessary to paint over a cockroach. Before long, the people of Twitter rushed to the comment section to breathe life back into the perished pest through the power of Photoshop.
There's the roach who's here for a good time, not a long time
hello my baby, hello my darlin, hello my ragtime gal pic.twitter.com/nLyMRm8okl

— Rat Bastard (@Beanshit72) September 5, 2021
If anyone can do it, this crew can-can
— I.Am.CannaBull (@CannaBullAz) September 5, 2021
This guy's getting dangerously close to encroaching on Tony Hawk territory
— micah🦇 (@_micahs_mullet_) September 5, 2021
Is this a game to you
— Jack Bannister (@JackBannister94) September 5, 2021
Fatality 🙁
— John Cougar Colleencamp (@BillTouspille) September 5, 2021
This one doesn't include our fallen friend, but it brings up an important point. If it isn't attached to the wall, don't freaking paint it.
And I thought the paper plate plastered to the wall of my college house was weird😅 pic.twitter.com/cL69qQc6Mj

— Lexi Sheridan (@LexiSheridan4) September 5, 2021