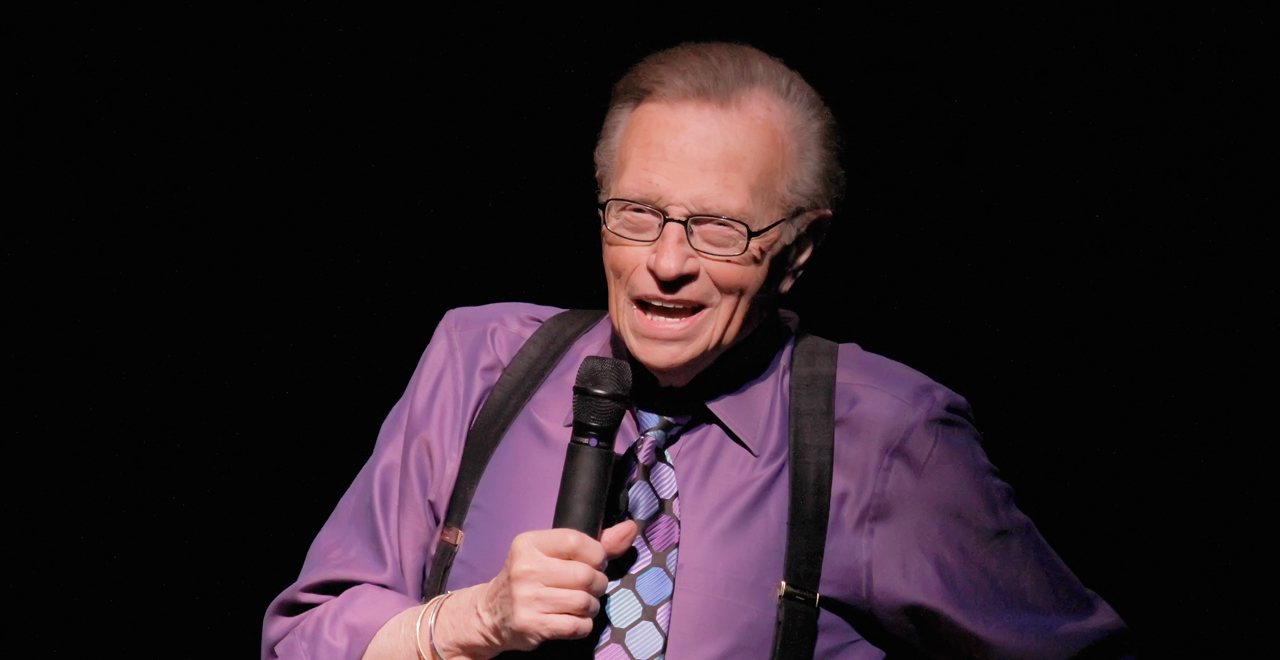 Credit: Getty/Donald Kravitz
The legendary broadcaster, dad, and Ghostbusters actor Larry King passed away this weekend at the age of 87 after an iconic TV career. His TV career spanned six-plus decades and he's remembered as one of the best interviewers of all time. He's known for interviewing everyone (literally, presidents, actors, newsmakers, and randos of all types) on his show, "Larry King Live", which he hosted on CNN for more than 25 years.
— Larry King (@kingsthings) January 23, 2021
He retired from the show in 2010, after recording 6,000 episodes. That's the type of career that makes you as familiar to viewers as the channel itself almost, you're just a fixture at that point, known around the world.
"Instead of goodbye, how about so long?"

Watch Larry King sign off from "Larry King Live" on CNN for the last time. https://t.co/p4NwxAfrFq pic.twitter.com/fxQPqzlzLU

— CNN (@CNN) January 23, 2021
King was so familiar as an interviewer that he made frequent movie cameos in that role, typically interviewing a major character or commentating on some major event in the movie. He was never better in this role than he was in Ghostbusters.
RIP Larry King #ghostbusters pic.twitter.com/5kJ41nuEHm

— Betamax Video Club (@BetamaxPod) January 23, 2021
Not only was King at the top of his game for many years, but he also stayed relevant far longer than most his age. It was just months ago that he was trending for his interview of Danny Pudi and it's "Larry I'm on Duck Tales" moment.
He was a TV giant, having interviewed more than 30,000 people on his show, ranging from President Ford to Obama (and all between) to random viewers calling into his show. Many of his colleagues and former guests took to social media Saturday to remember the broadcasting legend.
— Conan O'Brien (@ConanOBrien) January 23, 2021
Larry King was a friend through thick and thin. A masterful interviewer and storyteller. He helped put CNN on the map by making news through the art of dialogue.. May he Rest In Peace.

— Dan Rather (@DanRather) January 23, 2021
I'm saddened to hear of the passing of #LarryKing he was the real deal and it didn't matter where you came from, who you were or the colour of your skin, he welcomed everyone with open arms. Media can use more people like Larry. #RIPLarry pic.twitter.com/L43JEk2jnJ

— AKON (@Akon) January 23, 2021
R.I.P. Larry King. I loved his all night radio show in the 80's. You could call in at 1 in the morning and just riff for hours. His radio show made a great opening for Lost In America. Rest easy Larry.

— Albert Brooks (@AlbertBrooks) January 23, 2021
Because of Larry King, I got the opportunity to guest host his show Larry King Live. What an honor to fill the suspenders of such an icon! He was a great friend of @TheMuppets and the world. Thank you, Larry.

— Kermit the Frog (@KermitTheFrog) January 23, 2021
Just heard the awful news about Larry King. He taught me so much. He was a true mensch. He probably even taught me that word.
So long pal, thanks for all the laughs. Say hi to Rickles. #RIPLarryKing

— Craig Ferguson (@CraigyFerg) January 23, 2021
R.i.P To the legend Larry King God bless him. pic.twitter.com/2BwiN5O2rb

— 50cent (@50cent) January 23, 2021
RIP to radio/TV/digital news legend @kingsthings. It was an honor to watch you do your thing, both on @CNN and in person. My Dad always asked me "Did you see who Larry King talked to last night?" Would've blown his mind to know that, one day, it would be his son. Thanks for that. pic.twitter.com/OTQrEar3c4

— KevinSmith (@ThatKevinSmith) January 23, 2021
Larry King was a giant of broadcasting and a master of the TV celebrity/statesman-woman interview.

His name is synonymous with CNN and he was vital to the network's ascent. EVERYONE wanted to be on Larry King Live. May he Rest in Peace.https://t.co/XTgeMqjmcg

— Christiane Amanpour (@camanpour) January 23, 2021