Despite a whole lot of progress in how we both view and treat dads as a society, there's still a long way to go. The Cleaver family from Leave It to Beaver is no longer the gold standard of families (or uh, the only standard) – but change happens slowly, and it isn't necessarily linear. Modern fatherhood looks a bit different to everyone, so when one dad took to LinkedIn to share a powerful message, parents around the world responded.
Matt Nixon works full-time as a project manager and engineer, but his other full-time job is being a dad. Nixon is deeply dedicated to his kids, but like many dads, he's exhausted. Not of parenting itself, but of parenting in a world that often still treats moms as primary caregivers. Nixon took his frustrations to LinkedIn, sharing an important message about modern fatherhood that quickly went viral.
"I don't do 'daddy daycare'" Nixon wrote, "I'm not a 'hands on dad' and I will never 'babysit' my own kids!"
Nixon discusses his role as a modern dad, working and parenting simultaneously, as many do. Things that should be simple, however, regularly turn into challenges for the dedicated dad through no fault of his own.
"I'm the one showing up at 'mum' and baby sessions, after left finding barely any 'dad' ones," Nixon continues. I'm the one changing nappies in the ladies toilets…cos apparently no one installs them in the gents!"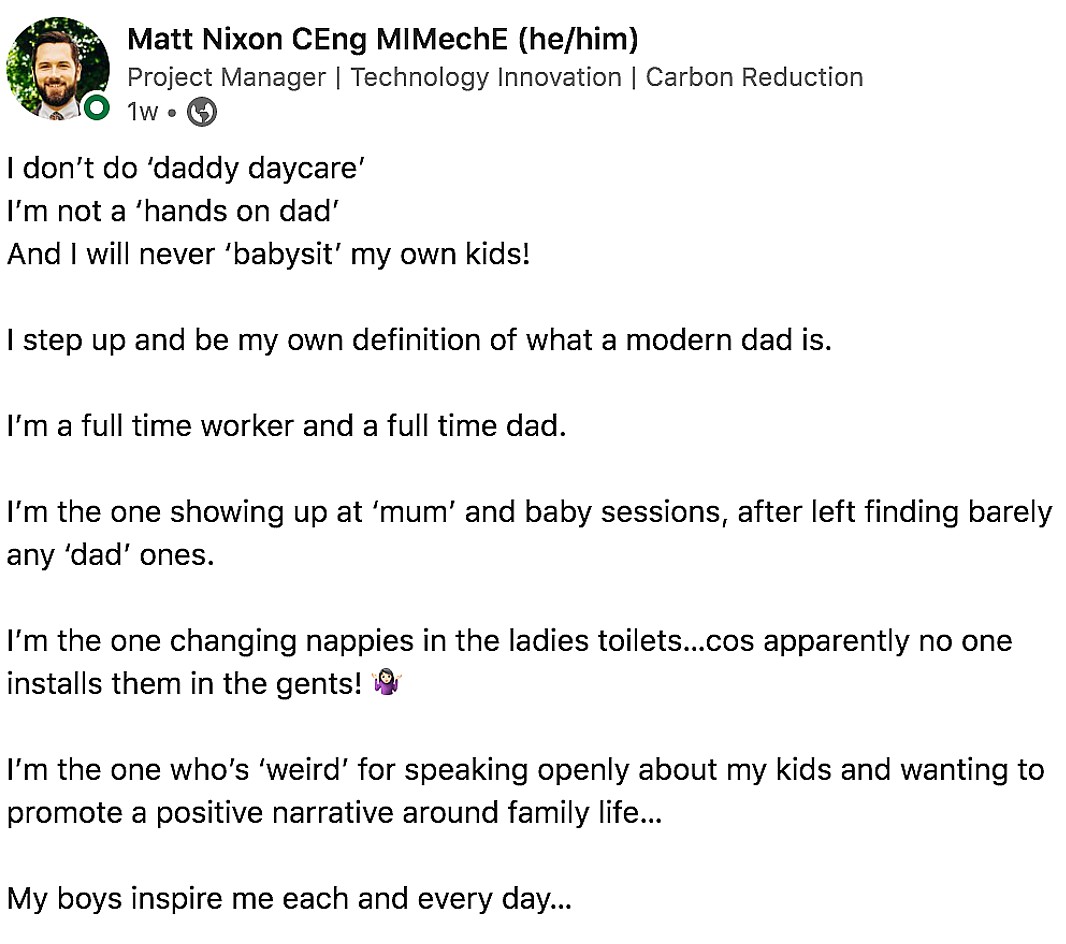 The comment section of Nixon's post is filled with parents sharing similar struggles. One father discussed his frustration with the unfair stereotype of inept dads, another echoed Nixon's dissatisfaction with parent-baby groups.
"I vividly remember being asked if I needed help by a well-meaning mum at a playgroup while I changed a nappy," a dad named Andrew Richards shared. "I thanked her and said that he was my 4th kid and that I thought I'd manage OK. There are a lot of assumptions out there that dads are incapable of caring for little ones."
The "norm" is undoubtedly shifting when it comes to parenting roles, but dated stereotypes often persist. The challenges that come with fatherhood extend far beyond actually raising your kids, but starting an open and honest dialogue reminds us all that we're not alone. It reminds us that we have the power to change the narrative because, at the end of the day, we're all just trying to become the best parents we can possibly be.