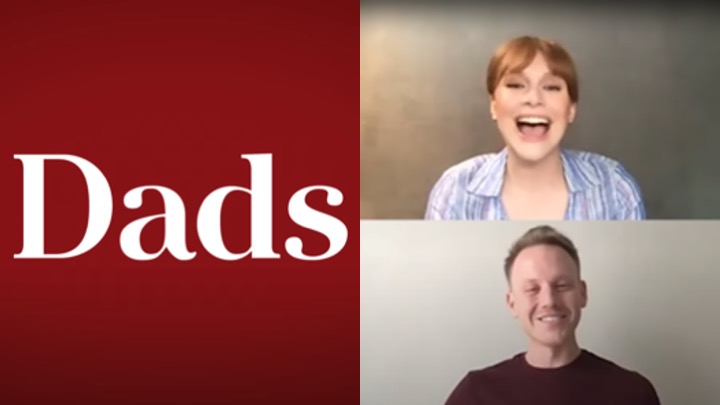 Credit: Apple TV
Jurassic World actor, Mandalorian director, and all-around delight of a human being, Bryce Dallas Howard, is going all out for Father's Day this year with a love letter to dads everywhere in the form of a documentary. The feature-length film, appropriately titled, "DADS," features several fathers from a variety of cultures and backgrounds in an attempt to answer one overarching question: What does modern-day fatherhood look like?
Howard takes a multifaceted approach in finding the answer – interviewing vibrant celebrity dads like Will Smith, Judd Apatow, and Conan O'Brien, but also following a diverse group of stay-at-home fathers who describe what it was like finding their new fatherly identities. Not afraid to get personal, Howard also interviews her own dad, Ron Howard, as well as her grandfather, Rance Howard, and younger brother, Reed Howard—the latter of whom is a brand-new father.
Clearly, this is a topic that's right up our alley here at The Dad, so we were thrilled when Howard agreed to chat with us via Zoom about her 1-hour 20-minute documentary, which is now available globally on Apple TV+. Once again, she was willing to get personal as we discussed topics like the film's impact on her perception of fatherhood, her relationship with her own dad, and whether or not Will Smith is actually cool. 
---
JORDAN: So what do you want audiences to walk away with from this film? What do you want them to have learned, to have garnered, to take away?
BRYCE: Well, I think on the simplest level, this movie is being released Father's Day weekend—the weekend where we're meant to celebrate and acknowledge the dads in our lives, and I would love it if this movie aided in that endeavor. So whatever that means to them—if it makes them appreciate their own father, if it makes them appreciate their partner, if it makes them feel inspired and empowered as parents themselves, or as individuals… I hope it's positive.
Yeah. I can tell you right now that it definitely paints fatherhood in such a good light. I mean, whether it's reflecting on your relationship with your own father, or on your relationship with your children, it really is something that you walk away feeling it's a breath of fresh air. Dads are okay, they're doing it as best as they can, and it's something truly special.
They're doing great. Thank you.
At The Dad, one of our foundational goals is to provide not only an entertaining space to share stories and to talk about fatherhood, but create this community to come together. Where people know it's normal to be tired and scared and not really sure if you're doing this right, because once you normalize that, then it's like, "Oh God, I can finally breathe again. I'm not ruining my child."
Yes. I remember after having my son… I mean, it's ridiculous to think about this, but I was just like a handful of weeks into it, maybe a month, maybe six weeks. And I went somewhere and I was talking to a group of moms and I was so apologetic, and this mom took my hand and she's like, "It's a really long road. You can pace yourself. This is a long journey. You have so much time."
You were giving yourself a report card a week into the semester. It's like, calm down, you have plenty of tests and exams to pass, okay…
Yes, yes. And that was so comforting to me, but it took another parent giving me that perspective because how else are we supposed to have perspective?
Right. That's a lot of what we do. We try to entertain and a lot of that is through comedy because you have to be able to laugh at yourself. You said it in an interview with CBS, you said, "Every day as a parent is a comedy." Can you elaborate a little more on that?
I mean, it's so absurd. Being a parent, it's such a ridiculous thing.
Right, like, what adult is going to ask you what your third favorite jungle cat is? That's just not going to happen. That's not going to be a question you get at work.
[Laughing] Yeah, no, not at all. Not one tiny bit. And it's certainly not for the faint of heart. It's something that is like the highest stakes in the world and you have to take it so seriously, but then also it's so funny because you're taking it so seriously, and the whole thing is so absurd. I think that I was really influenced as a kid being around the set of Parenthood. I mean, that was me hearing the stories of my childhood. I was seven and seeing it come to life and it was through the perspective of the father and it was a comedy. And so, from the get-go, I wanted this [film] to be something with humor and heart.
Growing up, did your dad have any dad jokes or classic dad-isms that he would use as a crutch or a line that you heard all the time?

You know what? He wasn't, believe it or not, he wasn't that corny. My dad is so earnest. He's not trying to crack jokes, he's just super earnest and sweet. I mean, he's funny, he's got a great sense of humor. It was so funny [in the film] to hear Will Smith say that his kids think that he's corny. You know?
Right, Will Smith is the coolest person I know of on planet Earth.
Yeah. Will Smith. He's cool, he's not corny. But I think it is this thing that kids see… They just see this other side of their parents. And I think because my dad has never, ever been someone who's been cool, we just see him for who he is.
That's every kid though. People are just like, "Oh, your dad's cool." And you're like, "No, he's not. You don't know him like I know him." Right?
Yeah. But it's almost the opposite. It's because he's so not trying to be cool or anything like that. Like he'll do something or say something and I'll be like, "Pretty with it, dad. Oh, yeah, you can kick it with us. You're good with the youngins."
Did this whole filmmaking process inform you of anything when it comes to [your husband's] role as a father? How do you approach that now?

Yeah, you know what I would say is that I'm probably even more protective of him now because I see how the ways in which fathers are simply not included in their children's lives or in the endeavor of raising people. And it's assumed that the dads are taking a back seat and that's just not the case at all… like, at all. Not even close. And so, with Seth, if someone comes to me and doesn't go to him, doesn't include him, I'm offended, I'm offended for him.
I just don't like rude assumptions about men who are remarkable. I mean, listen—he's been on the front line of our family raising people. And so, since we started, folks have been like, "Wow," pretty struck by Seth and what an involved parent he is. And so I'm not having to like protect him very often because everyone is like, "Oh yeah, you're…"
He's not a babysitter, he's a father.

Yes, exactly! Exactly. Isn't that so weird?
Awful, when you hear that, right?

Yeah, it's so mean! It's like, what do you say to the dad? Like, what?
What can you say about that evolving relationship [with your dad]? A lot of the film is looking at fathers with young children, but you're an adult now. What does that relationship look like? Has that evolved? Does it become more of a friendship?
I would say what I have with my dad is definitely a friendship, but it's kind of always been that way. He really treated me from a very young age, like an equal, not like from a disciplinary perspective, like, "Oh yeah, you can just do whatever you want," but just an intellectual equal back when I was five. I think that it was because he himself was working at that age. And so he has memories of being a conscious person with responsibilities, making a living, all of that. And so it's like he projected that onto us or saw that within us. He's just always treated me with so much respect. And so being an adult is just a continuation of that. And I'm like a very demanding child. I call my parents, it's too late. I call them, it's too early. I call them multiple times a day. They're like, "We're busy." They're still very involved, both of them, so I appreciate it.
What the hell are you getting your dad for Father's Day, besides this feature-length documentary about how great dads are?
I'm probably going to write him something. I'll do a card, but not like a lame card, like a legit something he can keep, but…
Something he'll probably cry over, right?

[smiling] Mayyybe.
Yeah. I mean, we're not giant gift-givers in our family. We're very, like, it's the breakfast in bed thing. It's that we get to see each other, that kind of thing.
A quality time family.
Quality time, yes.