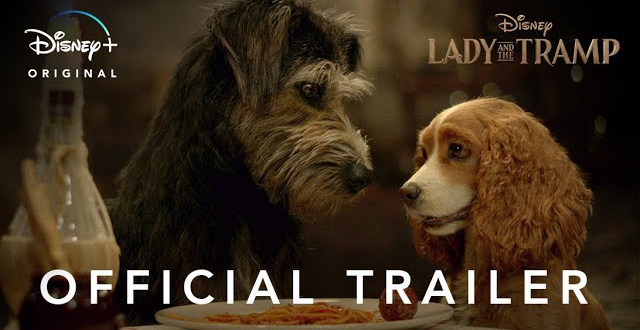 Credit: YouTube/Walt Disney Studios
Life can be ruff for a dog who ends up in an animal shelter. Fortunately, adoption agencies and organizations give these orphaned pets a second chance at a happy life. However, one lucky pup has pawsitively hit the jackpot with his new forever home.
Adopted by a family from California last year, Monte, a 2-year-old terrier mix, will now be strutting his stuff on the big (small) screen in Disney's new live-action remake of Lady And The Tramp — set to premier on November 12.
The tail of Monte and the rest of him for that matter has been profiled by outlets around the world thanks to news of his humble beginnings. Halo Animal Rescue, who sheltered Monte before he was adopted, shared a photo of their former furry friend in a Twitter post touting his newfound fame.
Celebrity dog in our midst! Monte was adopted last year from HALO & originally came from Las Cruces, NM. Monte will be starring as "Tramp" in the new live action Disney movie according to this @People Exclusive https://t.co/d1LgLx9R0H #HALO25yrs #HelpingAnimalsLiveOn pic.twitter.com/u6kaBhgkJM

— HALO Animal Rescue (@HALORSQ) August 12, 2019
"He was adopted from us in April of 2018, and we knew that the people that were meeting with him were considering him to be a Hollywood star, but we didn't know for what, because it was top secret," HALO President Heather Allen told the Arizona Republic. "We knew he had the potential to become a Hollywood dog."
Now Monte, along with his cocker spaniel co-star, Rose, are stealing hearts along with spaghetti in the newly released trailer that debuted this week.
Justin Theroux from HBO's 'The Leftovers' voices Monte's Tramp, with Lady getting her voice courtesy 'WestWorld' actress, Tessa Thompson.
While reactions have been mixed when it comes to Disney's live-action reboots, the media giant doesn't show any signs of slowing down. With the launch of their new streaming service, Disney+, the studio has said they'll release dozens of new films and remakes over the next few years. Whether you're a diehard fan of the originals or just looking for something new to entertain your kids, chances are you'll soon have no shortage of familiar films at your fingertips.
Start budgeting for another $12.99/month. Disney+, along with Lady And The Tramp, hits streaming devices November 12th.