Airline Worker Returns Boy's Lost Buzz Toy With the 'Story' of His Adventure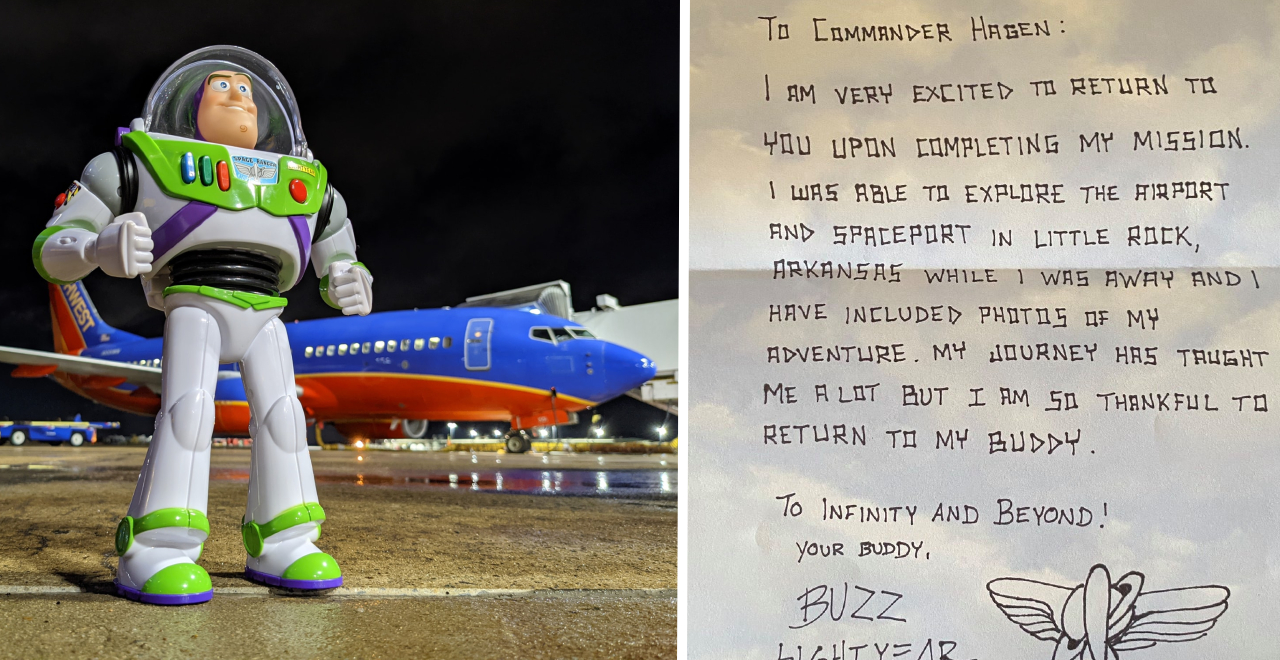 Traveling with young kids is hard enough, but if you throw a lost toy into the mix it could derail everything. And seeing your kid reunited with his beloved lost toy? One of the wildest rollercoasters of travel. A young boy lost his beloved Buzz Lightyear toy on a last-minute flight the family took to Texas for a funeral, but the airline worker who tracked it down wins the award for taking customer service to infinity and beyond.
"I realized we didn't have Buzz when we got to the rental car," his mom wrote. "My son was devastated, he loved his Buzz so much and even had his name written on the bottom of the boot just like the Buzz from the movie has Andy on his."
His mom chalked it up as a lost cause until they got an email from an airline worker in Arkansas, where Buzz ended up after he was left on the plane. He spotted two-year-old Hagen's name on the boot of the toy, which gave him a starting point. With a little detective work and help from a colleague, he found out there was only one Hagen on the plane that day. That could've been the end of the story and it still would've been great customer service.
But instead, Jason, the airline agent, took it up a notch, and a few days later the family got an out-of-this-world surprise. Not only was it Hagen's beloved Buzz, but it came in a special hand-decorated box and a letter describing his adventure at Southwest Airlines. He also included a picture of Buzz on the runway.
His mom said the thought and care he put into getting Hagen his Buzz was beyond thoughtful and sweet. "It will be a memory he has to cherish forever and an incredibly cool story to tell as he gets older," she wrote. "There's definitely not enough good in this world, and for someone to take the time out of their day to do that for strangers means the world to us."
So not only did the boy get his Buzz back, but he got his own personal Toy Story sequel in the process.