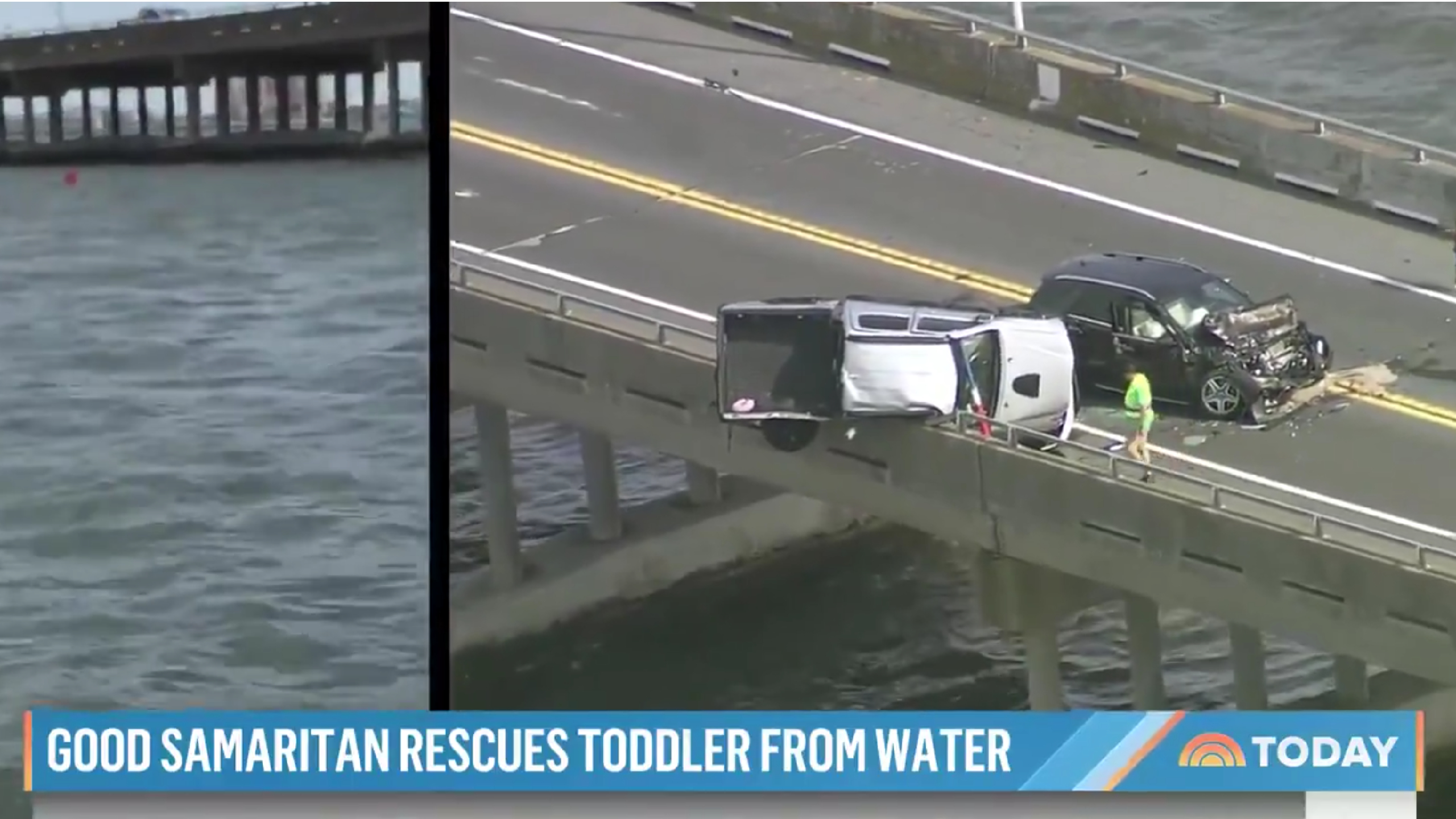 Credit: Twitter/TODAYShow
The "hero" label is thrown around very casually in the social media era, but in this case, you can't say it enough. A tragic car accident on a bridge in Maryland left a car dangling over the guardrail, and an infant, still stuck in a car seat, was ejected from the car and into the water below.
That's when a bystander JUMPED THE GUARDRAIL to dive into the Bay and RESCUED THE BABY. That sounds like superhero movie stuff right there. A man literally LEAPT OFF A BRIDGE AND SAVED A BABY'S LIFE. It's astounding that they both survived the episode, but it's heroism in its purest form.
The Ocean City Police Department shared the first report on its Facebook page, and it was widely covered by the media. The infant was flown to the hospital, and the rescuer was in a good deal of shock himself, according to boaters who pulled them both out of the water. He's chosen to remain anonymous.
The man's 30-foot dive into the water wasn't the only heroic act, as a 14-year-old girl on a boat with her dad spotted the accident and directed him to investigate. The duo found the man treading water with the baby and pulled them both from the water.
A bystander jumped off a bridge into the water below to save a baby ejected from a vehicle after a crash in Maryland. @GarrettHaake spoke with the family who helped bring the baby and the good Samaritan to safety. pic.twitter.com/2gVkmALoUv

— TODAY (@TODAYshow) May 4, 2021
The 14-year-old, Alayna, said the rescuer didn't say anything because he was in such shock. Her dad echoed his daughter's statement, adding "it says a lot about some people's demeanor, just doing the right thing when you got to do it."
The dad also said he was proud of Alayna and her instincts to help during the incident.
"You're taught through your life as a child and as you're growing up, to respect and help others when needed, keeping your head on a swivel, you know, always looking around," he said, "it's those little things in life that teach you. You see your 14-year old daughter going through this and just say 'wow, she's learned and understood what has to happen in this world."
The infant suffered some injuries but was stable, and the family agreed to keep the man's identity anonymous. The police department is still investigating the accident, but one thing is clear, there was some major heroism on display and some pure magic that no lives were lost in such a dangerous situation.