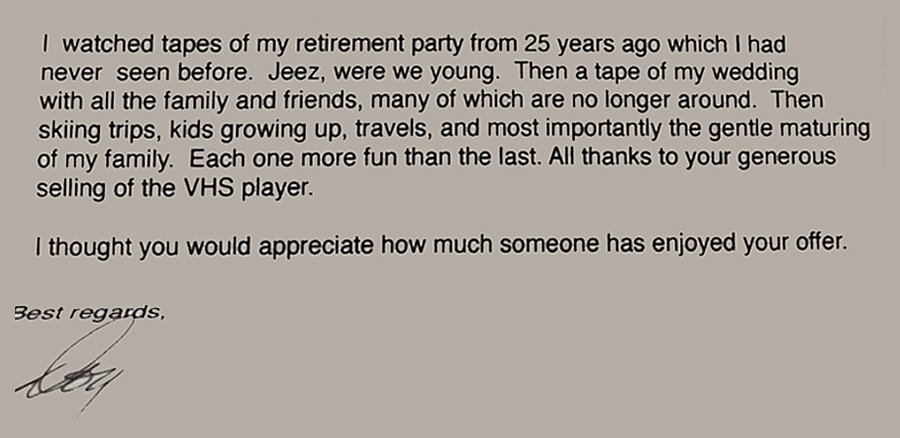 Credit: reddit/MarshmallowMatt
Common courtesy is in short supply these days. People attack each other anonymously online, ghost each other after bad dates or bad job interviews, and barely a weekend goes by without someone getting caught on video calling the cops on someone else merely because they look different from them.
The toxic atmosphere for the past few years makes it all the more satisfying – and significant – when a story comes around that showcases the kinder side of humanity. Even when it's something as simple as receiving a thank you note.
Matt Skoury started selling items on eBay when he was diagnosed with cancer and needed to make ends meet while getting treatment that prevented him from holding a job. His health has since improved, but he's continued to sell things on the auction site. There isn't much to it, most of the time.
"Most eBay transactions are a blur for me as most commerce is nowadays. They pay. They get their item. Everybody's happy and goes on their way," Shoukry told 6abc.com.
One recent transaction was a little bit different. Matt sold a VCR and after shipping it out, barely gave it another thought. Until his girlfriend handed him the mail.
"My girlfriend had brought the mail in, which is usually all ads and junk, but I noticed a letter for me with a handwritten address on the front," Shoukry said.
The letter was from an 86-year-old man who had a trove of VHS tapes and no way to play them until he discovered Matt's VCR on eBay.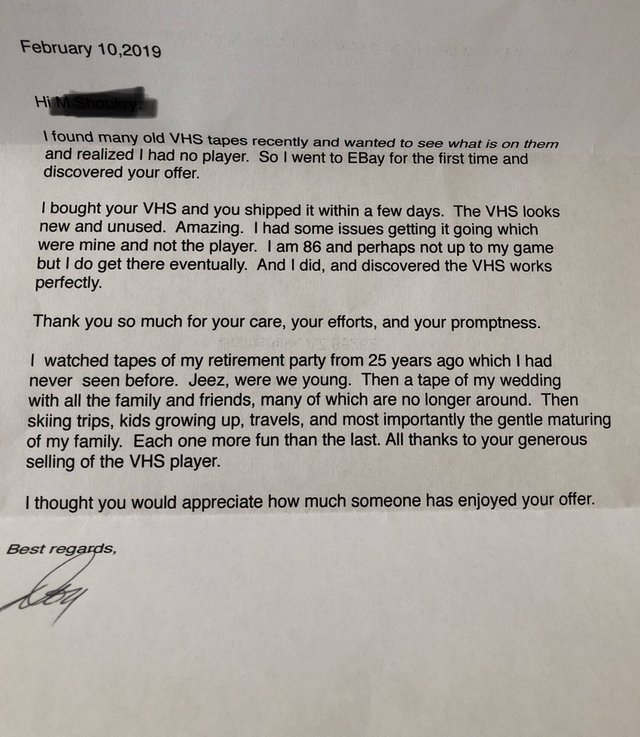 "I bought your VHS and you shipped it within a few days. The VHS looks new and unused. Amazing. I had some issues getting it going which were mine and not the player. I am 86 and perhaps not up to my game but I do get there eventually. And I did, and discovered the VHS works perfectly," the man wrote in his letter.
He went on to thank Matt for the item, and his promptness in delivery it. And then he explained that he'd received a lot more than a VCR from Matt. He'd gotten a lifetime's worth of memories.
"I watched tapes of my retirement party from 25 years ago which I had never seen before. Jeez, were we young. Then a tape of my wedding with all the family and friends, many of which are no longer around. Then skiing trips, kids growing up, travels, and most importantly the gentle maturing of my family. Each one more fun than the last. All thanks to your generous selling of the VHS player.
I thought you would appreciate how much someone has enjoyed your offer."
Matt and his girlfriend did appreciate it, becoming teary-eyed as they read the man's letter. Matt quickly posted it on Reddit, where it has since taken off. The post has been upvoted more than 160,000 times.
Matt also plans to reach out to the man with a plan to make his memories even more indelible. "I will be offering to allow him to ship his VHS tapes to me so I can digitize them. That way, his family memories will be safe and not at risk of deteriorating away on those tapes, and the rest of his family for generations can enjoy the memories, too," Shoukry said.
Common courtesy may not always be so common these days, but it still has a heck of an impact.