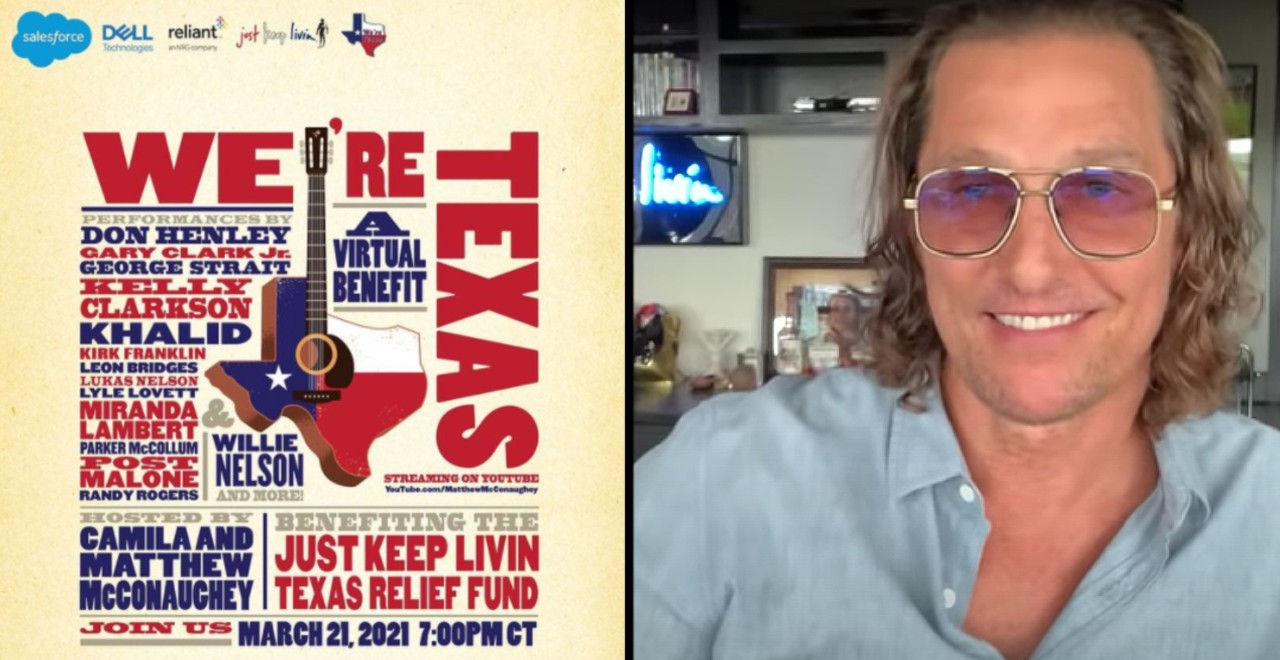 Credit: Instagram/officiallymcconaughey, YouTube/Matthew McConaughey
Matthew McConaughey loves his home state of Texas – so much so, that he's even considering running for governor. After the state was devastated by winter storms, McConaughey refused to sit idly by. In the immediate aftermath of Winter Storm Uri, McConaughey and his wife Camila hit the ground running. Working with organizations around Texas, they helped provide support to the community. But Matthew and Camila vowed to do more, and in record time, they're seeing their vision through.
On March 21, Matthew and Camila are throwing a virtual benefit concert to help rebuild Texas. "Announcing 'We're Texas', a virtual revival where we can all come together to help Texas recover from the winter storm," McConaughey said on Instagram.
View this post on Instagram
Over the past week, a slew of artists have been added to the list of "We're Texas" performers. Maybe it's because we've gone a year without concerts, but this lineup looks truly incredible. Willie Nelson, George Strait, Kelly Clarkson, Kirk Franklin, Kacey Musgraves, Leon Bridges, Khalid, and Post Malone are just some of the musicians donating their time and talent to the cause.
McConaughey even started his own YouTube channel through which he'll be streaming the benefit concert, and honestly, his intro video is perhaps the most Matthew McConaughey thing we've ever seen.
To virtually attend the "We're Texas" concert, head over to McConaughey's YouTube channel on March 21 at 7 pm CST. The money raised by the benefit concert will go to organizations such as the Austin Disaster Relief Network, Meals on Wheels Central Texas, Salvation Army of Texas, Save the Children, and more.
"100% of all the donations will benefit so many organizations on the ground now and in the months to come," McConaughey explains. For more information or to make a donation, visit Matthew and Camila's just keep livin Foundation website.