'Milwaukee Mario' Spreads Joy and Power-Ups Around the Country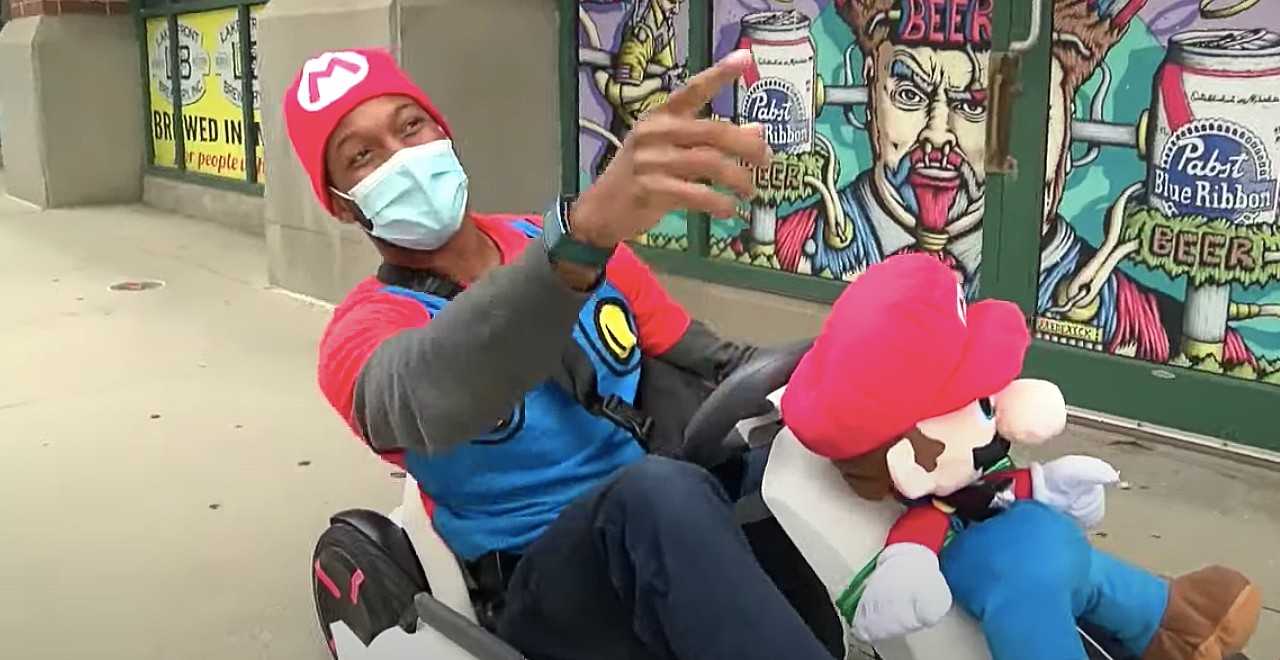 Since the beginning of the COVID pandemic, many of us have been turning to video games as a much-needed distraction. Between the comfortably familiar characters and the ability to explore a completely different world, video games are a long-standing and well-loved mode of escapism. When you're out in the world though, you can't exactly have your favorite video game in your back pocket if you need a quick break (I'm not talking to you, Switch people). Josh Schaffer knows as well as anyone how tense life is right now, so he decided to bring a dose of one of our favorite video games into the real world for some very effective stress relief.
Though he actually resides in Chicago, Schaffer has become a legend in the Milwaukee community. On June 27, Schaffer shelled out some cash for a 15 mph go-cart at Target (which isn't even close to the weirdest quarantine purchase most of us have made). Even before the costume, people commented on how much Schaffer looked like he was playing a real-life version of Mario Kart. Realistically, this is what most of us say any time we see a go-cart – but fortunately, the wheels were starting to turn in Schaffer's brain. He knew what he had to do.
Schaffer bought a Mario costume, a Mario doll to tie to the front of his go-cart, blasted the Mario theme song on repeat, and got to work making people's days.
"With the pandemic going on, people they aren't having fun like they used to, so to see me riding around that instantly brings joy," Schaffer told TMJ4.
The city dubbed him Milwaukee Mario, and before long, he was an absolute legend. He drove through neighborhoods, waving enthusiastically like the best one-man parade the world has ever seen. He takes the time to stop for pictures with anyone who asks, and if you're lucky (really, everyone is lucky when it comes to Milwaukee Mario. This dude is the best), he'll even let you drive his go cart.
It'sa me 'Milwaukee Mario' pic.twitter.com/qYRsKhKbr9

— James Groh (@JamesGroh_) September 29, 2020
You may be asking, "is it even legal to drive a go-cart through the streets?" and the answer is, absolutely not! But really, who cares at this point. This is quarantine, there are plenty of new rules, so we're bending some of the old ones. Milwaukee Mario chooses his locations carefully, so he isn't impeding traffic or putting anyone in danger. We all desperately need some genuine joy these days, and fortunately, Milwaukee Mario is here with a power-up for everyone.
He's taken his go-cart on the road visiting Chicago, Cincinnati, Indianapolis, and more (I mean, he probably took a real car to get from place to place, we're choosing to believe he simply chose a different course before being plopped in the middle of Millennium Park).
"I just want to let everybody know I'm just trying to bring positivity to the world, and to like watch for me riding around give me a wave give me a holler."
We will most definitely keep our eyes open for Milwaukee Mario. And in the meantime, just in case, we'll make sure to keep our streets 100% banana-free.