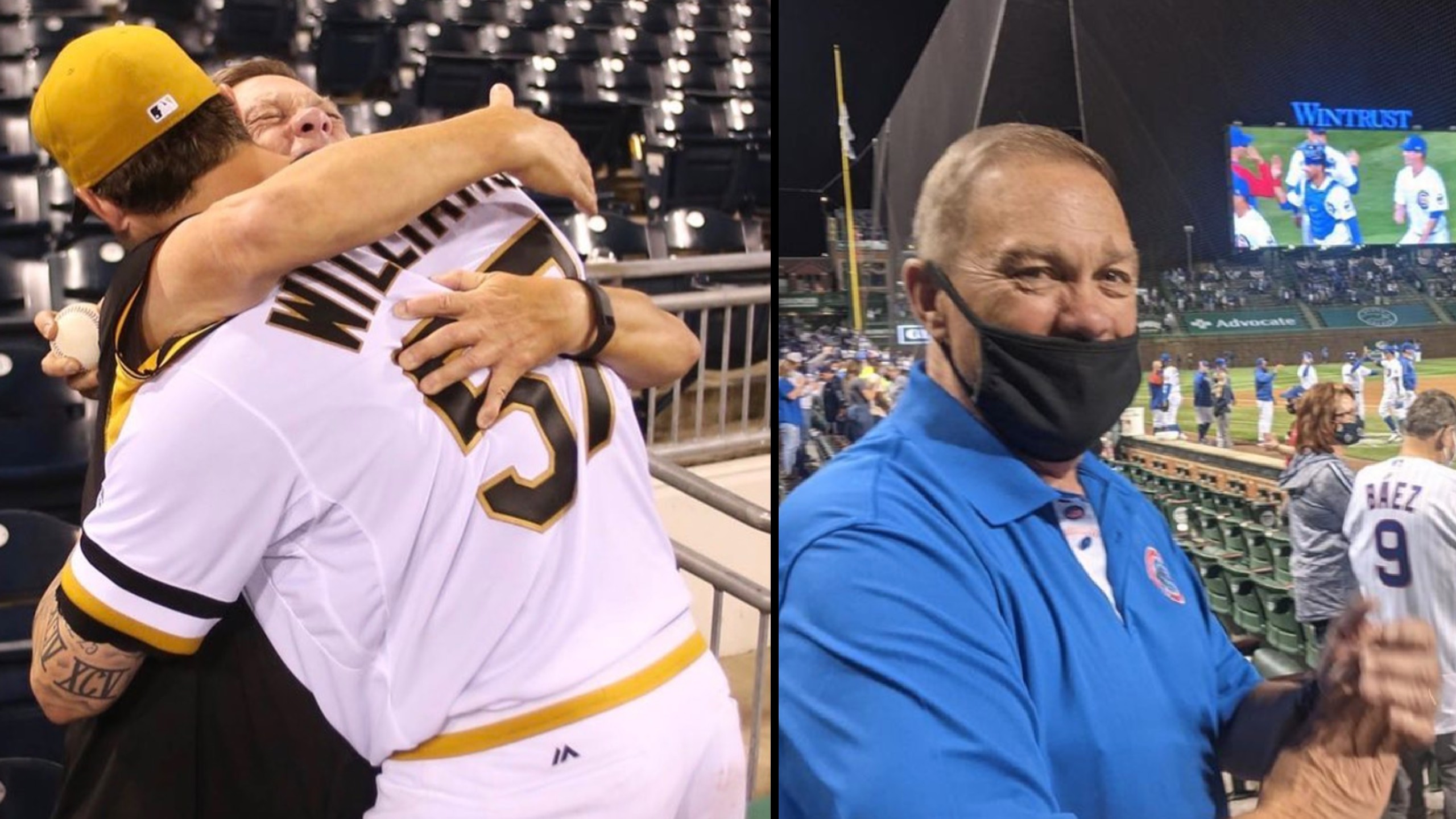 Credit: Instagram/mellamotrevor
Great father-son moments are what make sports great, and the Chicago Cubs have one of the best stories going right now. Pitcher Trevor Williams joined the Cubs this season, and his dad was thrilled to be around to see it.
Richard Williams was diagnosed with double B-cell lymphoma in 2015, while his son was still at the AAA level. Williams was given 60 days to live, and he thought he'd never see his son pitch in the Major League.
But then something amazing happened…he had a miraculous recovery! He was able to see his son's MLB debut with the Pirates and hasn't stopped watching him pitch since.
All the feels.

After his first MLB win, Pirates pitcher Trevor Williams gave his dad the game ball.

WATCH: https://t.co/gyh7OEadwQ

— ESPN (@espn) September 8, 2016
View this post on Instagram
Trevor joked that his dad's been keeping score since his Little League games, but five years removed from his diagnosis, Richard just wants to see his son play as much as he can.
"I quit trying to be the richest man in the cemetery," he told WGN. "I'm going watch Trevor pitch every game this year that he pitches. Thirty to thirty-one starts, I'm going to go to them all. I'm going to be there. I want to be there. Hopefully, God willing, I'll be there."
Williams joining the Cubs is even sweeter for his dad, who grew up as a diehard Cubs fan. He was even an usher for the team in the early 70s! Richard still has his uniform, so Trevor knew how special it would be for him to see his son pitching for his favorite team.
I was born and raised in Chicago. Watched Ernie Banks hit is 500th HR in May of 1970. I worked 4 summers as an usher at Wrigley. This is a dream. Wake me up. This pic was at Wrigley in 2018. It was so cold that night. I am warm tonight. pic.twitter.com/kzpV7hWXAQ

— RICHARD WILLIAMS (@SDRICH7777) January 31, 2021
"My dad was thrilled," he said. "It was his dream for me to be a Major League Baseball player, but [also] to put on the Cubs uniform. To play for his favorite team is just icing on the cake."
Father and son.

Trevor Williams and his Dad, Richard, react to that inning-ending double play. pic.twitter.com/EbrgNC5yeV

— Cubs Insider (@realcubsinsider) April 6, 2021
This will never get old! Never! Start 8 here in Detroit! Go Cubs! pic.twitter.com/UJVBIpzfWG

— RICHARD WILLIAMS (@SDRICH7777) May 15, 2021
Spending time with your kids is the most important thing in life, and Richard is going to savor every last one of them, especially since there was a chance he wouldn't have been here for them. A good reminder for us all.