Mom Raises $35,000 for Custodian Who Helped Her Son With Autism Thrive at School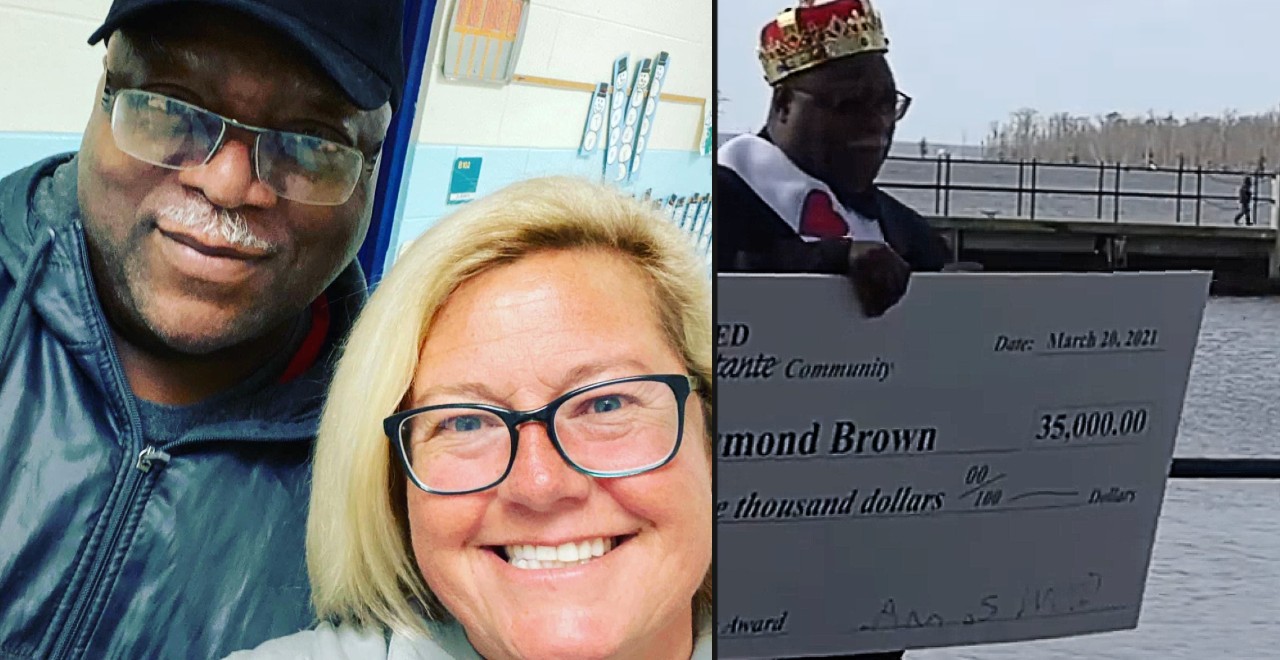 After seeing the impact the school custodian had on her son Amos, a simple "thank you" wouldn't suffice for Adrian Wood. 7-Year-old Amos attends White Oak Elementary School in Edenton, North Carolina, and at first, his time at school was challenging. Amos has autism, and for Wood, sending him off to school on his own was a far different experience than most parents have.
"Sending three typical kids to school — you're sad, but you're excited for them," Wood told Upworthy. "Sending Amos to school was such a different path. He was three when he started school. He was in diapers and he didn't speak. But after Mr. Brown started saying 'hello' to him and calling him 'Famous Amos,' Amos started saying, 'Hey Brown," when he saw him. He wasn't even saying 'Daddy' at that point, so it was really something."
Mr. Brown is the custodian at White Oak Elementary, and for the past 15 years, he's been going above and beyond to make the school a brighter place in more ways than one. He puts the students first, no matter how much work he has to do. Mr. Brown pours his heart into White Oak every single day, and Wood decided it was time to give something back.
Though Mr. Brown was nominated for a North Carolina Schools Heroes contest, he didn't win. The loss hit Adrian Wood especially hard, and rather than nominate him for other awards, she took things into her own hands. Wood wrote about her gratitude towards Mr. Brown on her blog, and the moving story struck a chord with her followers. Before long, Wood had collected $35,000 for the custodian and father.
"Head custodian, a native of Edenton who graduated from our local high school in 1977 where he wrestled and played football," Wood wrote on Facebook. "He had wanted to be a state trooper, but it didn't happen. He got married and had five children, one of them whom was killed in a motorcycle accident. This week, he and wife celebrated their 38th wedding anniversary. Tomorrow morning, our community is surprising Mr. Brown with a big event."
As Mr. Brown and his wife posed for anniversary pictures, they were interrupted by a different type of celebration. The community gathered to honor their favorite custodian, surprising him with signs, flowers, and $35,000.
"I was very surprised," said Mr. Brown. "To see all those people shouting and hollering 'Mr. Brown, congratulations,' it was beautiful and it's hard to explain, but I know this community loves Mr. Brown."