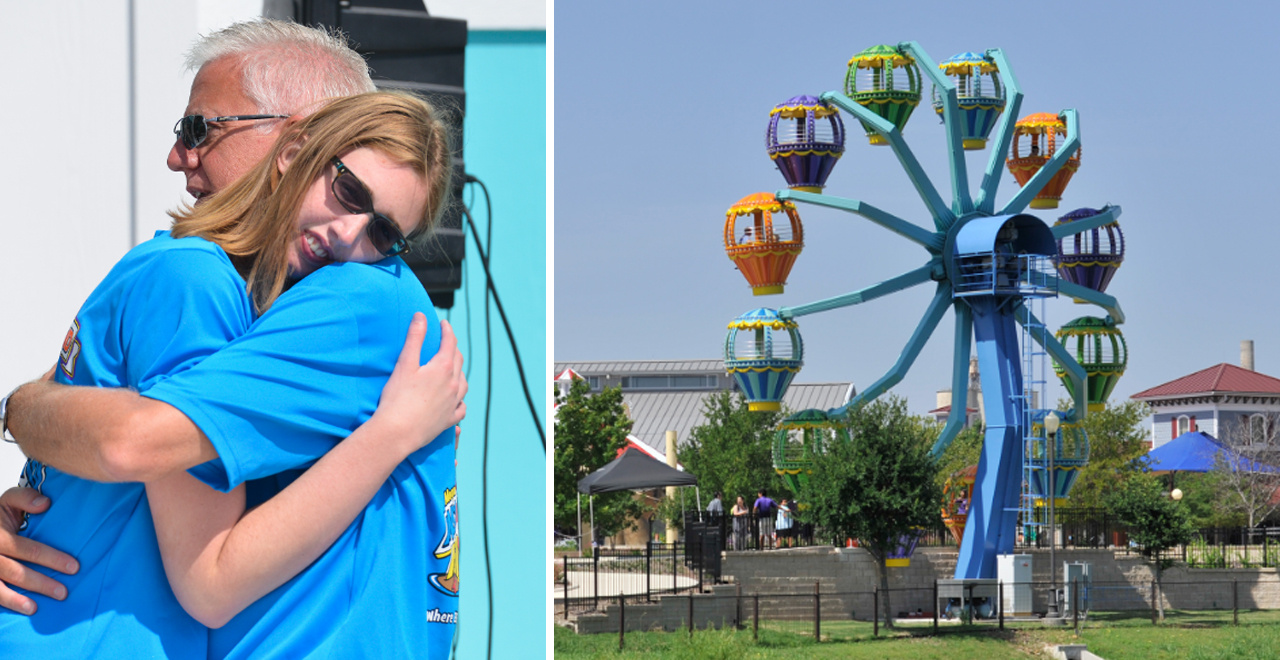 Credit: morganswonderland.com
Watching your child miss out is never easy. Sometimes the solution is as simple as talking with their school or another parent. Things get a little more complicated, though, when your child has a disability. Don't get me wrong, there has been an enormous amount of progress in inclusiveness over the years. But any parent of a child with disabilities will tell you, there is still a long way to go.
Many parents have even taken it upon themselves to make the world a more accessible place for their children. There was the dad who ran marathons with his son who had a disability, allowing him to experience the rush of crossing the finish line. And who can forget the dad who built a wheelchair accessible igloo for his nine (NINE) adopted kids, who all have special needs. Gordon Hartman of San Antonio, Texas joined the ranks of MVPs (Most Valuable Papas) when he built his daughter, Morgan, her very own amusement park.
Morgan was born with both physical and cognitive disabilities. From a young age, Hartman had to watch his daughter miss out. Morgan missed out on things that every child should experience, that most of them take for granted. Sometimes she was unable to participate due to physical limitations, but other times, she was intentionally left out by other children her age. Children who didn't know Morgan often kept their distance – they simply didn't understand that in more ways than not, Morgan was just like them.
The family was on vacation in 2006 when they decided to go for a swim at the hotel pool. As any other kid would, Morgan wandered towards a group of kids around her age playing nearby. Instead of inviting her to join in, the other kids quickly grabbed their things and left the pool.
Hartman was heartbroken. Watching the disappointment wash over his daughter was a call to action. Morgan needed somewhere to go, where she would never be left out. Kids like Morgan needed a place that was built specifically for them, in a world where very little is. And just like that, Morgan's Wonderland was born.
View this post on Instagram
Hartman, a retired home builder, poured his heart into the project. In 2010, Morgan's Wonderland opened its doors. The park has 25 fully-accessible attractions, including things like wheelchair swings, a carousel, and an off-road adventure. Morgan's Inspiration Island, a companion water park, opened in 2017. The water park even has waterproof wheelchairs. Hartman stresses that while the park was built with accessibility in mind, everybody is welcome.
"While other theme parks accommodate people with disabilities and/or special needs, Morgan's Wonderland was created with them in mind," the San Antonio park's website explains. "Our vision is to play an instrumental role in helping establish more ultra-accessible places where those with and without disabilities can come together for fun and a better understanding of each other." The park even offers free admission to anyone with a disability.
The park is closed for the remainder of the 2020 season due to the coronavirus but hopes to reopen soon after.